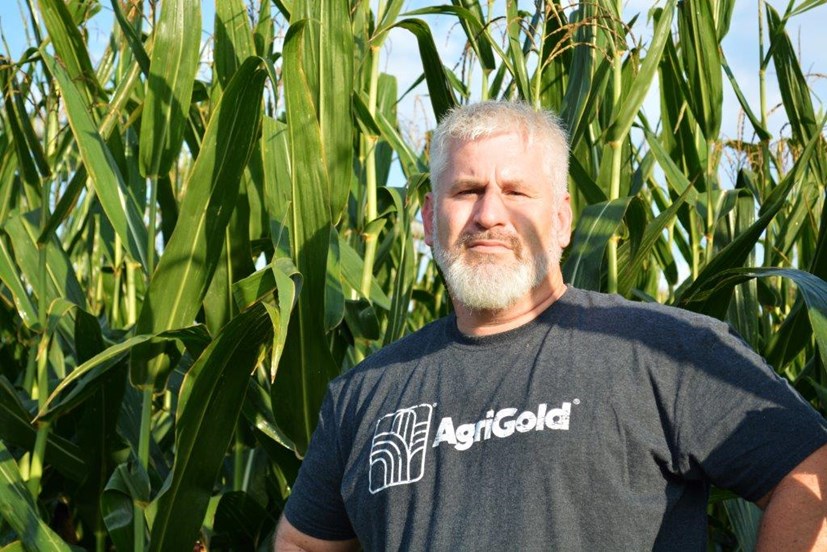 Randy Dowdy's soil death is no mystery, insists the Georgia producer, and now a federal inspection report appears to back his claims of soil damage on record-breaking farmland due to pipeline construction. A letter (Feb. 6) from the Federal Regulatory Commission (FERC) to the Sabal Trail Pipeline Project describes "topsoil and subsoil mixing" on Dowdy's farming operation, yet significantly does not address issues of noncompliance.
Dowdy signed an easement in 2015, giving Spectra Energy right-of-way across a mile of his land for the Sabal Trail natural gas pipeline. The project section on Dowdy's land in Brooks County, Ga., began after fall harvest in 2016, and was slated for completion the first week of 2017, but when rains fell during the third week of January, construction remained ongoing and the ground was relatively unprotected. Dowdy lost 40-plus acres of topsoil and decades of yield potential on record-producing ground (171.7 bu. soybeans and 521 bu. corn).
"The rainfall wasn't even anything exceptional. We're only talking about 4" to 5" of rain stretched over a few days," Dowdy describes. "We're in a tropical storm area and this wasn't even close to what we often get. Sabal's own BMPs called for the capability to handle a 25-year rain event and they shouldn't try to call normal rainfall an act of God."
For more, see Who Killed the Finest Soybean Soil in the World or Pipelines and Farmers Battle Over Lifetime Loss
Alleging a series of regulatory violations, Dowdy pointed blame at Sabal Trail. When Dowdy signed the Sabal Trail easement, the agreement included a stipulation: Sabal Trail would return all land to its pre-construction condition (topsoil segregated from subsoil). Dowdy says the topsoil disaster was a direct result of Sabal Trail negligence in following the Georgia Soil & Water Commission's Green Book (Manual for Erosion and Sediment Control in Georgia) regulations. "Sediment barriers in concentrated flows of water; no straw covers; no safety sediment fences; and many more violations," he contends.
Supporting Dowdy's basic claims of soil disturbance, the FERC letter (Public File, Docket No. CP15-17-000) is written by Terry Turpin, director of the Office of Energy Projects, and is addressed to Lisa Connolly, director of Rates and Certificates for Sabal Tail Transmission. According to Turpin's text: "Based on Commission staff's recent inspection of Mr. Randy Dowdy's and Mr. Wavell Robinson's property, and conversations with Mr. Fred Jones, as documented in the November 14, 2017 inspection report, topsoil and subsoil mixing has occurred in agricultural areas during construction of Sabal Trail Transmission, LLC's (Sabal Trail) Sabal Trail Pipeline Project. Therefore, within 20 days of the date of this letter, please file a plan for investigating the actual extent of the topsoil and subsoil mixing on the Dowdy and Robinson properties and the reported mixing on the Jones property."
Based on findings in the FERC inspection report conducted by Danny Lafoon, chief of Gas Branch 1 and former environmental compliance manager, Turpin's communication says Sabal Trail's plan must include consultation with a certified soil scientist for soil sampling both on and off the right-of-way to determine topsoil loss, and include compaction testing.
Initially buoyed by Turpin's FERC letter and its description of "topsoil and subsoil mixing," Dowdy was quickly frustrated by what he calls a "huge hole" in the text. "The letter says FERC will allow Sabal Trail to come up with its own plan and bring in its own soil scientist onto my land? That's like letting the fox in the henhouse and makes no sense. The plan and soil scientist should be independent of Sabal Trail. Independent," he emphasizes.
"I'm thankful to Terry Turpin and Danny Lafoon because this is the first step toward hopefully getting resolution for me and more landlords in the same position, but I'm still confused as to how this doesn't meet the threshold of noncompliance. I sincerely appreciate FERC's investigation, but it's not reasonable for the next step to involve Sabal Trail in any way. I just want to figure out why there isn't 100 percent independent oversight of the next phase," Dowdy continues.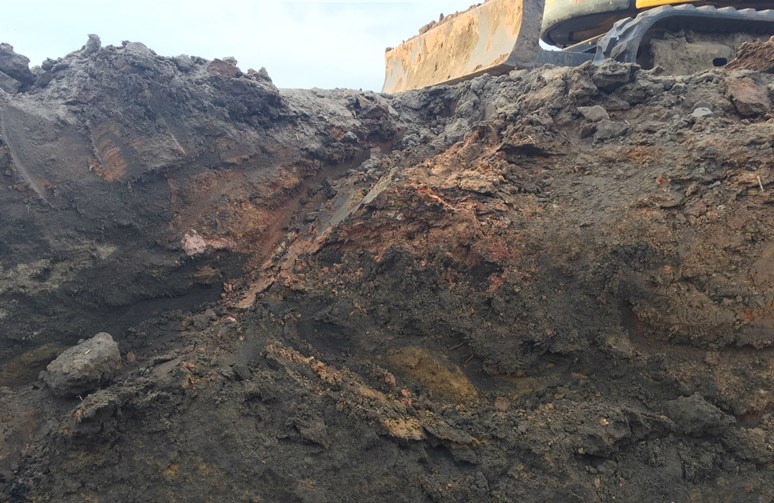 (Sabal Trail/Enbridge was contacted by Farm Journal for comment on the FERC letter, but didn't offer immediate response. FERC also was contacted by Farm Journal but didn't respond.)
Lafoon's FERC field inspection report (Nov. 14, 2017) states in conclusion, "…topsoil and subsoil mixing have occurred. However, the extent of the mixing is currently unknown on the Dowdy, Robinson, and Jones Properties. In addition, a problem area was identified because Sabal Trail has not maintained erosion control devices and has not removed construction debris in several locations."
However, in the report summary, FERC notes no areas of noncompliance regarding Sabal Trail actions. "The inspection report backs up what I've been saying since the very beginning about my soil getting mixed, but the same document says Sabal is in compliance with every single regulation," Dowdy exclaims. "How can Sabal ruin my land and still be in compliance?"
(FERC didn't respond to a Farm Journal request regarding the inspection report on Dowdy's land.)
Sabal Trail was issued a permit to build the pipeline in accordance with adherence to regulations, yet Dowdy says the damage to his land highlights two basic questions: What constitutes noncompliance and what is the threshold of enforcement?
FERC required BMPs clearly defined in the permitting process, Green Book requirements, Corp of Engineer standards, Environmental Protection Division standards, and even Sabal Trail's own Erosion and Sedimentation Control Plan (ESCP). In Section 3.5.3.1, item 4, the ESCP states: "Where topsoil segregation is required, maintain separation of salvaged topsoil and subsoil throughout all construction activities."
"The inspection report identifies definitive soil mixing on my farm and states it for the record, so how is that not noncompliance and an enforcement issue?" Dowdy asks. "Something is going on when Sabal Trail can turn my soil upside down and still be in compliance with regulations that explicitly say the opposite."
"Independent eyeballs can see the facts of what happened. Sabal Trail's permit was predicated on BMPs that weren't followed," Dowdy adds. "That translates to yield consequences for life, but they're banking on farmers not forcing the issue."
Dewey Lee, a seasoned Extension agronomist with the University of Georgia, is highly familiar with the soil characteristics and composition of Dowdy's farmland. Echoing Dowdy, Lee says independent analysis is a necessity: "FERC should appoint an independent soil scientist to find out the truth."
Dowdy's soil issues will lead to a long-term, heavy yield-drag, according to Lee. Essentially, Lee says what is lost is lost, and no amount of management or additives can speed up the alchemy of time: "Science says this will take decades to fix; a lifetime. The complexity of this soil system is difficult to describe, but it's been disturbed in a big way and the repercussions are incalculable in some ways."
Speaking bluntly, Lee says Dowdy won't be cowed by the resources of big business: "In my long career, I've never seen a farmer with Randy's tenacity. He's only asking to be treated fairly and he has every right to be upset. Career bureaucrats use words on paper and browbeat people into submission. Well, Randy is pushing back. Politics, money and reputation all get tangled and people fear upsetting the cart. Are rules and regulations in place so only farmers or landowners have to follow them?"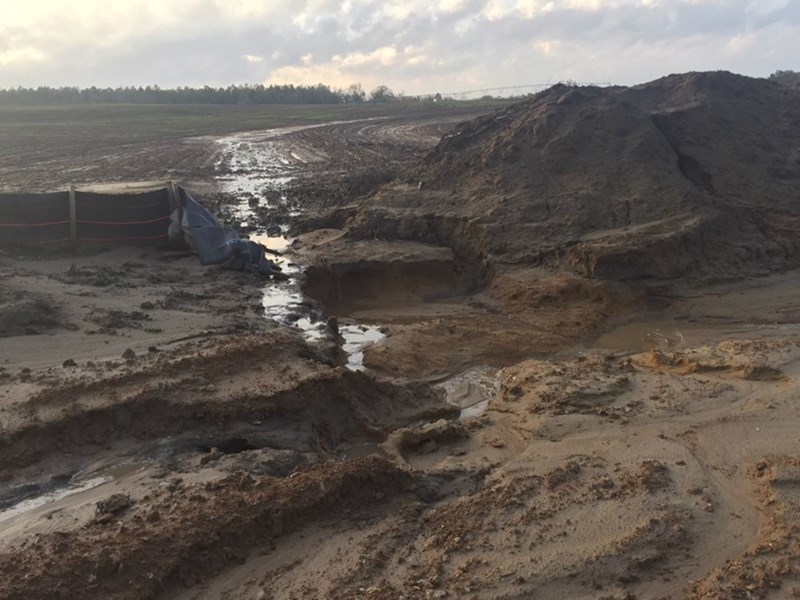 Lee insists Sabal Trail's action on Dowdy's land is reason to question the entire pipeline project. "I challenge every landowner and farmer that Sabal crosses in any state: Go and closely inspect that ground with a trusted soil scientist and take soil core samples to see if Sabal is in compliance," he says. "In a lot of cases, the landowner may find a bad surprise."
Dowdy implores producers to carefully assess soil damage and consider making a formal filing: "Any farmer associated with a pipeline or gas line anywhere, and particularly the Sabal Trail gas line, needs to do what Ronald Reagan said, 'Trust but verify,' that your property isn't damaged. You may have the exact same problems as me due to shoddy workmanship, but don't know it yet."
Yield on Dowdy's damaged acreage took a severe dip in 2017, dropping 60% to 80% in the areas where erosion or commingling of soil occurred, he says: "You could walk in my field and literally see to the inch where yields jumped up and were higher out of the damaged area. I used all the management from my experience and used every bit of care I could, but I need a lifetime to restore my soil."