Behind the curtain of farm product innovation 
You might not forecast your crop mix and inputs a decade out, but your seed and chemical companies are already making bets on what you'll be growing.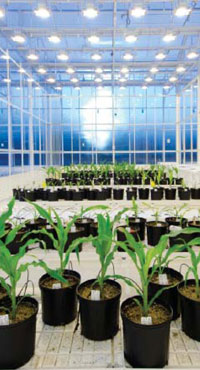 The creation of new farm products requires regular communication with farmers and careful lab work over a period of many years. At Syngenta's Advanced Crop Lab based in North Carolina, for example, scientists take products in development and measure their performance in simulated weather conditions and other environmental parameters from around the globe. In-field testing also is conducted to gather data.
As companies package services, streamline offerings and consolidate, pipelines become event more difficult to manage. The logistics, calculations, research and development that goes into the seed, chemicals and other ag products you buy for your farm is complex and ongoing. 
A Long Timeline. Seed and chemical companies have to plan new products at least a decade out because that's how long it takes to bring a new product to market. New products are typically a blend of technologies, which can include breeding, biotechnology, chemistry, biologicals and data analytics, as well as precision agriculture. 

"Each of these technologies has a different development timeline," explains John Chambers, Monsanto's global corn technology lead. "Biotech products can take up to 15 years, breeding products are roughly seven to eight years, ag biologicals could be four to five years and data analytics could come in less than a year. Therefore, our overall planning process looks out roughly 20 years to ensure the products we are working on today will be relevant to our customers in the future."

Product development, of course, takes the longest because it requires the creation of new technology as opposed to the improvement of existing technology.

"For a lot of our discovery work, there is no textbook, and we're trying to solve a very complex problem," notes Mark Cooper, a DuPont Pioneer research director. "There's no answer in the back, so we are writing the book as we go."
Forecasting Needs. Since product development takes so many years, companies must stay up-to-date on production challenges as well as new technologies farmers wish they had. To do this, Dirk Benson, global corn development manager at Syngenta, says his company stays in constant contact with numerous farmers and other stakeholders associated with the agriculture industry. 

"The easiest way to forecast is to ask a lot of questions of a lot of people," he says. 

Once customers raise concerns or share wish lists, Benson explains, his company's researchers have specific targets they can work toward. "We have a dedicated group of very bright scientists who are intrigued by the intellectual challenges within this field," he says.

Another key to research success is teaming up with other scientists. Monsanto, for example, collaborates with others within the broad science community to develop an educated view of future challenges in addition to future opportunities. 

"We stay connected to breakthroughs across many fields of science to understand the potential implications for agriculture," Chambers says. "We work with many universities and other institutions to collect, analyze and try to gain an understanding of what agriculture will look like in the future."
Keys to Discovery. Senior scientist Cliff Gerwick of Dow AgroSciences says there are two basic processes involved in product discovery. One is lead generation (otherwise known as "blue-sky dreaming"), and the other is lead optimization (tinkering). 

"As known in the science community, products are rarely discovered; they are almost always built," Gerwick explains. "You don't all of a sudden have a eureka moment. Instead, you get a lead, and then you test that lead and develop it into a product. It is difficult to find something totally new."

New or improved products often have a price tag of $100 million or more, and they take a long time to develop. As a result, companies continually question their validity. "Products are defined around delivering performance that we know has value to our customers," Pioneer's Cooper explains. They set goals at each phase of the research process. 

Once a product performs in the lab, it is tested for several years in a variety of environments. At the Syngenta Advanced Crop Lab, for example, scientists can simulate weather conditions and other environmental parameters from around the world, Benson says. In-field testing also is conducted for many years.

The longest phase of product development averages five years and involves regulatory science and registration activities. 

Despite such a lengthy process, companies add new or improved products every year. 

"It's an exciting time for new technology in agriculture," Monsanto's Chambers says. "When we look across the industry, technological advances are happening as fast in agriculture as they are with smart phones and the consumer electronics industry."
---
Research Sweet Spots
Seed and chemical companies are hard at work developing numerous products for the future. In separate interviews, industry experts said these are the overarching trends and issues that will shape product research.
 
Pest shifts and pest resistance: Pests are universal and complex. As resistance issues increase, new technologies and new ways to manage existing tools must be developed. 
Evolving regulatory environments: Regulations, both domestic and global, will demand new products with smaller environmental footprints. 
Disease control: Improved overall plant health will remain a focus. 
Climate change: The ability of crops to withstand extreme conditions such as drought and heavy spring rains should be factored into seed and products for the farm.
Data management: New ways of condensing, correlating and evaluating field data must be applied to input decisions. 
Yield: Products with yields higher than those of predecessors will continue to be important.
---