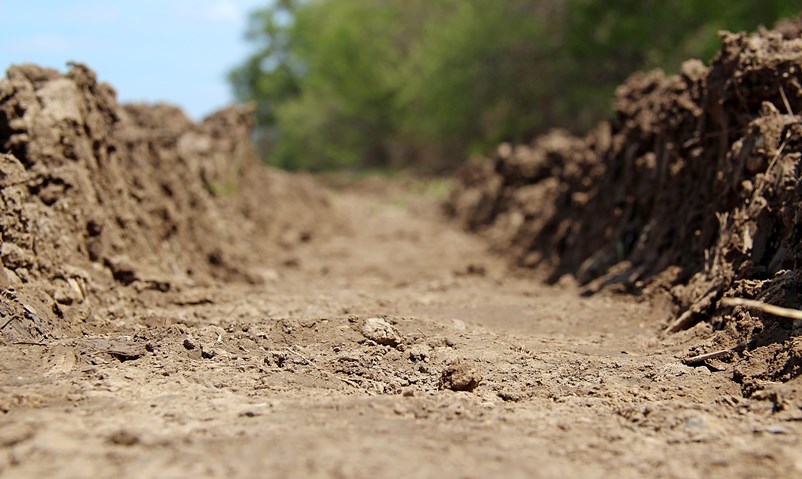 Soil is life, dirt is death, and the vast distance between takes a lifetime to cross. Mike Kelley is staring into the chasm and believes part of his farmland will suffer stunted yields for the rest of his life. He says the delicate soil balance, a rich, black elixir sweetened by nature's alchemy, is lost to a pipeline.
Pipelines and agriculture are a contentious pair, with a growing number of farmers raising concerns over soil health, drainage issues, and responses from oil and gas companies.
Mike Kelley, Illinois
Kelley grows corn and soybeans in Illinois on some of the most productive ground on the planet -- fine drummer soil that consistently churns out 200 bu. corn and 60 bu. soybeans.
In 2015, like it or not, Kelley knew the Enbridge Southern Access Extension Pipeline (SAX) was going to cross McLean County in the central part of the state. Many of his farming neighbors didn't want the pipeline to come through, and some dug in their heels to eminent domain, but most acquiesced and took an Enbridge payment. "I understand the public benefit of going through private land and that can mean imposing on individual. I recognize that," Kelley acknowledges.
However, he makes clear that principal and application are not necessarily bedfellows. The pipeline came through two farms leased by Kelley, on perpetually no tilled ground dating back several decades. Kelley, chairman of the McClean County Soil Board, believed his crop production would suffer a sustained degree of yield drag, but pinned his hopes for minimal loss on construction conditions. "I was about to deal with long-term effects no matter what, but I also knew the damage would at least be lighter if they came through dry soil," Kelley explains.
With an extremely wet spring soaking central Illinois, Kelley grew increasingly anxious over the prospect of heavy machinery operating on spongy soil. His fears came full circle in June when, according to Kelley, bulldozers began pushing soil aside on ground that was literally too wet for farming field work.
In an emailed statement, Ryan Duffy, communications strategist for Enbridge, acknowledged Kelley raised concerns over wet conditions, but says crop production won't be affected: "A third-party certified professional soil scientist and agronomist visited the pipeline construction area, evaluated the soils and concluded that the conditions did not degrade or otherwise compromise the soils for future crop productivity. As required by the Agricultural Impact Mitigation Agreement between IEPC and the Illinois Department of Agriculture, subsequent restoration was completed in 2016 and future crop productivity should not be impaired." (Enbridge declined Farm Journal interview requests regarding Kelley's claims.)
"There was actually water on top of the ground and they were rolling with dozers. It was so disappointing to see, knowing this was about the pipeline's time and budget. Any reasonable person would have held off from starting dozer work," Kelley contends. "I knew right then things were going bad from the start."
Kelley argued with Enbridge personnel at the site, protesting the mix of machinery and wet ground: "Their own question-and-answer pamphlets said their work conditions would parallel ag work conditions, but I couldn't have driven across the field in a four-wheel drive pickup or my sprayer without getting stuck."
Down a 120'-wide right of way, bulldozers peeled off 16" of topsoil and piled it to the side. Enbridge next brought in excavators to dig a 6'-wide trench. After the 48" pipe was set and finished, the ground was filled in. To alleviate compaction issues due to equipment and semi-trailer traffic, Enbridge came in with deep rippers. However, deep ripping generally tears compacted soil into chunks. When soil particles are squeezed together and the air pushed away, steel doesn't solve compaction.
Last, Enbridge came back with bulldozers to push the mounds of black topsoil back in place, followed by one last tillage treatment. "Their equipment operators did a good job attempting to keep the clay down and topsoil above, but there is only so much humanly possible. We now have wet spots and general roughness spread across 18 acres," Kelley describes.
A cross-section of the affected ground shows a huge difference in subsoil structure, according to Kelley. "We ran new tile at some of the wet spots at a depth of 3'. This spring, that tile drew less than 10' on either side. Get 10' away and it started getting wet fast," he says. Translation: Subsoil compaction from Enbridge construction is heavily affecting natural soil drainage, according to Kelley.
Yet, soil chemistry might be Kelley's biggest long-term concern. Manipulation of wet soil is a breach of soil health 101, particularly on 20-plus years of no till ground. In 2016, Kelley's corn dropped 30 bu. per acre on the pipeline-related acreage. "Enbridge paid for my crop damage, but the yield drag will go on and on. I'm 51 and plan to farm 20 more years or so, but I don't think I'll ever see that farm area return to its former production. The wet soil should have been left alone because that was the right thing to do."
Randy Dowdy, Georgia
Almost 900 highway miles to the southeast in Brooks County, Georgia, Randy Dowdy faces a permanent yield drag across 40-plus acres of record-producing farmland (171.7 bu. soybeans and 521 bu. corn). Dowdy signed an easement in 2015, giving Spectra Energy right of way across a mile of his land for the Sabal Trail natural gas pipeline. The project section on Dowdy's land began after fall grain harvest and was slated for completion the first week of 2017, but when hard winter storms arrived the third week of January, construction remained ongoing and the ground was relatively unprotected. Dowdy lost over 40 acres of topsoil and decades of yield potential. (In addition, sediment deposition spilled across 100 acres of wetlands.)
Dowdy points the finger at Sabal Trail and a series of alleged regulatory violations. When Dowdy signed the Sabal Trail easement, the agreement included a stipulation: Sabal Trail would return all land to its pre-construction condition, both in fertility and deposition (topsoil segregated from subsoil). Dowdy says the topsoil disaster was a direct result of Sabal Trail negligence in following the Georgia Soil & Water Commission's Green Book (Manual for Erosion and Sediment Control in Georgia) regulations. "Sediment barriers in concentrated flows of water; no straw covers; no safety sediment fences; and many more violations," he contends.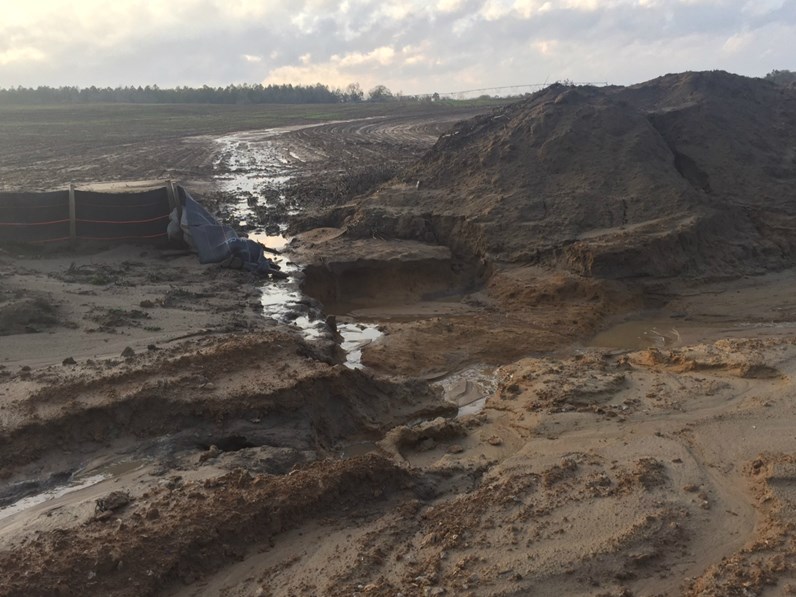 On March 11, 2017, responding to an irrigation line leak in the right of way, Dowdy found evidence of jumbled soil deposition and says it is a clear violation of Sabal Trail's Federal Energy Regulatory Commission (FERC) permit and Sabal's written agreement with him at the purchase of the easement. According to Dowdy, an excavator revealed 2" of topsoil, 6" of hard clay, and 10" to 15" of various mixtures before digging into the expected bright orange Georgia clay. "How do other landowners know this hasn't been done on their land?" Dowdy asks. "Farmers and landowners are just supposed to sign a release and the story is over?"
Dowdy believes he's facing a lifetime of loss on the affected ground due to the negligence of Sabal Trail. By hauling in several thousand loads of replacement dirt, Dowdy has replaced the highest yielding soybean soil in agriculture history with a forced substitute. (Sabal Trail/Enbridge declined Farm Journal interview requests regarding Dowdy's claims.)
"I want the truth out there so people know what happened. It's one thing to rebuild terraces, haul in topsoil, bring in hay and straw, put down cover crops, and spread chicken litter," he says. "It's another thing to gain soil life from dead dirt."
And yields? Dowdy says the affected ground produced just under 50% of non-right of way land. "The experts have said this will take not only my lifetime, but multiple lifetimes to fix. They said I could take it out of production and bring in cover crops for 20 to 50 years to rebuild. I'm not just talking about 40 acres, I'm talking about 40 of the best acres on my entire operation."
David Richter, Iowa
In 2016, when the Dakota Access Pipeline (DAPL) arrived in northwest Iowa, it was slated to run across 13 miles of O'Brien County, including 2 miles of David Richter's land. Rather than wade into an expensive court battle, Richter signed a pipeline contract. The DAPL right of way technically touched 45 acres of Richter's ground, but in reality affected 320 acres of his operation.
The DAPL cut passed through the lower part of Richter's property. "Right away, I asked them to move the line just a couple hundred yards north and onto more of a hill so my tile wouldn't be affected, but it wasn't happening," he says.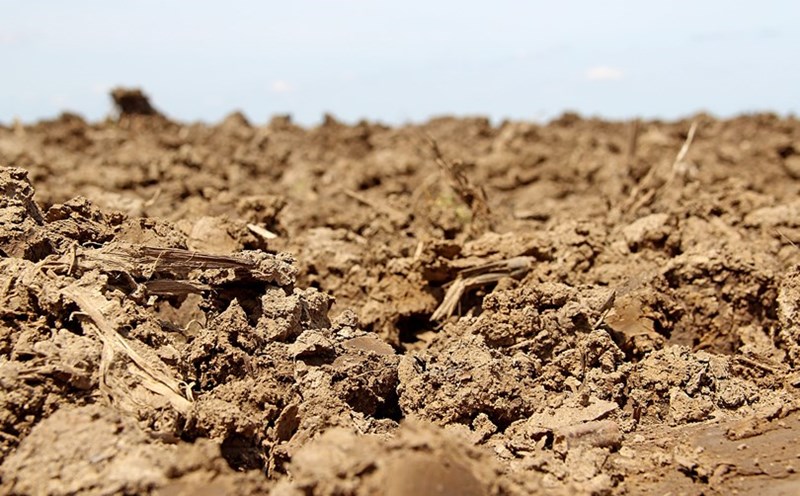 During construction, Richter was assured his tile system would remain fully functional. Things changed when the crews cleaned up and left, according to Richter. By fall 2016, he could see wet spots forming close to the pipeline, but he hoped the ground would settle by spring. As winter snows melted, the wet spots progressed from warning signs to farming danger. Richter was less than two months from planting and was clueless as to the extent of damage under his pipeline ground. On March 1, with water backed up onto adjacent land beyond the right of way, a distressed Richter picked up the phone and called DAPL.
He says he went through days of phone calls, dealing with four farm agents before a crew of nine DAPL workers arrived in mid-April and began digging. At one of the wet spots, Richter took one look and immediately could see the drainage problem. In a 200' stretch where the pipeline ran beneath a road, the tile had been covered in PVC pipe. "They assured me they'd drilled holes in the PVC, but they had no clue how many holes a piece of tile needs to drain properly," Richter explains.
With planting dates bearing down, Richter didn't know when DAPL would return to make the repairs. He hired a contractor to repair the drainage issues and sent DAPL two bills totaling $13,000. DAPL agreed to pay the smaller $3,000 bill, but refused to cover the larger $10,000 bill. (DAPL responded to FJ inquiries with a pdf stating Richter's $10,000-bill was declined after he hired an unapproved, private contractor. DAPL declined to answer specific Farm Journal questions related to Richter's claims.)
"I was disgusted. I had planting dates getting close and had called them repeatedly for help. It's difficult to describe the incredible pain of the whole procedure. Even when I finally started planting, I had to switch from corn to beans three times waiting for fields to dry."
When the repairs were finished, Richter says he was left with 100 acres of mud and a dip in his ground that was previously as flat as a table. (Richter suspects the dip in his land is from compacted clay.) Into July 2017, he was still dealing with water on top of his ground: "It'll be terrible on yields. I've talked to so many people in this frustrating mess since I originally called March 1. They admit there's a low spot out there but they won't fix it. There's basically a hole in my ground and I'm supposed to pay?"
Richter's DAPL agreement stipulates coverage for 100% of yield loss the first year, 80% the second year, and 60% the third year. "I'm 58 years old and I won't see normal yields for the rest of my life," he says. "My kids will take over and maybe the land will yield normal then, but who can say?"
"In fall of last year, when I first saw standing water, my gut wished to hell this pipeline was never near my land. I told them right from the start not to come in low because that's where the water runs. They might have wrecked my property value and crop yield for years to come. They paid for right of way, but the pipeline ruined 300 total acres. That wasn't part of the deal," he says.
Lessons from Loss?
Richter, Dowdy and Kelley share commonalities of uncertainty, extreme frustration and regret, and the four have warnings for fellow farmers and landowners.
"Pipelines promise the world and money. Sure, I love energy efficiency, but I'm a farmer and I don't want this pipeline headache on my property. If you can keep a pipeline from coming through your property, then do it," Richter says.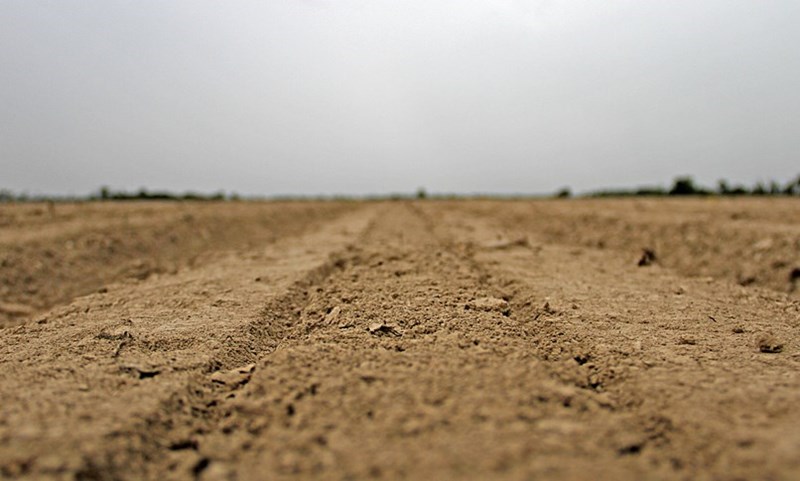 "If they need to get through your land, they'll tickle your ear. But once the line is installed, they don't come back to the table to fix problems. Even if you've got it in writing, you'll still have to go to the legal system for enforcement and spend thousands of dollars," Dowdy adds. "The only leverage you've got is prior to the pipeline."
"You've got to get advice from somebody with soil experience, not dirt experience. Don't let the company put time limits on corrective action and don't sign off on anything," Kelley concludes. "Remember, farmers look down and see soil, but the pipeline company just sees dirt."