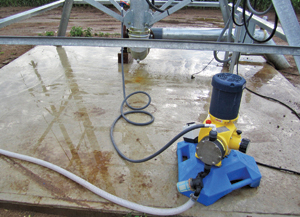 Study shows nitrogen fertigation can enhance corn yields
Sand-laden soils dominate many of the corn fields Stamp Farms owns or manages across six counties in southwest Michigan. The coarse ground contains low organic matter and absorbs irrigation water like a parched sponge.

Some of the center pivots carry more than just moisture. Taking a cue from farmers in the Texas Panhandle, Stamp Farms has started to spoon-feed nitrogen, in a technique known as fertigation, to some of its corn-on-corn acres via pivots. Based on results from a first-year study conducted by Farm Journal Field Agronomist Missy Bauer in 2011, yields on Stamp Farms averaged 10 bu. to 15 bu. more per acre on fertigated ground when compared with the same nitrogen rate on nonfertigated ground.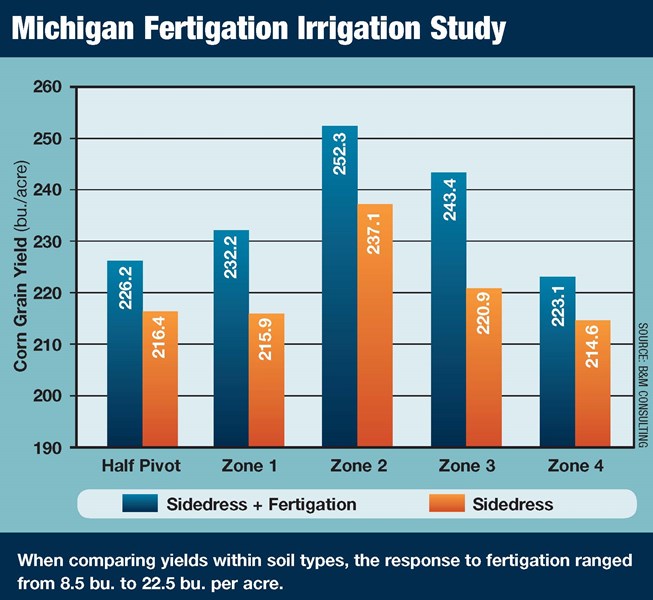 "The take-home message is that we have much lower nitrogen levels in the plant where we sidedressed only, versus on the side where we fertigated, which correlates with our NDVI images as well," Bauer reports.

"I've found that the amount of nitrogen in an ear leaf sample correlates highly to yield results," she adds.

Stamp Farms' fertigation study was conducted in a 60-acre corn field under a half-circle pivot. A total of 235 lb. per acre of nitrogen was applied across the field during the season, using a number of application methods at various growth stages.

Starting out, the entire field received a baseline amount of 115 lb. per acre of nitrogen from a combination of preplant AMS, starter ferti-lizer and pre-emergent weed-and-feed. Once the baseline amount of nitrogen was applied, Bauer divided the field in half. On one half, she made a 120 lb. per acre nitrogen application at the V4 corn growth stage with a sidedress coulter cart applicator. On the other half of the field, Bauer split the 120 lb. of nitrogen into three applications: she sidedressed 75 lb. per acre at V4, then used fertigation at V10 to apply 30 lb. per acre of nitrogen and again at V15 to apply 15 lb. per acre of nitrogen.

"We were in essence spoon-feeding nitrogen to all of the corn to begin with, so we wondered whether additional timely applications through the pivot would enhance yield further. We determined they would," she says.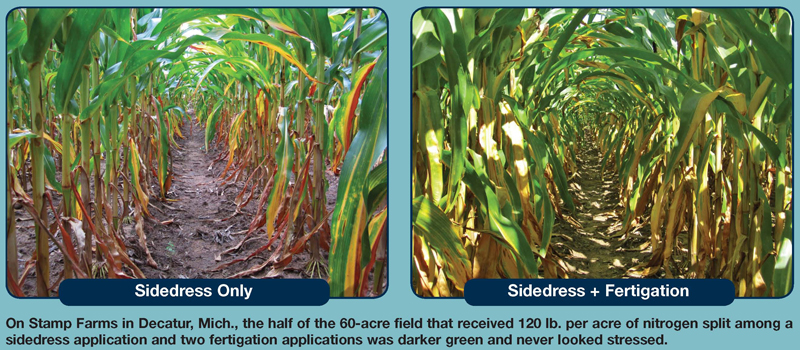 At harvest, Bauer found that corn yields averaged 226.2 bu. per acre on the side of the field where the crop had been spoon-fed the three nitrogen applications via sidedressing and fertigation. On the side that received a single in-season nitrogen application at V4, the crop yielded 216.4 bu. per acre.

Bauer also evaluated the field by soil management zone and found that when comparing yields within soil types, the response to fertigation ranged from 8.5 bu. to 22.5 bu. per acre.
The crop calls. The improved yield results from fertigation do not surprise Lyndon Kelley, irrigation educator for Michigan State and Purdue universities.

"You can apply nitrogen right when the maximum amounts are used by the crop, with low labor and fuel use and no compaction of the soil," Kelley says.

Nitrogen can be applied through the pivot with just a tenth of an inch if the field doesn't need more water at that time, Bauer adds. Application costs are minimal compared with making a trip across the field, as long as pivots are already in use.

"Start-up costs include an injection pump and nurse wagon, but that's it," Bauer notes.

Aaron Spicer, Stamp Farms foreman, was encouraged by the yield impact of fertigation. For that reason, among others, Stamp Farms is in the process of adding 30 to 40 center pivots to its operation annually.

"Plant health always seemed really good where we used fertigation," Spicer explains. "The crop was nice and dark green, and it never looked stressed."

Bauer plans to repeat the fertigation study with Stamp Farms this summer.  "The question we want to answer is, when we sidedress 120 lb. per acre of nitrogen at one time, is that too much nitrogen in sandy soils, allowing leaching to occur?" she says. In addition, she plans to evaluate a late-season nitrogen application based on tissue tests pulled at tasselling.

Leaching is a concern, Kelley says, as farmers often make a late-season nitrogen application via fertigation when corn prices are high and nitrogen prices are low.

He prefers to see farmers make split applications of nitrogen and complete them by tasselling to maximize plant uptake and minimize leaching. For example, for a 180 bu. per acre corn crop in Michigan, Kelley recommends a total of 200 lb. of nitrogen: 50 lb. applied at planting, 75 lb. sidedressed and the balance through the pivot prior to tasselling.

"These split applications provide corn with nitrogen when it's most needed, and there's little concern that leaching will occur," he says.

In the process of using the pivot to apply nitrogen, Kelley encourages farmers to make sure their system application is uniform and that correct backflow safety valves and safety shutdowns are in place to protect the primary water supply.