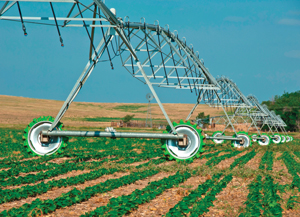 The right tire choice can help preserve soil, save time for irrigators
Towering frames and water-flowing nozzles are the most obvious components of a center-pivot irrigation system. But manufacturers say giving attention to the dirty work of irrigation tires can help farmers reduce compaction and provide long-lasting operation with minimal maintenance cost.

"They don't go flat, they don't get stuck and they don't leave ruts near as bad as what your rubber tires do," says Chris Meng, inside sales representative for Lake Mills, Wis.-based Mach II Company, which manufactures plastic tires for pivot systems. "They do leave a small track because the rubber tires have angled tread and push the dirt out the sides. The tread on our tires is basically straight across and paddles the dirt back under."

Farmers should invest in tires that will puncture less and last longer in order to reduce in-field maintenance, Meng says.

"That's a great benefit to farmers if the corn's … feet high," agrees Kacie Morris, marketing manager for Gothenburg, Neb.-based Dawson Tire and Wheel, which branded it's own Vortexx and RhinoGator brands of irrigation tires. "They don't have to slog into the middle of the field to change the tire."
Differences in design. Soil type, rutting concerns and ply needs should be a part of the discussion between farmers and tire dealers, Morris says. Dawson Tire sells a variety of tires—their RhinoGator and Vortexx, as well as Goodyear, Titan and Firestone tires.

Vortexx tires are made of rubber, while RhinoGator tires are composed of renewable plastic made from corn. RhinoGator tires are waterproof, carry a UV protection package that is the longest available in the plastics industry and are lime green color. The tires can be installed alongside rubber tires on a pivot using standard equipment.

Mach II tires are made of a polyethylene from Dow Chemical Company that resists getting stuck in the mud, Meng says. They also contain a UV inhibitor of UV12 that is intended to enhance durability, extending their expected lifespan to seven years or more.

RhinoGator tires come with a three-year warranty but are expected to last longer, Morris says.
Cost factors. The cost of irrigation tires depends on size and manufacturer, among other factors. Imported rubber tires generally cost less than those made in the U.S., but U.S.-built tires are generally superior, Morris says. The company's most popular tire size is 11.2" wide and 38" tall.

Eleven sizes comprise the Mach II lineup, and tires range from $350 to $700 each, depending on whether rims are needed as well, Meng says. More than 30,000 Mach II center-pivot tires are in operation in fields across the U.S., and between 150 and 200 dealers carry the brand along with four stocking distributors.

Demand for the tires is high: sales have tripled since Seljan Company acquired Mach II in January 2010, Meng adds.

Other factors that keep tire maintenance time reasonable include following manufacturers' torque settings and running the same tire style on the irrigation tower. Unlike tires on a truck or a piece of machinery, Mach II tires don't need to be rotated because they are plastic and bi-directional.

Rubber tires are pressurized according to manufacturers' specifications before being shipped from Dawson Tire, Morris says. Tire shipments come with the appropriate pressure settings so farmers can inflate them to the proper level if they lose air in transit.

Ultimately, personal preference is an important factor in choosing an irrigation tire, Morris says.
You can e-mail Nate Birt at [email protected].