DAP and MAP prices edged higher this week while potash softened.
News has arrived from Saskatchewan that Canadian export behemoth Canpotex has inked a supply contract with Chinese importers for the first half of 2014. The deal is conspicuously similar to their deal with Uralkali, also for 700,000 tons in the first half of 2014, however, as Uralkali reported their sendout price to China at $305.00, Canpotex simply says, "This new contract is priced at current and competitive market levels."
This time last year, China had contracted from the now defunct BPC and Canpotex for 1 million tons from each. Declining import volumes this year signal to some that China sees price weakness ahead for potash in the second half of 2014. Others note that Chinese potash demand is increasingly satisfied by domestic production. But regarding that domestic production capacity, PotashCorp CEO Bill Doyle believes those supplies will soon run out and expects China to import as much of 75% of its K needs starting sometime in the next few years. That would tighten global supplies and the added competition could force prices higher.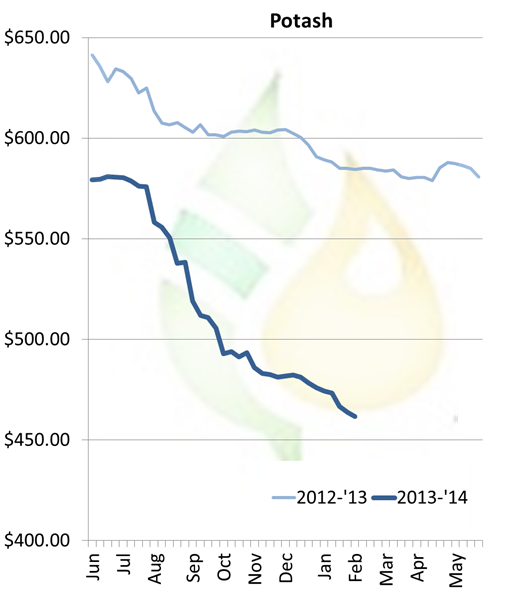 We are currently 30% filled on potash for spring, and if we take China's cue, we are in no hurry to increase coverage. The global market has struggled for direction and stability and as the situation improves, the cautious inventory stance adopted by U.S. retailers will hold prices in check, and weak expected demand from growers, if realized may even force prices slightly lower by spring. The chart at right supports that.
We advised to increase coverage on phosphate to 80% yesterday as the domestic supply & demand balance continues to tighten on increased demand from South America, China and Europe. This month, Agrium noted the increased global P demand has led to a $75 per ton increase in Tampa DAP prices since November 2013, and Mosaic confirms wholesale DAP and MAP prices are up at all locations this week (click here to view our ALERT).
This week --
DAP $124.83 below year-ago pricing -- up $6.40/st on the week to $514.83/st.
MAP $125.36 below year-ago -- up $3.08/st this week to $533.22/st.
Potash $123.36 below-year ago -- down $2.05/st this week to $461.72/st.
December 2014 corn futures opened 1/2 cent lower this morning than our last P&K Today at $4.46 1/2 with the national average cash corn price unchanged from last week at $4.29. National average corn basis was also unchanged on the week at 2 3/4 cents above March futures.
By the Pound --
DAP is 1/2 cent higher at 53 1/2 cents/lbP2O5; MAP is 1/2 cent higher by the pound at 50 cents/lbP2O5; Potash 1/4 cent lower on the week at 38 1/4 cents/lbK2O.
The following is an updated table of P&K pricing by the pound as reported to your Inputs Monitor for the week ended Jan. 24, 2014.
| | | | |
| --- | --- | --- | --- |
| P&K pricing by pound -- 1/30/2014 | DAP $P/lb | MAP $P/lb | Potash $K/lb |
| Iowa | $0.52 | $0.49 | $0.38 |
| Illinois | $0.50 | $0.49 | $0.38 |
| Indiana | $0.52 | $0.51 | $0.38 |
| Wisconsin | $0.49 | $0.52 | $0.35 |
| Minnesota | $0.51 | $0.48 | $0.38 |
| South Dakota | $0.51 | $0.49 | $0.38 |
| North Dakota | $0.56 | $0.49 | $0.37 |
| Nebraska | $0.53 | $0.50 | $0.43 |
| Missouri | $0.53 | $0.49 | $0.38 |
| Kansas | $0.55 | $0.50 | $0.42 |
| Ohio | $0.55 | $0.52 | $0.38 |
| Michigan | $0.65 | $0.53 | $0.37 |
| Average | $0.53 1/2 | $0.50 | $0.38 1/4 |
| Year-ago | $0.67 | $0.61 | $0.48 |
---