DAP and MAP were mixed on the week as potash continued higher.
DAP $70.04 below year-ago pricing -- lower 51 cents/st on the week to $437.42/st.
MAP $89.78 below year-ago -- higher 71 cents/st this week to $439.41/st.
Potash $133.46 below year-ago -- higher $2.62/st this week to $312.85/st.
The national average corn basis firmed 7 3/4 cents from last week to 3 cents below March futures. The national average cash corn price firmed 19 1/4 cents from last week to $3.56 3/4. Basis is in line with the three-year average, which is 2 1/2 cents below futures for this week.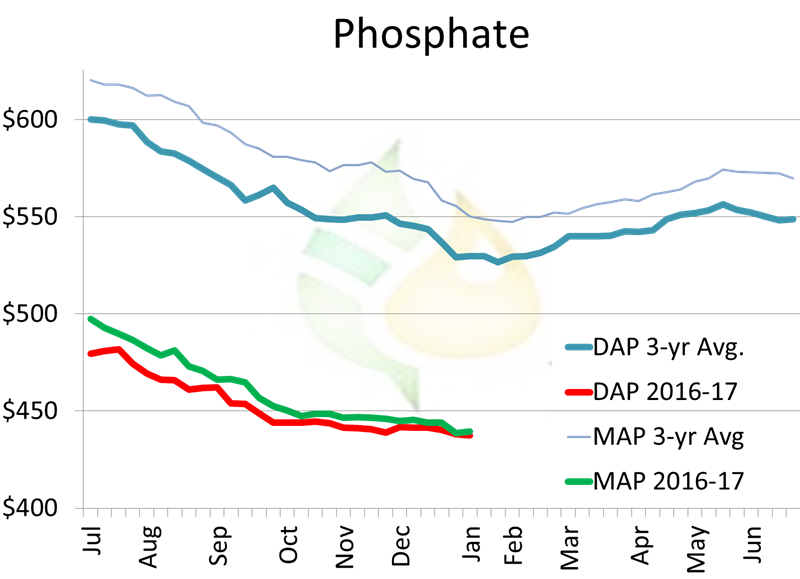 DAP was our decliner in the P&K segment falling just slightly on the week. Iowa led to the downside falling $3.22 as Indiana, Minnesota and Ohio all fell about 3 bucks. Four states were unchanged as Missouri firmed $5.90 to lead gains along with a $1.40 increase in Kansas.
MAP was slightly higher on the week led by gains in Missouri to the tune of $13.91 as Iowa firmed $2.43. Only Illinois and Wisconsin were unchanged as North Dakota fell $5.87, South Dakota softened $1.93 and Indiana fell $1.65.
Potash continued higher on the week led by Missouri which firmed $11.86 as Iowa added $6.92 and South Dakota firmed $4.91. No states was unchanged on potash as declines were limited to North Dakota, off $4.55, Ohio down $2.34 and Illinois shedding a meager 26 cents per short ton.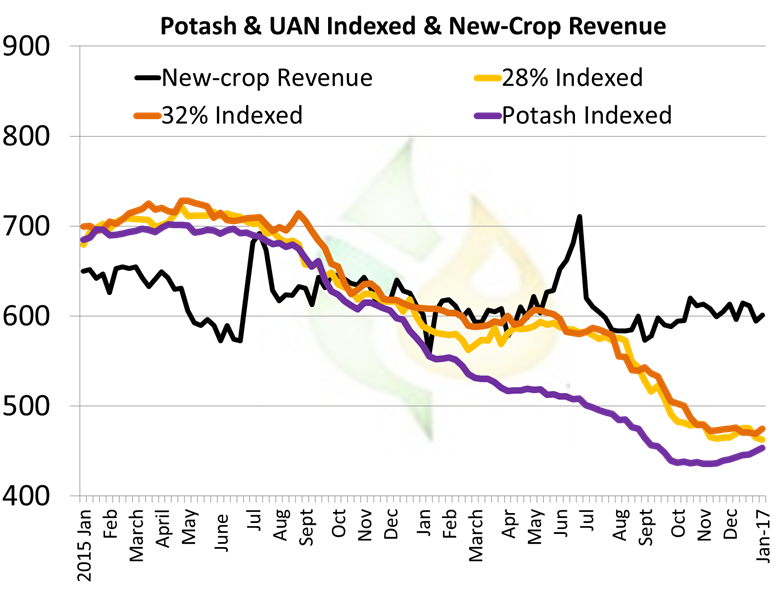 Potash is less than ten points below UAN on an indexed basis this week and as potash forges a recovery, the distance between itself and the nitrogen segment is winnowing away. We are 50% filled for spring potash needs for those who have acreage mixes already determined. For the undecided growers we have advised to cover 100% of known corn acres and to let fertilizer price action through the offseason help guide the decision making process. It does appear that the low in in for potash, but we are willing to wait for Chinese and Indian importers to enter the market as their annual contract sets the tone for potash price action through the rest of the year.
We are content to hold off on booking phosphate right now as market fundamentals signal sideways price action ahead with very little upside risk.
By the Pound -- The following is an updated table of P&K pricing by the pound as reported to your Inputs Monitor for the week ended December 30, 2016.
DAP is priced at 45 3/4 cents/lbP2O5; MAP at 40 cents/lbP2O5; Potash is at 26 1/4 cents/lbK2O.
| | | | | |
| --- | --- | --- | --- | --- |
| P&K pricing by the pound -- 1/6/2017 | DAP $P/lb | MAP $P/lb | Potash $K/lb |   |
| Average | $0.45 3/4 | $0.40 | $0.26 1/4 | Average |
| Year-ago | $0.56 3/4 | $0.54 | $0.34 1/2 | Year-ago |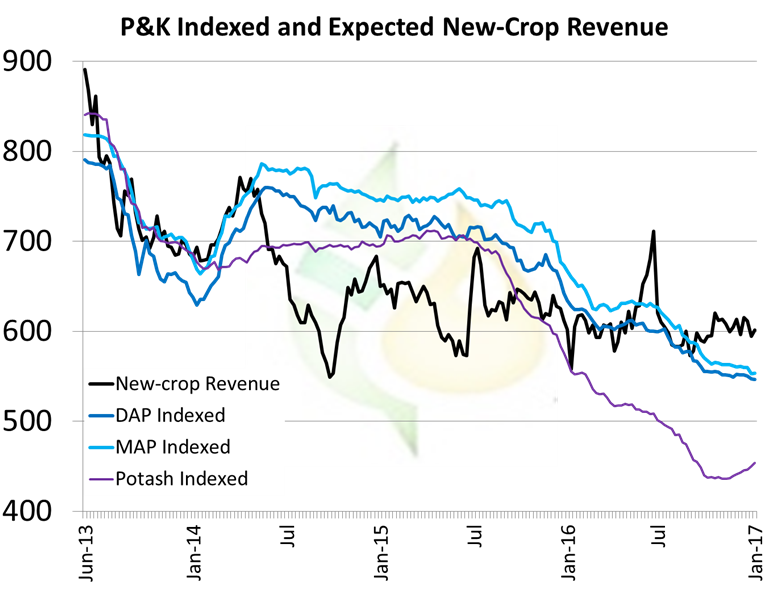 ---