Phosphate resumes upside push; potash fades slightly.
DAP $49.91 below year-ago pricing -- up $8.76/st on the week to $589.23/st.
MAP $58.83 below year-ago -- up $2.83/st this week to $600.25/st.
Potash $117.07 below-year ago -- down $1.56/st this week to $468.23/st.
December 2014 corn futures opened 4 cents higher this morning than our last P&KToday at $5.03. The national average corn basis firmed 1/4 cent from last week to 1/4 cent under May futures. The national average cash corn price is unchanged from last week at $5.03 1/4.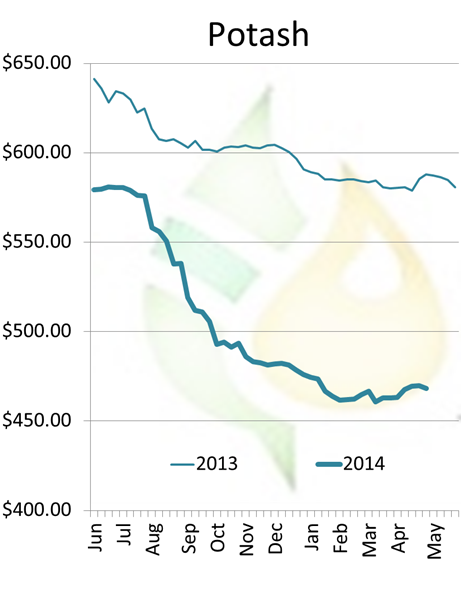 Potash prices dipped lower during the last week led by declines in South Dakota and Kansas. All other states were relatively unchanged. We pulled the trigger yesterday on the remainder of potash for spring application -- click here for more. Not because we necessarily see dramatically higher prices for potash ahead, more because of mounting supply uncertainty, and the constraints of time. It's not really a 'late' plant yet, but its surely not early either. Demand will heat up here in a hurry and likely inject price strength.
The U.S. Surface Transportation Board will receive mandated updates on the transit of agricultural goods including fertilizer on Friday, April 25. BNSF has already submitted specific plans to expedite shipments of fertilizers to the oversight board, but as of midday Thursday, Canadian Pacific Railway had yet to submit a plan of their own.
We are 100% filled on potash for spring.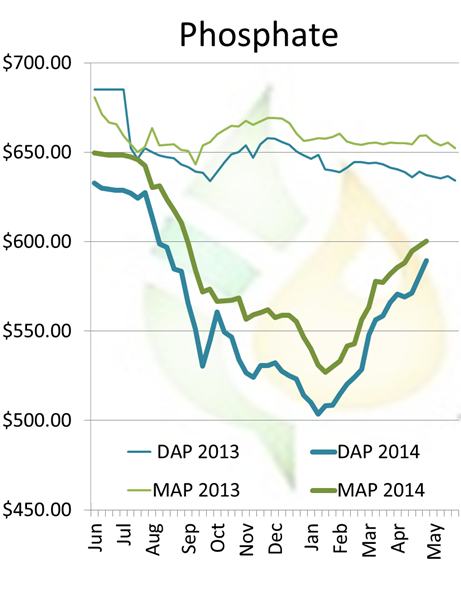 Phosphate moved higher again on the week and where we see -- at the worst -- mild upside risk for potash, the same transport difficulties impose much more risk on phosphate. The difference is in the inventories and as Canadian potash stores are bulging, North American phosphate stocks are low.
Increases in corn futures pricing of late have pushed expected new-crop revenue to levels that many did not expect this year, but $5.00 does appear to be a magnet for December corn futures, and if the runup in corn pricing influenced phosphate higher, the contract's failure to move to the next leg higher could limit phosphate purchases up north later on. Especially if phosphate continues higher through the next few weeks, or if delivery continues to be a problem.
We are 100% filled on phosphate for spring.
By the Pound --

DAP is a full penny higher this week at 61 cents/lbP2O5; MAP is 3/4 cent firmer at 56 3/4 cents/lbP2O5; Potash fell 1/4 cent to 38 1/2 cents/lbK2O.

The following is an updated table of P&K pricing by the pound as reported to your Inputs Monitor for the week ended April 17, 2014.

 
| | | | |
| --- | --- | --- | --- |
| P&K pricing by pound -- 4/24/2014 | DAP $P/lb | MAP $P/lb | Potash $K/lb |
| Iowa | $0.54 | $0.54 | $0.39 |
| Illinois | $0.60 | $0.53 | $0.38 |
| Indiana | $0.61 | $0.57 | $0.39 |
| Wisconsin | $0.56 | $0.55 | $0.35 |
| Minnesota | $0.60 | $0.55 | $0.39 |
| South Dakota | $0.64 | $0.60 | $0.38 |
| North Dakota | $0.59 | $0.60 | $0.38 |
| Nebraska | $0.63 | $0.56 | $0.43 |
| Missouri | $0.63 | $0.57 | $0.39 |
| Kansas | $0.63 | $0.58 | $0.39 |
| Ohio | $0.62 | $0.56 | $0.38 |
| Michigan | $0.68 | $0.60 | $0.37 |
| Average | $0.61 | $0.56 3/4 | $0.38 1/2 |
| Year-ago | $0.67 | $0.61 | $0.48 |
---