DAP, MAP and potash all higher by the ton again.
DAP $55.44 below year-ago pricing -- up $9.05/st on the week to $580.47/st.
MAP $56.96 below year-ago -- up $2.79/st this week to $597.42/st.
Potash $109.09 below-year ago -- up 26 cents/st this week to $469.79/st.
December 2014 corn futures opened 6 cents lower this morning than our last P&KToday at $4.99. The national average corn basis firmed 1 1/4 from last week to 1/2 cent under May futures. The national average cash corn price firmed 3 1/4 cents from last week to $5.03 1/4, Tuesday.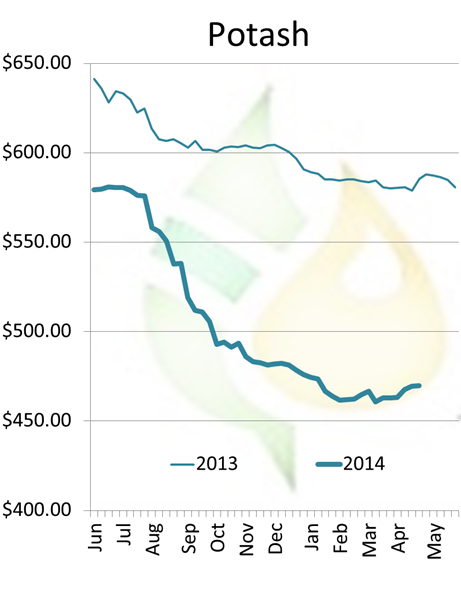 Potash prices moved higher led by an $11.00/ton increase in Kansas. All other states were basically firm on price, adding or subtracting a few cents here and there. Our analysis yesterday titled "Budgeting Fertilizer for $4.99 December Corn" finds potash all but priced out of the mix when we figure for 170lbs/ac. N and 100lbs/ac.P2O5, but increases in December corn futures may give growers a little breathing room and encourage potash applications. However, that budget article reminds the reader that these calculations really do not mean much until sales are made, and growers must keep a realistic cash price peg in mind when budgeting fertilizer.

However, rail deliveries remain problematic and delays for fertilizers are expected. That will inject volatility into the retail market and could widen the range of prices, based on the level of local supplies. It is possible that if prices run higher, growers will decide to say 'to-heck-with-it' and hold onto that extra $35.00 odd K dollars per acre in case of late season nitrogen deficiency.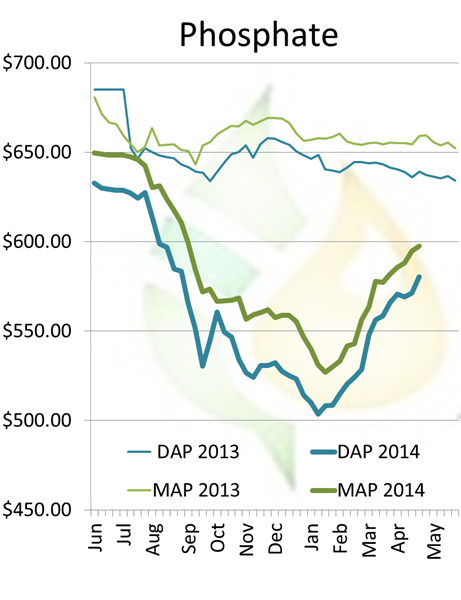 Phosphate production ticked higher over the past month according to inventory data released this week by Agrium. While total North American inventories fall 4% short of year-ago and 9% below the five-year average, March 2014 DAP/MAP production reached its highest level since October 2013, increasing 18% from February. That will help to limit prices, but those limitations are not expected to take effect until the spring application season is nearly over.
Transport difficulties may impact the timing and cost of product placement, but, as with potash, phosphate could easily price itself out of the budget, especially if deferred corn decides to slump. The weather has growers in stand-down over a wide swath of the Corn Belt, giving suppliers extra time to stock up. Strong downstream stocks amid increased production would hold P prices in place. But dealers are in no more a mood to give discounts than growers are willing to pay what they perceive as high P prices. The stand-down standoff will have to come to an end and as the soil becomes workable dealers may have to come down on price but growers may have to meet dealers in the middle.

By the Pound --

DAP is 1/2 cent higher this week at 60 cents/lbP2O5; MAP is unchanged at 56 cents/lbP2O5; Potash is also unchanged at 38 3/4 cents/lbK2O.

The following is an updated table of P&K pricing by the pound as reported to your Inputs Monitor for the week ended April 11, 2014.

 
| | | | |
| --- | --- | --- | --- |
| P&K pricing by pound -- 4/17/2014 | DAP $P/lb | MAP $P/lb | Potash $K/lb |
| Iowa | $0.54 | $0.55 | $0.39 |
| Illinois | $0.60 | $0.53 | $0.38 |
| Indiana | $0.61 | $0.57 | $0.39 |
| Wisconsin | $0.57 | $0.55 | $0.35 |
| Minnesota | $0.58 | $0.55 | $0.39 |
| South Dakota | $0.63 | $0.58 | $0.40 |
| North Dakota | $0.59 | $0.59 | $0.38 |
| Nebraska | $0.63 | $0.56 | $0.43 |
| Missouri | $0.63 | $0.57 | $0.39 |
| Kansas | $0.61 | $0.56 | $0.40 |
| Ohio | $0.62 | $0.55 | $0.38 |
| Michigan | $0.61 | $0.58 | $0.37 |
| Average | $0.60 | $0.56 | $0.38 3/4 |
| Year-ago | $0.67 | $0.61 | $0.48 |
---