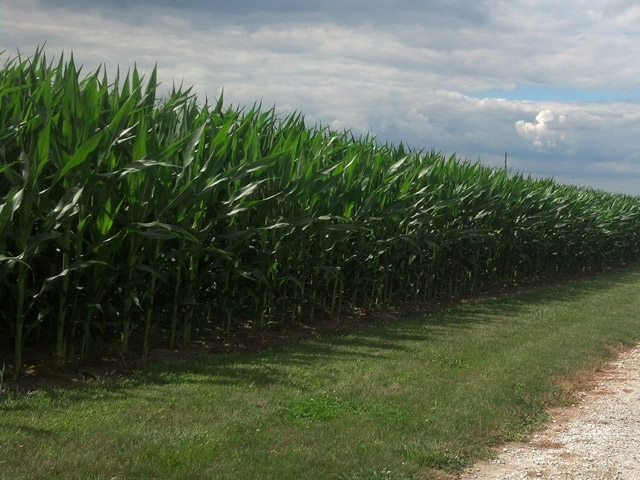 Although many 2014 crops are still unpriced, it's not too early for producers to begin thinking about their 2015 marketing plan. An early read on the 2015 corn crop doesn't suggest much in the way of a price recovery, with average farm prices of $3.50 per bushel, explains Tim Brusnahan, a vice president of Brock Associates.

"We're looking at a 2-billion-bushel carryover for at least 18 to 28 months," putting 2015/16 stocks-to-use at 14.8%, he noted on a webinar earlier this week. His outlook would represent only a slight improvement from USDA's 2014/15 marketing year estimates of $3.40-per-bushel prices and stocks-to-use of 15.3%.
"We are set up for the potential of a good crop next year," Brusnahan says. He looks for average or better corn yields based on current conditions. Unlike a year ago in the western Corn Belt, "we don't have a lack of moisture in Corn Belt states," he points out. That should set up crops well for April and May, though it's far too early to make predictions about the critical pollination period.
Still, it's important for producers to evaluate corn price prospects in the next marketing year to develop risk management strategies, even with a widely anticipated shift to soybean acres in 2015, Brusnahan says.
Demand Lacking For Higher Corn Supplies. Of concern for producers is that "increased supplies aren't showing robust increases in demand," Brusnahan cautions. He predicts USDA's January report will show corn stocks between 11.2 billion bushels and 11.3 billion bushels as of Dec. 1, a new record. It would take a reduction of between 400 million and 500 million bushels in carryover to between 1.4 billion and 1.5 billion bushels for significant price recovery of 50 to 80 cents, and he doesn't see that happening barring unexpected events. Without carryover reductions, price increases will be limited to about a dime, he projects.
For soybeans, Brusnahan notes the major reason for the rally from October until recently has been speculators combined with net long positions. Longer term, though, he is bearish. For 2015/16, Brusnahan looks for soybean prices of between $7.50 per bushel and $8.60 per bushel. This compares to USDA's 2014/15 forecast of about $10. Brunahan is bearish on soybeans because he thinks acreage could jump to between 86.5 million and 88 million acres, up sharply from 84.2 million in 2014 and 76.8 million in 2013. He sees 2015/16 stocks-to-use of 22.9%, up from the 14.6% USDA expects for the current marketing year. The recent rally led to increases in farmer selling for spot or January delivery, he says. As a result, soybeans have edged lower.
Ethanol Challenges Persist. For corn demand, Brusnahan projects significant challenges for ethanol growth. In large part, that's because the U.S. Energy Information Administration projects less gasoline use in four of the next five quarters. That could reduce U.S. ethanol demand, as the blend wall limits the fuel to 10% of gasoline use.
"If ethanol stocks get too high, production will have to come down. Ethanol looks flat to us," Brusnahan says. To maintain and grow use, ethanol exports are needed. A recent quarterly report from Archer Daniels Midland (ADM) adds perspective. ADM predicts stable U.S. ethanol use next year at 13.5 billion gallons but says exports could increase as much as 25% from an expected 800 million gallons this year.
Another problem for the ethanol industry is that China has "flat-out stopped distillers dried grain (DDG) imports from the U.S.," he explains. Discussions on lifting sanctions didn't go well, he adds, though long-term he thinks China could emerge as a major DDG customer.  In the U.S., DDG use is under pressure because corn has become more competitive. "Corn is cheap and its quality is good," he says.
USDA's Nov. 10 outlook predicts only marginal increases in exports during the just-begun marketing year, which pins major hopes for increases in corn demand on U.S. feed use. "We're not seeing strong growth in livestock," he explains. "Feed use is off to a low start."
Livestock Expansion Ahead. Although livestock expansion hasn't occurred yet in a major way, it will start to play out in 2015, says Thomas Elam, Farm Econ. With feed costs down 50% from 2012, low interest rates and an 8% increase in per capita meat and poultry purchases by consumers, "everything is lining up for expansion," he says. "Cheap feed makes cheap meat."
Moreover, meat export demand has increased sharply over the past decade, though a stronger U.S. dollar looms as a concern. The only question is how fast demand comes back. For pork, a key barrier to expansion has been the porcine epidemic diarrhea virus (PEDv). Its prevalence this winter will have a major effect on how fast production and feed use bounce back, Elam says.
The recovery will take time because of a smaller breeding herd, brought about by a decline in per capita meat consumption in 2008 and low profitability for producers. Reduced supplies might have created as much as 15 pounds per capita of unmet meat demand, Elam says. Moving forward, he predicts an increase in poultry demand; a flat pork market; and a declining market share for beef, whose production increases won't occur for several years.
---
Want more? AgWeb readers are sharing fresh marketing insights every day. Click here to join the conversation or to start your own.