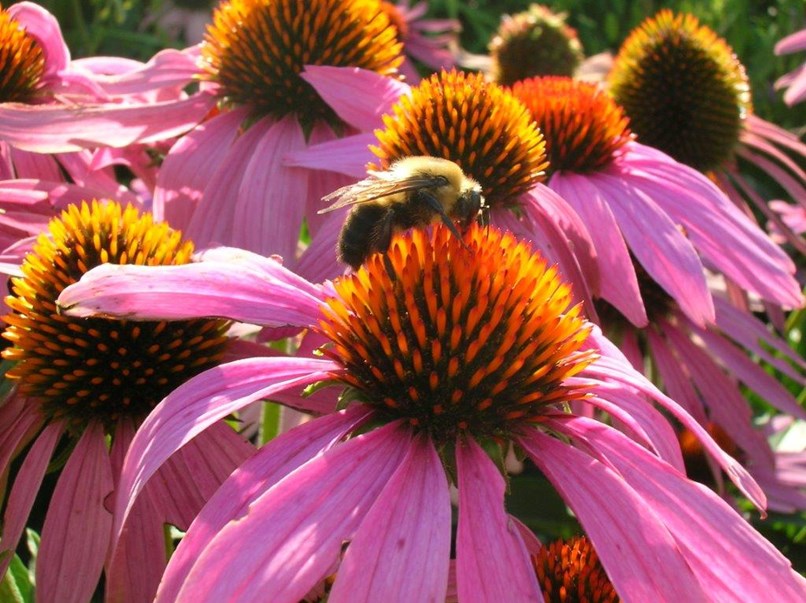 Bees exit a hive, collect a beneficial microbe as they exit, and deliver a booster shot to crops. In replicated trials, Bee Vectoring Technology (BVT) achieved an average 47% reduction in incidence and a 20% reduction in the severity of sclerotinia head rot in sunflowers at three separate test locations in 2017. Comparable levels of control were observed in 2016 trials.
BVT uses crop pollinators to deliver disease control. The BVT system utilizes dispenser technology on a hive to deliver proprietary plant beneficial microbes to crops. The trials, conducted in conjunction with North Dakota State University (NDSU), began in 2016. However, 2017 was the first year to see testing on BVT's bumblebee hive dispenser and a new honeybee hive dispenser.
A 2017 commercial trial was conducted in sections of a 200-acre field near Munich, N.D. "There was generally low disease pressure in the field this year, but the crop in areas within the range of the flight of bees showed further disease suppression, and yield increases," according to a BVT release.
"The overall sclerotinia disease pressure was generally low this year but the BVT system showed good potential both from a disease control and yield perspective," says producer Craig Schommer. "Additional testing will be required under higher pressure to fully quantify the benefits."
"We now have two years of excellent results in sunflowers, and were pleased with how well the prototype honeybee dispenser worked. Sunflowers are a lower value crop compared to strawberries and growers have very limited choices in battling disease in the crop since chemical sprays are not economically viable," says Ashish Malik, BVT CEO.
For more information, see beevt.com.