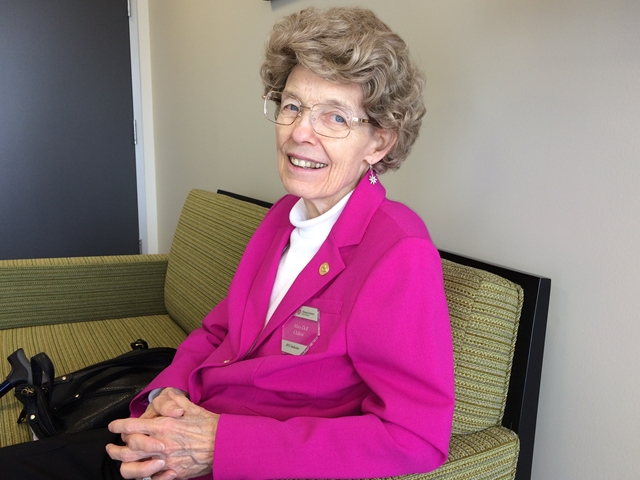 Mary-Dell Chilton, who produced the first transgenic plant in 1983, was inducted into USDA's Hall of Heroes on Thursday in Washington by Agriculture Secretary Tom Vilsack.
"Dr. Chilton's research has forever changed the way we conduct plant research and her groundbreaking accomplishments have shaped the way genetic plant research is conducted today," said Vilsack. "I am pleased to honor Dr. Mary-Dell Chilton for her leadership and tremendous contributions to the field of agriculture."
The event also honored agricultural labor organizer Cesar Chavez, who died in 1993.
Considered one of the founders of modern plant biotechnology, Chilton and her work made the development of genetically modified crops—and the huge leaps in agricultural productivity—possible around the world. Last year, 18 million farmers in 28 countries planted nearly 450 million acres of biotech crops, according to ISAAA data provided by Syngenta.
"My career in biotechnology has been an exciting journey, and I am amazed to see the progress we have made over the years," said Dr. Chilton. "My hope is that through continued scientific discoveries, we will be able to provide a brighter and better future for the generations that follow us. I am proud of my efforts and my Syngenta colleagues' continued drive to innovate new ways to deliver solutions to farmers. That's what it's all about."
This is the second recent national honor for Chilton, now a distinguished science fellow at Syngenta in Research Triangle Park, N.C., where she continues to work on plant genetics and biotechnology. Earlier in 2015, she was inducted into the National Inventors Hall of Fame in Alexandria, Va. During that week, she spoke to AgWeb about the future of transgenic plants and more.
"I hope to see the technology accepted by the public—embraced even—in my lifetime," Chilton said. "How do we do that? That's a tough one, but life is full of surprises."
Chilton received the World Food Prize in 2013.