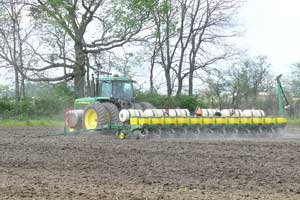 Farmers report planter size, age
While there are some massive 40-row or even 48-row planters on the market, most farmers tend to have a much smaller planter.
Based on a recent Farm Journal Pulse, the largest percentage of the 1,600 respondents, 31%, own a 12-row planter, while 29% own a 16-row planter. Twenty percent of respondents use a 24-row planter on their farm, while 14% own an 8-row planter. If farmers have multiple planters, they were asked to pick their largest.

An interesting comparison is to look at planter size and its age. In February 2012, a Farm Journal Pulse asked: How old is your primary planter?

Of the 1,600 respondents, 14% had a brand-new planter, while 32% reported a planter that was two to five years old. Twenty percent had a planter that was six to 10 years old, while the remaining 34% of respondents owned a planter more than a decade old.
---

To see the answers plotted on an interactive map, a full listing of past Farm Journal Pulse polls and to sign up to participate in the survey, visit www.FarmJournalPulse.com.