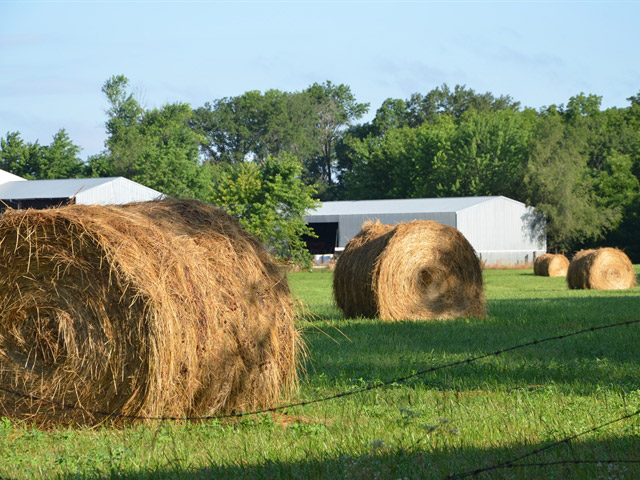 Low commodity prices, the fickleness of spring weather and the possibility of a hot, dry growing season are among the top concerns for farmers in Ohio, New York and Pennsylvania this year as planting approaches.
Agronomists are already noting what might be the start of a transition from the wet, cool El Nino weather pattern to La Nina's hotter, drier temperatures.
In Ohio, for example, the winter was mild, with little snow, and spring appears to have come early, with unseasonably warm temperatures. "The weather we are having in March is very reminiscent of 2012," says Laura Lindsey, an assistant professor of horticulture and crop science at the Ohio State University.
In New York, Bill Cox is seeing similar trends. "It looks like a warm growing season for us, which would be the first since 2012," says Cox, a professor in Cornell University's School of Integrative Plant Science. "The last three growing seasons have had below normal temperatures in July and August."
How might farmers in these three states respond to such weather, especially after such a soggy 2015? Here's what to expect.
Ohio
At this time last year, Ohio farmers expected to plant more soybeans (5.10 million acres) than corn (3.7 million acres), and Lindsey wouldn't be surprised if farmers followed the same approach in 2016 in the Buckeye State.
"If it looks like the weather is going to be variable or hot and dry, then soybeans tend to do better," she says. "Corn is really affected" by such weather patterns "because the pollination window is so much shorter. Soybeans can withstand the stress a little better."
Soybeans' ability to thrive despite wet or dry weather also offers Ohio farmers a better chance at profitability in a difficult economic environment, leading Lindsey to give soybeans the edge this year.
She also thinks the state could see growth in non-GMO soybeans, which typically represent about 10% of the state's soybean acres. "If there's premium associated with non-GMO soybeans, acres will go into that," Lindsey says.
What are Ohio farmers staying away from this year? Wheat, which also was down in terms of planted acres last spring in the state. "2015 was a very rough year for wheat, because it was so wet," says Lindsey. "Farmers had a late harvest, low test weights, and disease."
New York
In the Empire State, corn and soybeans take a backseat to hay, which also supports the state's significant dairy industry.
Indeed, Cox expects hay plantings to grow by 80,000 acres or more to 1.8 million acres of all forages and corn for silage to move upward as well, adding 20,000 acres to hit 500,000 acres in 2016. Much of those increases will come from dairy farmers. "They need the feed to keep costs down," says Cox, who sees the economic effects of low milk prices affecting many of these planting decisions. "Dairy farmers are feeling the squeeze, so instead of taking perennial forage out of the rotation after three years and planting corn, they will leave (the land as forage) for another year."
Row-crop farmers in New York are also moving away from corn right now. Corn for grain acreage is expected to fall again, to 520,000 acres in 2016, "because the low price will keep cash croppers from planting a high amount of corn," says Cox, who predicts the state will end up with about 1 million acres of corn, a loss of 50,000 acres.  
Growers are also reconsidering soybeans for a number of reasons. "Cash croppers will probably plant more corn than soybeans because corn just done better in the last couple of years," Cox said. "Our soybean yields have been below trend the last couple of years, whereas corn has maintained trend." Others may skip the corn/soybean rotation entirely in 2016.  "Farmers may plant more vegetable crops (peas, sweet corn, snap beans) instead of soybeans because of the relatively low soybean price," says Cox. Overall, soybean acres in New York are expected to slip by 20,000 acres to a total of just fewer than 300,000 acres.  
The sleeper crop in New York this year?  The state "may see a bit more barley for the growing beverage industry and more organic crops (corn, soybean, and wheat), given the relatively low commodity prices for conventionally-grown crops," Cox predicts.
Pennsylvania
Producers in Pennsylvania have many of the same worries as their counterparts across the country "Farmers are facing the low prices that everyone is nationwide," says Jim Dunn, a professor of agricultural economics at Penn State University. But like New York, many planting decisions in Pennsylvania continue to be influenced by the ongoing needs of the state's dairy producers.
Among dairy farmers, the crops of choice will be hay (which represented 1.29 million acres in 2015) and corn silage (390,000 acres in 2015). "Although milk prices will be low, if they can do a good job with these two crops, most should be okay," Dunn says.
In terms of corn and soybeans, Pennsylvania farmers last year harvested 940,000 acres of corn for grain and 575,000 acres of soybeans. With corn below $4 and soybeans below $9, these commodity farmers "don't like the outlook for either," says Dunn, who expects to see more soybean acres this year. "I think we will see a shift to beans to some extent because of lower input costs," he predicts.
Planting Preview 2016: Northeast
States: Ohio, Pennsylvania, New York
Top Contenders: Hay, corn silage
Sleeper: Non-GMO corn and soybeans
Factors to Watch: Early spring could accelerate planting in some areas, but wet spring could cause delays in states that already suffered a soggy spring in 2015.
AgWeb will be publishing additional planting preview stories in advance of USDA's Prospective Plantings report, which will be released March 31. 
Planting Preview 2016: Corn Remains King in I-States
Planting Preview 2016: Crop Confusion in Delta as Planting Nears
Planting Preview 2016: Corn Acres Likely to Return to Upper Midwest
Planting Preview 2016: Farmers in Great Plains Consider Corn, Sorghum
Planting Preview 2016: Farmers in Northeast Weigh Crops' Costs, Benefits
Planting Preview 2016: No Single Solution for Farmers in Kentucky, Tennessee and North Carolina 
What is the most important factor you consider before planting? How does weather throw a wrench into your plans? Let us know in the comments.