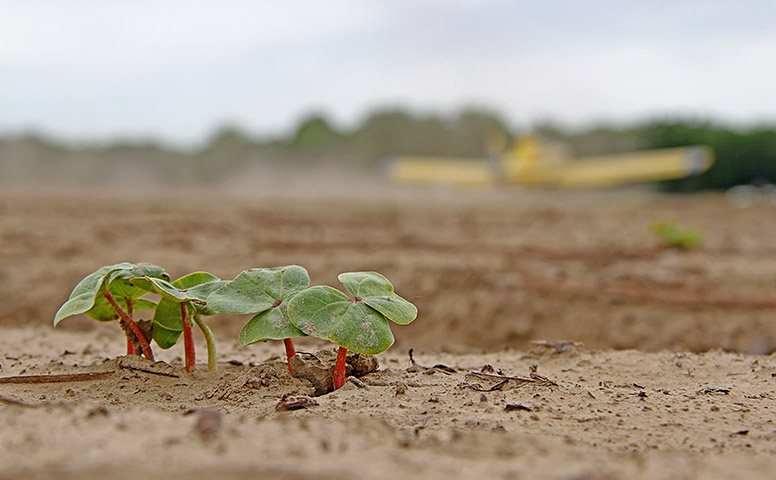 Kentucky, North Carolina and Tennessee are close geographically, but farmers in the three states face distinctly different challenges as the 2016 planting season approaches.
For Tennessee, the issue has been rain – too much of it, to be exact. Some areas of the state got pounded with up to 10" or more in early March. The wet spring may cause some delays, but University of Tennessee Extension area specialist Chuck Danehower says he's hopeful it won't lead to major problems.
"Certainly with the equipment we have today, producers can get the crop planted when there is a window," he says.
Danehower is watching for two potentially big acreage shifts in 2016. The first is sorghum, which Tennessee farmers planted on 124,000 acres last year, but a struggle to find market bids could push acreage down to historical averages of 20,000 to 30,000 acres. Then there's cotton, which could spike by as much as 25% this year.
"For starters, last year due to wet weather, we did not get all the cotton planted producers wanted," he says. "Also, we had a big-yielding crop--a state average of 1,035 pounds of lint per acre. Depending on a producer's land or rental situation, cotton pencils in better than the other crops, and we have had some chemicals come down in price, and that has helped."
Kentucky, which is Tennessee's neighbor to the north, also started wet, according to University of Kentucky assistant Extension professor of ag economics, Todd Davis. January and February weather was wet, but ponding issues have dried up (literally) as temperatures have climbed and rain became less frequent, he says.
Davis doesn't expect big acreage fluctuations for 2016.
"I've asked some farmers through winter meetings, and they aren't going to make big changes to their rotations," he says.
One non-weather factor may still play a role in acreage shifts, according to Davis. That could happen if lenders decide to impose more financing limits on operating notes.
"That may force more soybean acres, which are less expensive to produce," he says.
Meantime, in North Carolina, the spring weather has shaped up excellently, according to Ron Heiniger, cropping systems specialist at North Carolina State University. That could lead to a faster start to the season, he says.
One major shift Heiniger expects is a move away from cotton.
"Cotton acres could be as low as 100,000 or less, and this means that almost 500,000 acres needs to find a home," he says. "Right now, it looks like a good portion of that will go to corn, with the rest into soybean."
The most important factor in play continues to be low commodity prices, Heiniger adds. Of course, the same could be said for American farmers across the country in 2016.
Spring Planting 2016
States: Kentucky, Tennessee, North Carolina
Top Contender: Corn
Sleepers: Soybean
Factors to Watch: Potentially large swings in cotton and sorghum acres.
AgWeb will be publishing additional planting preview stories in advance of USDA's Prospective Plantings report, which will be released March 31. 
Planting Preview 2016: Corn Remains King in I-States
Planting Preview 2016: Crop Confusion in Delta as Planting Nears
Planting Preview 2016: Corn Acres Likely to Return to Upper Midwest
Planting Preview 2016: Farmers in Great Plains Consider Corn, Sorghum
Planting Preview 2016: Farmers in Northeast Weigh Crops' Costs, Benefits
Planting Preview 2016: No Single Solution for Farmers in Kentucky, Tennessee and North Carolina  
What is the most important factor you consider before planting? How does weather throw a wrench into your plans? Let us know in the comments.