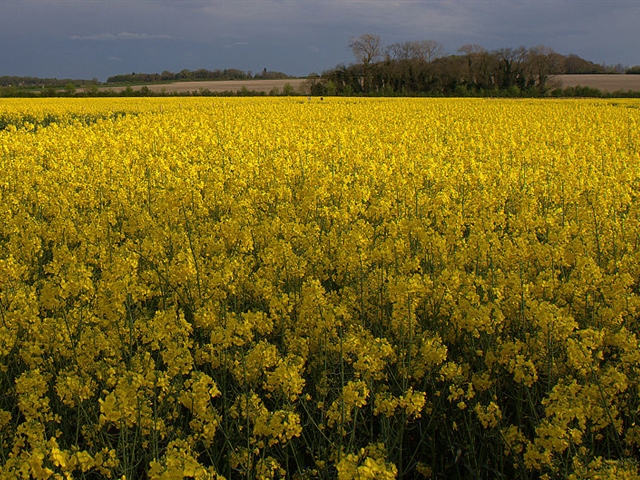 Canada's canola crop is in trouble.
More than anywhere else in the world, Canada's Prairie provinces yield canola seeds that are crushed to make vegetable oil used by McDonald's, KFC, Taco Bell and Frito-Lay. This year, a dry spell has left the soil more like concrete, making it tougher for farmers to plant and threatening to cut production for a second straight year.
"We've just been missing every rain," grower Eric McPeek, 30, said by telephone from his 4,100-acre farm in Coronach, Saskatchewan. McPeek sowed canola, durum wheat, chickpeas and lentils in ground he said was the hardest since 2010.
It's been a rough ride for canola in Canada, where this year's lack of moisture followed a spring-planting season in 2014 that was delayed by too much rain. Prices have jumped 18 percent from a four-year low in September. Dry conditions also make it harder to plant wheat, as weather disruptions in North America sparked a rally this month in prices that had been mired in a bear market because of record global inventories. Canada is the world's largest wheat exporter, after the U.S.
"All of the crops are having trouble now," Ken Kultgen, a farmer and the mayor of Foremost, Alberta, said in a telephone interview on May 14. Some of the wheat and barley seeded early in the province's southwest haven't germinated because of the dry weather, while his land hasn't had rain since early April, and the soil is too "hard and crusted" to seed 320 acres of canola, he said.
Less Rain
Areas of Alberta and Saskatchewan, Canada's biggest crop growers, got less than 40 percent of normal rain this growing season, according to the government agriculture agency. Last year, planting was delayed in the Prairie provinces by too much rain, and was partly to blame for a 22 percent drop in wheat output and the 13 percent slide in the canola harvest.
Most of southwest Saskatchewan and southern and central Alberta have been dry for the past several weeks, said Andrew Owen, a meteorologist at Overland Park, Kansas-based World Weather Inc. Below-normal precipitation is expected for much of the growing season in the Canadian Prairies, and crop quality and yields may decline, he said. Most canola and wheat seeds need to be sown by early June to allow enough time to mature before the harvest in mid-October.
Gains Forecast
The price of canola, also known as rapeseed, may climb as high as C$475 a metric ton ($394.88) if dryness persists into June, Errol Anderson, the president of ProMarket Wire in Calgary, said in a telephone interview on Friday. That would mark the highest since May 2014. On Wednesday, canola for July delivery fell 0.4 percent to close at C$458.50 on ICE Futures Canada in Winnipeg, Manitoba.
On May 14, a benchmark for Canadian wheat jumped the most in three years, partly because of concern that supplies from North America will be smaller than forecast. On the Minneapolis Grain Exchange, futures for July delivery settled Wednesday at $5.6825 a bushel. Prices are up 5.6 percent this month, paring this year's decline to 8.6 percent.
While warm, dry weather is threatening production now, it's allowed farmers to get a jump on planting. The government estimates parts of the Prairies saw the fastest pace in a decade. In Saskatchewan, 34 percent of crops were sown, up from the 10-year average of 17 percent, the province said in a May 14 report.
Faster Planting
The Alberta government said on Friday that planting was 50 percent completed as of May 12, up from 10 percent at this time in 2014 and and the five-year average of 22 percent.
"Farmers are waiting to seed canola as dryness persists across southern and central regions," the province said in a report.
"If we don't get a rain in May, there's going to be a lot of concern," Stephen Vandervalk, a vice president at Alberta's Western Canadian Wheat Growers, said in a May 13 telephone interview. "The crop will start going backward."
In Alberta and Saskatchewan, little rain is expected in the next 10 days, Owen of World Weather said in a telephone interview on May 13.
"The crop is already in the ground," said McPeek, the Saskatchewan farmer. "There's not much more you can do, except hope."
How is your planting season? Share your observations, photos and videos with AgWeb's Crop Comments section.