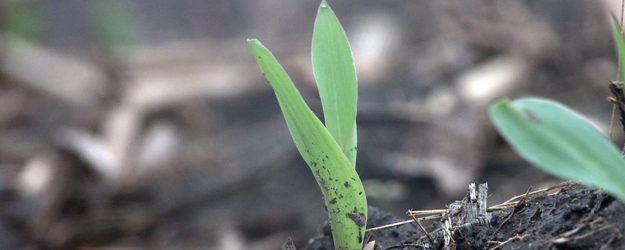 2014 has been another wild ride for farmers along the I-80 corridor. While some are glad to have this year's planting season behind them, others are hoping Mother Nature will cooperate over the next week so they can finally close the door on planting 2014.
"Well to be honest, it's very discouraging when you can't go and you're ready to go," says Tom Cooreman, a farmer in New Carlisle, Indiana. "You know it's getting late and you know you should be done and you have deadlines you have to meet."
Watch the full AgDay report:
Cooreman isn't the only frustrated one in the northern Corn Belt this year. What started off cool and wet for some has stayed that way all season long. So, when farmers have had the chance to plant, they haven't passed it up.
"Planting pace is probably the fastest I've ever seen," says Nick Ehlers, a Tipton, Iowa farmer.
Despite progress, the planting bag is mixed.
• South central Nebraska farmer Randy Uhrmacher has been finished planting for a few weeks and has already started side dressing corn, but cold temperatures haven't helped push the crop along, as he says emergence is just average.
• In eastern Iowa, Nick Ehlers' planter has been parked since AgDay visited him last week. He says planters finally started rolling again Monday, and if Mother Nature cooperates, he could be finished planting by this weekend.
• Northern Illinois farmers are struggling to finish planting this year. Dan Mitchell is 80 percent finished on corn, but hasn't even started soybeans. With three and a half inches last week, not much work has been done.
• That's also the case for farmers in northern Indiana. "Hopefully we can have a big week this week," says Cooreman. "We're about a week and a half behind, usually we're finishing up this time of the year. And presently we have about 40 percent of our crop planted." Cooreman says if they miss the chance of rain this week, they could maybe finish up next Wednesday.
• In Ohio, Jake Heilman says they actually finished planting both corn and soybeans the same time as last year, and emergence, so far, looks good.
Meanwhile, not all farmers were immune to the cold snap last week. A photo from Kenny Reinke in northeastern Nebraska showed the frost aftermath, but the other farmers AgDay interviewed say they dodged any damge.
"We didn't lose anything in the frost, but we came awfully close," says Cooreman. "The soils were wet, and usually when soils are wet, it doesn't frost."
Fortunately, AgDay meteorologist Mike Hoffman says farmers should be in the clear over the next 30 days.

"Well, it looks like that cold snap last week was probably it for now," says Hoffman. "We're looking for warmer temperatures really through the middle of the country."
Moisture has been the biggest concern for many Nebraska and Iowa farmers this year. Hoffman says while his precipitation outlook may not look good for the farmers trying to finish up planting, it does look promising for farmers in the Plains.
"We're also going above normal in the drought areas, which always makes a meteorologist nervous because it's tough to get moisture where it's already dry, but once you start, you can sometimes get it to perpetuate itself," says Hoffman. "That's what we're kind of thinking overtime as moisture does turn wetter for the Southwestern Plains.
Nebraska farmer Randy Uhrmacher told me they've actually received 5 inches of rain in some places since we were there in early April. So, if Mother Nature can keep that up, yields could be outstanding this year. With every year, it's the "wait and see" game as to how brutal or friendly the summer months will be.