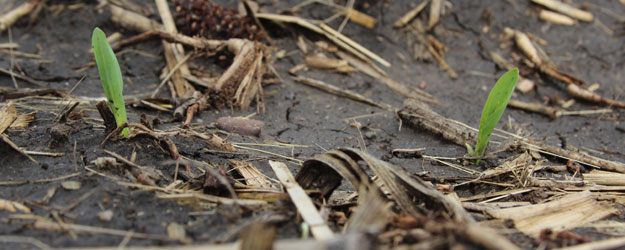 The latest USDA Crop Progress report shows corn planting in Iowa took a big jump last week, up 47 points. That means Iowa farmers planted around 6.6 million acres in just seven days. With nearly a week straight of dry weather, Eastern Iowa's corn planting is almost in the rearview mirror, with soybeans not far behind.

"Planting-wise, we're right on track," says Jayson Willimack, who farms in Oxford Junction, Iowa. "We're finished with corn and just getting started on beans."

"We're about 90 percent done with corn and about 80 percent done with beans," says Nick Ehlers, who farms about 30 miles south in Tipton, Iowa.

What's really impressive is just how fast Iowa's crops have gone in this year.

"Planting pace is probably the fastest I've ever seen," Ehlers says.
Watch the full AgDay report:


Southeastern Iowa fields finally got a drink this week, giving both farmers and their families a nice break from running around the clock. It was just in time, too, as rain is just what the earlier planted corn needed to start showing some life.

"Yesterday the corn was literally spiking right away," says Willimack. "It was right under the surface then, as soon as it got that little bit of rain, started spiking through."

The Willimacks weren't the only farmers wondering if emergence would be an issue this year.

"We didn't plant anything early in April, so all of our corn has gone in in the last week," says Ehlers. "So we don't have any emerged, but there's been some mergence issues in the area with the early corn."

It's not just corn having trouble popping through the ground this year.

"Soybeans are still struggling a little bit," says Willimack. "We don't have any of those up yet. They're right under the surface but not quite up yet."

These fields need more sunshine and warm days to help push the crop along.

"Most of the time our highs are in the upper 60s is all, and we had one or two days in the 80s, not great corn and bean growing weather" says Willimack.

As for the rest of the week, temperatures will struggle some more.

"They're talking highs in the upper 50s, lower 60s around here," he says. "So, we need some heat, some GDUs."

Even though planting is days away from being finished for both farmers, the forecast doesn't look promising for finishing this week.

"I think there's rain coming on the radar, so I think we're out for a while," says Ehlers.

These farmers aren't complaining about the rain; moisture is their biggest concern for 2014.

"The top two feet has a lot of moisture but underneath is pretty dry," says Willimack.

"We'll need timely rains to make a crop this year," Ehlers comments.

Last year Willimack says he had the best corn crop ever, and he's hoping with a little help from Mother Nature, this year will be the same.