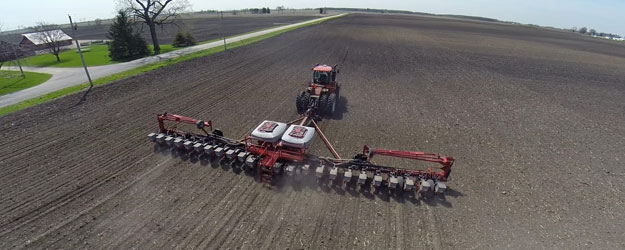 Planting 2014 is finally on in northern Illinois, but soil temperatures are still on the minds of many farmers.
An aerial view shows what many northern Illinois farmers have been waiting for: Planting 2014 is finally on.
"We're real good, actually. It's dried out nice now, and our subsoil moisture is very good," says Trenton Toftoy who farms in the Newark, Ill., area. "Right now, today, the planting conditions are really good."
Watch the full AgDay report:
He says for May 7, he's in excellent shape.

"Maybe about 30% complete on corn and maybe about 5% on beans. We actually just started beans this week," he says.
For Toftoy, that's right in line with his average planting pace.
"Last year we didn't get into the field until May 1," he says. "So, this year I had one week of panting in April versus last year we did not."
Toftoy's game plan is simple. He'd rather have the seed in the ground right now than sitting in the shed.
"Yeah, it's time to plant corn. It's May, you know, it's time to put the corn in the ground," he says. "Whatever Mother Nature does from here on out is out of our control."
Thirty miles south, Dan Mitchell's mindset is a little different this year.
"There are some fields around here that were planted the week before Easter that still haven't emerged," says Mitchell, a farmer in Seneca, Ill. "So, when you look at that, I'd rather plant mine when it gets warm and the corn comes up in a week and we have a better stand, maybe."
Northern Illinois farmers aren't alone. The latest USDA Crop Progress report shows six of the top corn growing states have no corn emerging yet. Nationally, 7% of the corn crop is up, behind the average of 13%. In Illinois, emergence is at 8%, also behind.
Consdinering the slow emergence this spring, Mitchell says he has no regrets he has only 150 acres of corn in the ground. He says it's just been way too cold and wet.
"I spread dry fertilizer for two or three days when it was too wet to be doing that, and I started spraying when it was too wet to be spraying a couple weeks ago," says Mitchell.
He's about two weeks behind where he'd like to be at this point, but compared to 2013, he's right on track.
"I started planting corn the 8th of May last year, and we had really good yields," Mitchell says. "But we had a nice cool summer. Typically I'd like to be done by the 1st of May, but you know, what's the summer going to do, I guess."
Considering how fast he can get the corn in, he's not overly worried about the late start.
"Last year we planted the entire crop in about a week," he says. "You know, once you get going and you work 20 hours a day, hopefully the equipment works your way, and you can get done when you want to get done."
If he catches a few rains in the forecast this week, Mitchell says worry will start to set in. So, at this point, no matter what the thermometer reads, it's go time.
"As soon as the ground is in good enough shape, it's May, it's time to plant," he says. "So once we get going, we're going to go hard."
As for Toftoy, his biggest concern is emergence, but with the sun shining and 80 degree temperatures later this week, he's hopeful that will soon change.
"After today here it's really supposed to warm up, and let's keep our fingers crossed we'll get a nice emergence," he says.
As for the rest of the 2014, both farmers remain positive, as prices and field conditions are both looking up.
"All these marketers were all doom and gloom this winter, why would we even put the crop in, is what they made it sound like," he says. "Things have changed. We've got some pretty good prices. So let's get the crop in, forward contract some prices, and make some money, or that's the goal anyway."