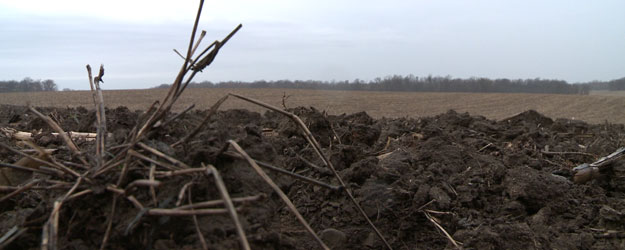 It's not just the rain holding northern Indiana farmers up this year. Temperatures have been below normal, too.
With a shiny new planter sitting idle in the shed just waiting to be broken in, it's not easy for the Licthenbarger family to sit on the sideline and watch it rain.
"We're anxious, because when you have a new outfit it always has some bugs and glitches in it, and we're ready to go," says Rick Lichtenbarger, a farmer outside of South Bend, Ind.
Watch the AgDay report:
About 15 miles down the road, Tom Cooreman's check of the latest weather forecast confirms one thing, more rain.
"According to the weather forecast, we won't be in the field this week at all," says Cooreman, "And it doesn't look good for next week, because the temperatures are so low, nothing really dries out."
"Sounds like we'll have more time to work on more equipment and do other things," says Lichtenbarger. "If the forecast holds true, we won't be in the field this week."
It's not just the rain holding these farmers up this year. Temperatures have been below normal.
It's cold," says Lichtenbarger. "I haven't even put a thermometer out."
Add all that together and it means planting 2014 is not off to a start many had hoped. Overall, Indiana farmers have planted 8 percent of the state's corn crop. Normally, it's at 25 percent. And just like most farmers in the state, Lichtenbarger says he's behind.
"At this point we should just be full bore, and that's not going to happen this week."
Lichtenbarger says he's about two weeks behind in field work, so that has to still get done before planting can get underway."

"Normally we like to start anywhere after the 15th of April, and, it's going to be May now. "
Cooreman is in a little better shape, as some fall tillage work occurred last year.
"Most of our tillage that we did get done was in our gumbo soils and our heavy soils, so we made sure we got that done," he says.
That's all they could do before a white blanket of snow covered his fields for the majority of winter. AgDay Meteorologist Mike Hoffman says the unofficial snowfall total for the South Bend, Indiana area this year came in at just over 109 inches, which is 42 inches above the average.
Cooreman says considering all of that snow, he's amazed field work is finally caught up on his farm, but planting is a different story. So far, he says he's about 13 percent planted on corn, but he also has quite a few seed corn acres, and until it warms up, they won't think about putting that in the ground.
"We plant commercial corn in colder soils, but seed corn with the parent seed is very weak," Cooreman explains. "It has to come up with good emergence and with warm temperatures."
Both farmers say they are growing a little more soybeans this year. With prices not as grim as some had forecast, both farmers are hopeful 2014 will be a good one.
"I found out one thing: not to believe the people that predict," Cooreman says. "I feel pretty optimistic that it will be a decent year, not as good as it has been in the past, but i think we'll still be okay."