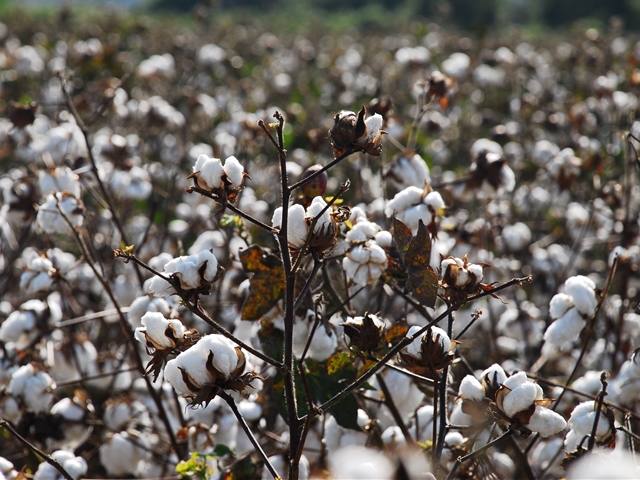 The slump in cotton prices to a five-year low this week will prompt farmers worldwide to reduce planting, the International Cotton Advisory Committee said.
The impact of lower prices is already evident in planting intentions in the Southern Hemisphere including Brazil, Jose Sette, executive director of the committee, told an industry conference in Mumbai today.
Futures in New York yesterday tumbled to the lowest since September 2009 as the U.S government estimates global production to outstrip demand for a fifth straight season, boosting inventories to an all-time high. Slowing demand from China, the world's biggest consumer, will shrink exports from the U.S. and India, the world's largest shippers, the U.S. Department of Agriculture estimates.
"Everybody is trying to sell and prices are going to go down because supply is higher," Terry Townsend, a former executive director of the committee, told the conference. "That process of declining prices, farmers losing money, and some farmers going out of business, reducing cotton production is inevitable."
Cotton for March delivery reached 58.53 cents a pound on ICE Futures U.S. yesterday, the lowest since 2009. Futures, which plunged 73 percent from an all-time high of $2.197 reached in 2011, traded at 59.03 cents at 5:15 p.m. in Mumbai today.
Prices may average 70 cents in the long term as the slump has made cotton more competitive against man-made fibers and is spurring demand, Sette said. Global demand from mills will jump to 26.6 million tons in 2019-2020 from 24.4 million tons this year, while rising supplies will ensure stockpiles are big enough to meet demand for a year, he said.
Record Inventories
Global reserves will reach an all-time high of 107.36 million bales, each weighing 480 pounds, or 218 kilograms, USDA data show. India will become the world's largest producer, according to USDA data. The country's harvest will match last year's record of 31 million bales, the agency estimates.
Production is rising just as China cuts imports because of record inventories. The nation's purchases will drop 50 percent this year to the lowest since 2009, USDA figures show. That's prompting traders to shift focus to markets such as Vietnam, Bangladesh, Taiwan and Turkey, says Ray Butler, managing director of Cotton Outlook.
"After three years of stocks accumulating in China, stocks will accumulate outside China in 2014-15," Butler said. "International cotton trade has been constrained by Chinese policies and the trade is changing it's focus from China. To countries such as Vietnam, Bangladesh, Taiwan and Turkey."
China increased stockpiles more than five-fold over the past four years, after the government bought up supplies to support domestic growers, contributing to a surge in prices. China's inventories will be a near record 62.16 million bales, USDA data show.