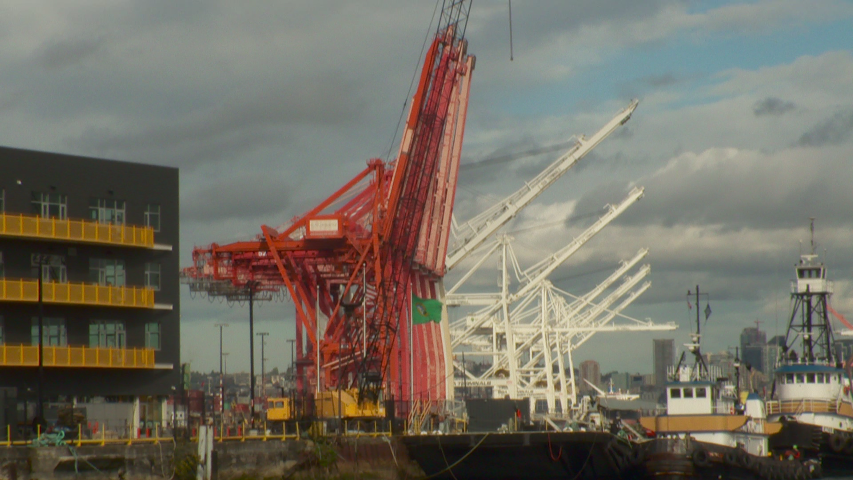 The Pacific Maritime Association announced Monday that weekend vessel loading and unloading operations will be temporarily suspended this weekend due to ongoing union slowdowns on the West Coast.
Vessel operations are schedule to resume Monday. Yard operations that move processed containers through truck and rail will continue at the operator's discretion.
Earlier this week, The Pacific Maritime Association says it has made it's 'all-in' order in order to prevent a possible shut-down at West Coast ports.
The PMA has offered a 'final deal' to the Longshoremen as West Coast ports are on the verge of a complete gridlock.
"Ultimately, this thing is going to grind itself into a stop. Is that five days from now, seven days from now or ten days from now? I couldn't tell you exactly. I'll tell you that it's eminent," said President and CEO of Pacific Maritime Association, James McKenna.
For nearly nine months, the Longshoremen have worked without a contract, unable to reach an agreement. The PMA, which represents shippers and ports and the Longshoremen's Union asked for a Federal Mediator to step in. That was a month ago. No contracts have been made.
"We're still only moving fifty percent of the cargo that normally moves through the Pacific Northwest in those facilities. In southern California, we're having trouble clearing the yards. We have less crane operators for the ships," said McKenna.
In the contract, the PMA has offered to raise the ILWU's pay by three percent. The organization says Longshoremen currently make $147,000 a year. The PMA tacked on two of the Longshoremen's biggest demands: more health benefits and the ILWU's complete control of truck chassis.
In an International Longshore and Warehouse Union Statement: "The ILWU pledged to keep the ports open and keep cargo flowing. The ILWU urged the Federal Mediator to keep both parties at the talks until the nearly-finished agreement is concluded.
Those outside of the negotiation, say a resolution has to be made before our nation's commodities are severely affected.
"One of the U.S. advantages is our ability to competitively access international markets. Resolution of this issue is going to be critical for corn farmers," said National Corn Growers Association President, Chris Novak.
"If we build a reputation as we can't meet a demand because of labor strikes, then it really does hurt us over the long term and makes us un competitive," said American Soybean Association President, Stephen Censky.
McKenna said if this offer isn't accepted, he expects to have every ship that is serving the Pacific Trade parked on the West Coast.
"The system can only take so much. That's terminals, vessels and the infrastructure. At some point, this will collapse under its own weight," said McKenna.
The Agriculture Transportation Coalition sent out a notice this week warning exporters and importers about a possible port shut-down up and down the coast.