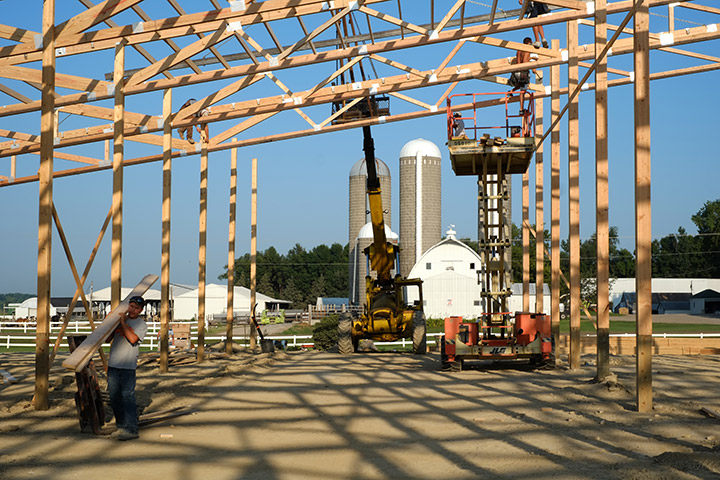 Dairy Today's expansion survey shows an appetite for expansion and growth—especially in the Midwest and Northeast
The time of little or no growth in U.S. milk production might be over. According to a Dairy Today online expansion survey conducted in August, 38% of the 405 respondents say they plan to expand their dairy operations during the next three years. About half of those expansions are planned for the next 12 months, with the rest at 12 to 36 months.

Survey responses came from 40 states. Roughly half came from the Midwest, a fourth from the Northeast and the remainder split between the West and Southeast.

The results were also skewed toward larger operations, with 55% of the respondents owning more than 200 cows. USDA data suggests just 15% of U.S. dairy operations milk more than 200 cows, but these large herds do represent more than 70% of all dairy cows and more than 75% of U.S. milk production.

Consequently, the results of the survey have to be taken with a grain of salt. But they do suggest there is an appetite for growth, at least among larger herds. Even among herds with less than 200 cows, 29% say they plan to grow. About two-thirds of these smaller herds plan to grow up to 50% in the next three years.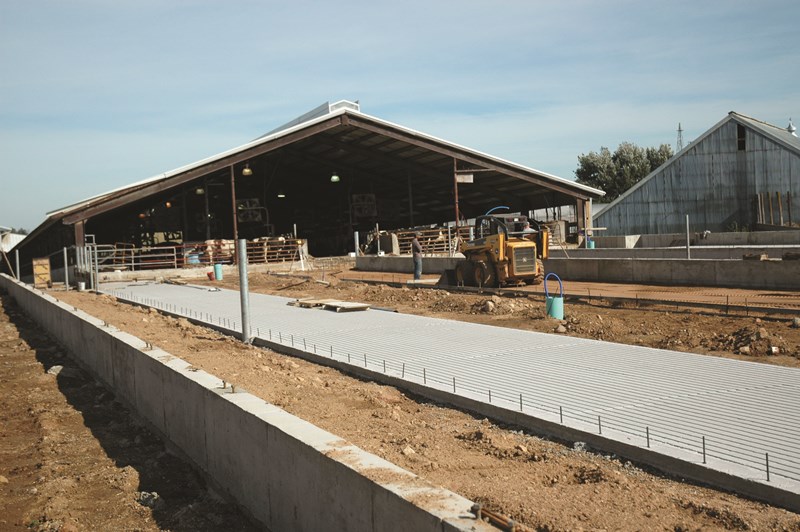 Even in the midst of a wide variety of production challenges, many dairy producers cite a willingness to expand their operations.
---
Dairy Today editors conducted the survey because of the slow rate of dairy growth in the first half of 2014. Most analysts expected more milk to be produced in light of record milk prices, with some monthly prices exceeding $25 per cwt west of the Rocky Mountains.

For the first half of the year, milk production grew just 1.3%, with first quarter gains barely 1%. This is far from normal—typically production grows 2% or more year over year. Only in July did growth accelerate, with U.S. milk production up 3.9% from the previous year.

Lenders say many dairy producers are still recovering equity from the 2008 and 2009 Great Recession. Forage quality and costs are also a hindrance, with farms just now getting back on track after 2013's huge winterkill of alfalfa in the Midwest.

On top of that, building costs are up substantially over the past five years. With higher purchased feed costs, lenders are requiring either more owned land or higher equity positions. New research in the western Corn Belt suggests a 3,000-cow dairy built on 600 acres of owned land can now exceed $25 million ("At the Crossroad").

Given the volatility in milk markets and production challenges, it's little wonder dairy farmers and lenders have been reluctant to add cows and build barns. Until now.
But as important as who plans to expand, Dairy Today editors hoped to learn more about those who didn't plan to expand—and why. The largest group of non-expanders came from herds with less than 200 cows.

Of those, 65% say they are content with their current herd size, have no partners willing to expand or are nearing retirement. After that, the leading barrier to expansion is milk price risk and volatility. Other factors cited include equity position, labor, land prices, feed prices and feed availability.

On a regional basis, the strongest growth intentions come from the Northeast and Midwest.
Forty-four percent of respondents from the Northeast, including New England, Maryland, New York and Pennsylvania, intend to grow herd size. The strongest growth intentions came from New York, with more than 60% of New Yorkers planning to add cows. But a third of Pennsylvania dairy producers who responded to the survey also plan to grow.

The only survey respondent from Maine, a producer with less than 200 cows, plans to grow up to 25% within the next 12 months.

The Midwest also shows signs of growth, with 41% of survey respondents saying they'll add cows. For example, only six South Dakota producers responded to the survey. But five of those six plan to add cows. Three of the five milk more than 3,000 cows. Of these, two plan to add up to 1,500 more cows; the third, up to 750 cows.
The largest response came from Wisconsin, with 80 dairy farmers completing the survey. Slightly more than a third say they intend to expand their operation.

Wisconsin might have a leg-up on its neighbors with its "siting regulations" now in force statewide. These regulations don't allow townships or counties to impose stricter rules than state regulations unless the local government can cite compelling science-based reasons.

However, some local governments have circumvented these siting regulations by getting the Wisconsin Department of Natural Resources (WDNR) involved in permitting high-capacity wells.
"Having experience in establishing several dairy operations throughout the state of Wisconsin, it is my strong opinion that WDNR is extremely inconsistent during the permitting process," comments one Wisconsin producer. "If there is [local] opposition, WDNR scrutinizes every detail making the process painful, expensive and frustrating."

As expected, the West had the lowest level of expansion plans. Just a fourth of the 76 Western dairy producers plan to add cows or facilities in the next three years.

Given the drought and high levels of regulation, just two of the 26 responding California dairy producers plan to add cows. Both were 3,000-dairies and planned to grow no more than 25%.
In the Southeast, 40% of the 27 dairies who responded plan to add cows. They were scattered across

Arkansas, Georgia, Kentucky, Mississippi, Tennessee and Virginia.

Overall, producers say the industry is poised to bloom.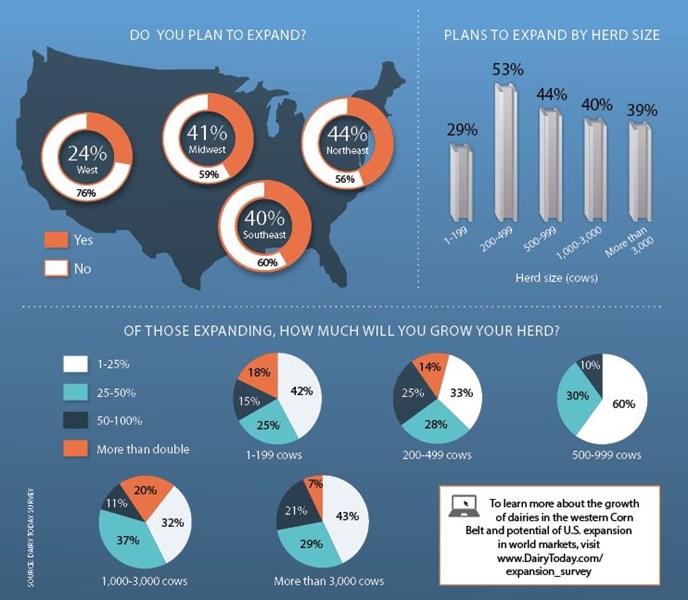 (Click the image to view a larger version. For more informatin visit www.DairyToday.com/
expansion_survey)
Corn Belt Producers At the Crossroads
Anyone who travels the back roads of the western Corn Belt knows it is a great place to milk cows. Yet, milk production in Iowa, Minnesota, Nebraska, North Dakota and South Dakota is just half of what it was 40 years ago. This five-state area produces 8% of the nation's milk, down from 16% in 1970.

But there are signs of rejuvenation along Interstate 29, which runs the eastern edge of the Dakotas and the western border of Iowa. Cows and processors have migrated to the "I-29 corridor," proving dairy production and manufacturing can thrive in the region. Why hasn't it taken off in other parts?
The Midwest Dairy Association (MDA), the regional checkoff program for the western Corn Belt states as well as Arkansas, Illinois, Kansas, Missouri and eastern Oklahoma, commissioned Blimling and Associates and Dairy.com to conduct a comprehensive, competitive market analysis of the region.

Their 217-page report shows the western Corn Belt enjoys strong milk price premiums and cheaper feed. The real shock came in dairy facility building and land costs, which have doubled in the last decade.

A 3,000-cow, cross-ventilated facility on 100 acres with 500 acres of cropland in South Dakota costs upwards of $25 million dollars. A comparable facility in Wisconsin or Michigan is $22 million. In all these areas, only a few producers have the financial leverage to build facilities of this scale. Growth will be incremental at best.

However, in Dairy Today's expansion survey, producers in MDA's 10-state service region showed a propensity to grow. Of the 88 survey responders from this region, 45% say they plan to add cows in the next three years.