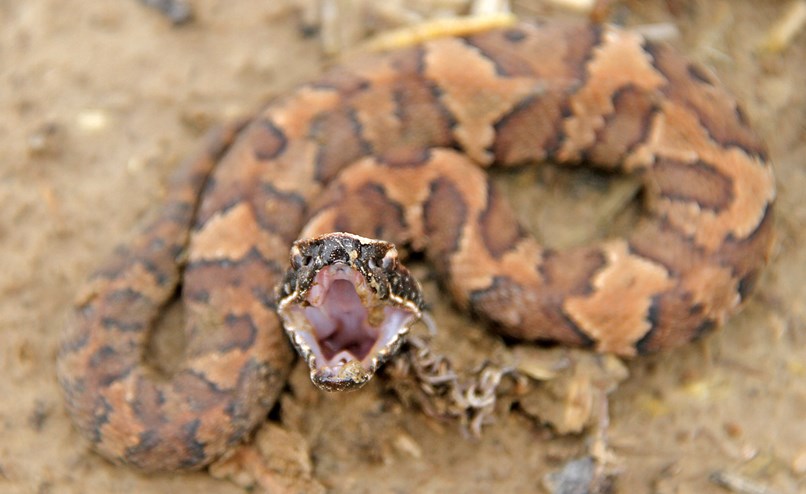 The strike seemed impossibly fast to Bill Ryan Tabb, as if a thick branch had snapped across his leg. Tabb took two steps after the strike, checked up, and felt an odd sensation wash over him – a searing pain that had no precedent. Turning about, he watched a snake wrap into 3' of coil, head cocked up and mouth agape, holding its ground on the edge of a turnrow in burned down, withered grass. Black-gray body, thick mid-section, and blunt tale, Tabb immediately recognized it as a cottonmouth – and knew he was racing against time.
Tabb should have been planting soybeans or rice, but the skies had opened in the early hours of April 14, 2011, and dumped an unexpected 2" of rain across his Bolivar County farm in northwest Mississippi. In standard fashion, Tabb's crew had met at his shop that morning and separated to get water off the fields. He loaded an ATV on a trailer and drove to check a report of a car stuck after rutting up a rebuilt turnrow – testament to the grinding surprises that often begin a day on the farm.
When he pulled up close to the damaged turnrow, Tabb left the four-wheeler hooked to the trailer and set off on foot – dressed in shorts and tennis shoes. On almost any other day, Tabb, 38 at the time of the bite, would have been riding the ATV and wearing boots. As Tabb walked the turnrow, a cottonmouth struck the inner ankle of his left leg.
Early March had seen burndown across Tabb's acreage, and as he looked turned back, the black snake was clearly visible, coiled in brown grass, just along the turnrow's edge. The heavy rains had likely pushed the cottonmouth out of a ditch and forced it to change ground.
"I left the snake coiled in the grass and just wanted to get help as fast as possible. The pain was building and it was pain I'd never felt before," Tabb recalls. After a 20-minute drive to the hospital in Cleveland, the bite area was beginning to turn black. "I started getting faint as my blood pressure dropped. I really got nervous and recognized I could be in big trouble. The pain was incredible and it's difficult to describe how bad my muscles ached."
Due to high costs and limited shelf life, small hospitals often have limited anti-venom supplies. Tabb was given two vials of anti-venom in Cleveland and then moved to Jackson. After 18 total doses of anti-venom, the poison's spread was stemmed, but he remained in the hospital for three days and took a full six months at home to fully recover. "I don't get edgy on turnrows, but I do find myself watching my steps very closely when I'm walking down a levee of tall rice. If I'm rolling up a rice gate to regulate irrigation water, it gets a little nerve-wracking for me. I'm always on the lookout on my farm – that's for sure."
---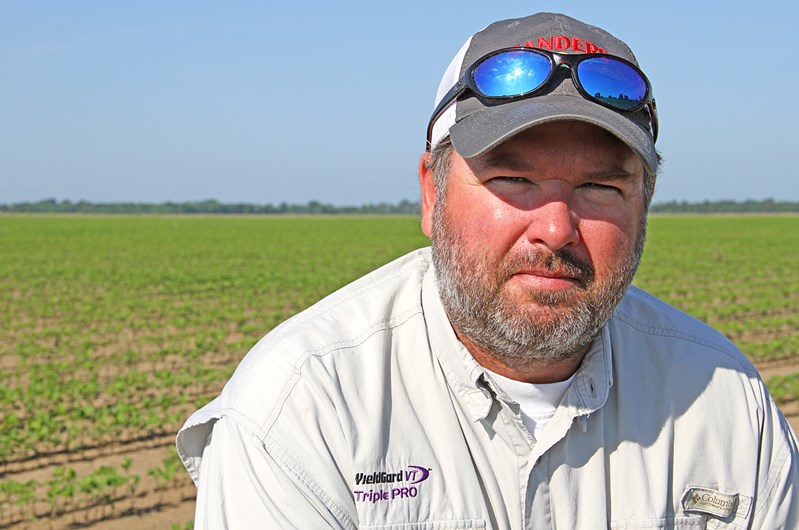 Producer Bill Ryan Tabb, Bolivar County, Mississippi, needed 18 doses of anti-venom and six months to fully recover from a cottonmouth bite.
©
Chris Bennet
t
---
Farmland is a haven for snakes. Ditches, ponds, sheds, barns, machinery graveyards, and grain bins offer a bevy of cover and food sources. Statistics fly under the radar, but agriculture workers are consistently bitten by venomous snakes.
One Fang, No Anti-venom
In October 2013, 36-year-old Delta producer Garrett Carver, Ruleville, Miss., had finished cutting soybeans and should have been preparing ground for winter, but caught a rain that kept him out of his fields. Along with his brother, Carver hauled grain and filled feeders in a stretch of woods in Carroll County, preparing food plots for deer season. By 10:30 a.m. of the fall morning, he'd moved on to clearing back brush and cut a branch that fell directly on a timber rattlesnake. "I reached down to pick up the limb and got tagged on the second knuckle of my index finger."
Despite an instant burning sensation in his hand, Carver didn't realize he'd been bit. His knuckle was bleeding from a solitary puncture wound – only one fang had found the mark. "I didn't see him bite and thought I'd been stung by a hornet, but my hand was on fire and the pain was growing by the second. I walked over to my brother to show him the wound because the single spot and the blood didn't make sense." They walked back to the bite site just in time to see a 2' timber rattler moving back into the undergrowth. "I was instantly hit with a sick feeling in my gut: I knew I'd been bit by a rattlesnake."
From that point, a series of errors could have cost Carver his life. Arriving at the Greenwood hospital at 10:45 a.m., Carver was treated with pain medicine until 5 p.m., and not given any anti-venom: "I told the doctors, but I'm not sure they initially believed me."
When a new doctor came on shift late in the afternoon and read the blood work report, he insisted Carver receive immediate anti-venom. However, the Greenwood anti-venom supply was sitting on empty. Carver didn't wait for an ambulance as his wife drove him 100 miles to Jackson, arriving with his entire arm swollen – red streaks patterned up to his bicep. In the Jackson emergency room, Carver was mistakenly placed in general admittance, the pain nearly unbearable. "I finally started raising Cain and a nurse in the back heard the commotion and said, 'Get him in now. That's the guy we've been waiting on.'"
---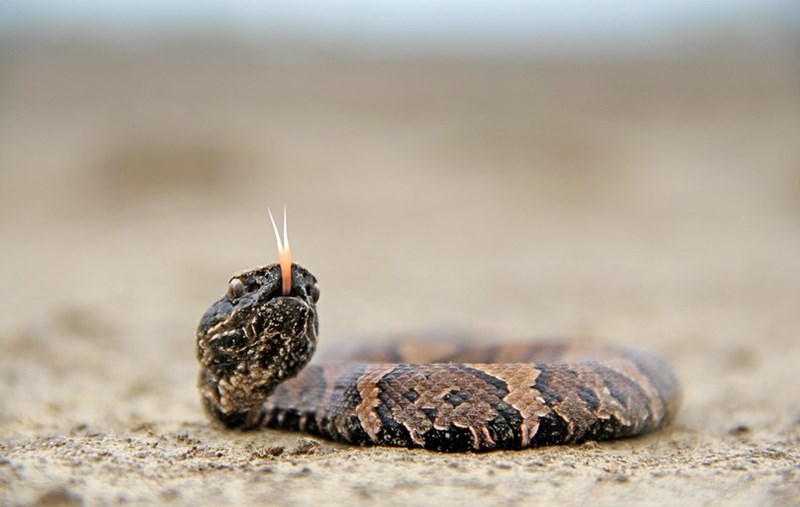 "Even when I'm on my turnrows, I'm looking around," says producer Garrett Carver. "It makes me pay attention to my surroundings on the farm."
©Chris Bennett
---
At 9:30 p.m., despite the bite occurring 11 hours earlier, Carver was given anti-venom – the first of eight doses. "I was worried the swelling was so bad that they would have to split the skin to relieve the pressure, but the anti-venom kicked in and turned me around." Anti-venom varies in price, but each vial in Carver's case cost a hefty $8,000.
Three days later, Carver left the hospital, but needed an additional four months to gain proper use of his hand. He stayed away from the bite-site woods for an entire year. "Now I'm wary. Even when I'm on my turnrows, I'm looking around. It makes me pay attention to my surroundings on the farm. This is one of those things that you always see or read about, but never think will happen to you."
Indescribable Pain
The hills of southeast Mississippi's Claiborne County can be prime ground for timber rattlers. Dana Sander's family farm is located in the hills adjacent to the Big Black River and the area is rich in history. "Years back, our property was the last plantation on the Natchez Trace before you reached Indian land," Sanders describes. The acreage is now used for silviculture and planted in pines.
Sanders serves as a wetlands consultant, typically operating alone when taking soil samples and conducting endangered species surveys. On Sept. 13, 2014, his outdoor background couldn't prevent a severe snakebite as he worked in a food plot on the family farm. Standing beside a pile of slash debris while cutting limbs for shooting lanes, Sanders took a step back into the slash and felt a violent strike slam just above his 6" boots: "This was like a board with nails just stuck in my leg."
"Even when I'm on my turnrows, I'm looking around," says producer Garrett Carver. "It makes me pay attention to my surroundings on the farm."
---
Ditches, ponds, patches of woods, sheds, barns, machinery graveyards, and grain bins offer snakes a bevy of cover and food sources.
©Chris Bennett
---
He jumped back to the edge of the food plot and then crept forward to get a look at the snake – a very large, yellow-faced timber rattler roughly 4' to 5' long, with a head 3" wide. The pain was instant and intense as blood poured from two puncture marks spaced an inch apart. "I knew I'd probably stepped on him and he was just doing what he's programmed to do naturally. My dad was with me and I told him, 'I just got bit by a rattlesnake. We've got to go now.'"
As a volunteer fireman and first responder, Sanders' training kicked in and he remained calm – a participant in another call, but this time as the victim. "I didn't wrap it, tie it off, or cut it. I called ahead to the hospital in Vicksburg 30 minutes away to give them time to get anti-venom set up."
Within 20 minutes of the bite, Sanders was going into shock. He was transferred from his father's truck to an ambulance on the outskirts of Vicksburg and given a shot of morphine to cut his pain. It had no effect. "My pain was a seven or eight and just kept growing worse."
The hospital was ready when Sanders arrived: Within an hour and half of being bitten over 30 miles away, he was receiving anti-venom. Yet, the pain was still mounting and doctors were marking the progression of venom as it moved through his leg. "The pain had jumped to a nine or 10; certainly the worst pain I've experienced and almost indescribable. It's localized, but it radiates. It's almost as if you took a red-hot icepick, stuck it in your leg, and left it. It doesn't cool, but continues to burn."
After additional morphine shots failed to ease his pain, doctors gave Sanders dilaudid, a synthetic heroin that brought relief. He needed 12 vials of anti-venom to keep the poison from advancing beyond his hip and remained hospitalized for five days. The bill for the entire procedure was $446,000. (Each vial of anti-venom was $22,000 and Sanders was fortunate to have adequate insurance.)
---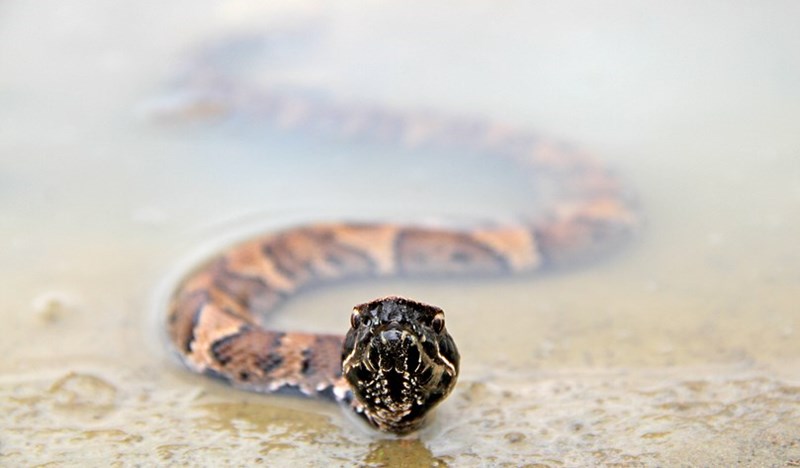 "This was like a board with nails just stuck in my leg," describes Dana Sanders.
©Chris Bennett
---
Several months later, he was back at work – soil probe, GPS and four-wheeler in snake habitat. Sanders still has swelling and faces permanent nerve damage, but says he was fortunate to receive quick treatment: "Any spot on a farm is snake habitat. If you get bit; don't treat yourself with a kit or wait. You're only going to increase your chance of infection that is bacteria-derived. Call ahead, let the ER get ready, and get your tail to hospital. That's the key."
"Everything that happened was preventable because I wasn't aware of my surroundings or paying attention," he adds. "I always wear snake leggings now – no exceptions."