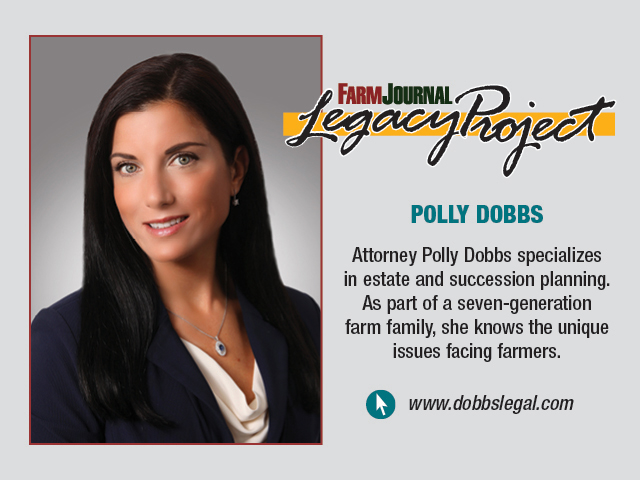 The laws for estate planning aren't any different for farmers versus non-ag business owners; however, there are important variances, such as the following, that require special planning when a farmer meets with an attorney:
Vocabulary. One client told me his previous lawyer charged $600 per hour and at one point during a meeting asked him: "What are bushels?" Farmers have a different vocabulary, and if the lawyer can't understand a farmer's balance sheet, then the communication barrier might prevent the right assets from being directed to the right beneficiaries.
Emotional ties to land. A non-ag business owner might use words such as "exit plan" and put together a plan that includes a sale at retirement or after death, but most farmers have strong emotional ties to the land and don't want it sold. Farmers use words such as "transition" instead of sale. Many farmers are still reeling from buying out siblings when the last generation passed away and want a plan that avoids another sale. I often hear, "How many times do we have to buy this same farm?" The next generation is relieved to learn they don't have to own all the family land but can have access to it.
Operations versus land. There's an important distinction between an operation and its land, but a reference to "the farm" might mean both of those lumped together. Farming is unique because an operation and its land can, and many times should, be separated into two distinct businesses, then passed along differently to different beneficiaries after retirement or death. "The farm" won't look the same for the next generation. One child, or unrelated successor, might take over the operation, while all the children become landlords who enjoy an income stream, with restrictions in place to give the operation's successor access to the land base at a fair rental rate. The difficult task of creating a fair succession plan becomes a lot easier if "the farm" isn't pushed into one heir's bucket and all of the children can share in land ownership.  
Own versus rent. Most farmers farm a lot more land than they own. A good farm succession plan involves attention to assets the client doesn't own but needs to maintain access to. Working with landlords to secure first rights of refusal and drafting leases are important pieces to an estate plan. If you're good to your landlord, they might want to know you'll be the one buying the farm when they're gone, at a fair price, instead of having to bid on it at auction when the kids sell it.
Personal financial statement. Farmers are fiercely private and notoriously understate their net worth, while most non-ag business owners have big egos and inflate their bottom line. The personal financial statements I see often don't have the information I need. Equipment might be listed as fully depreciated and land valued at the original price or $2,500 per acre because the farmer wants to be conservative. Life insurance is usually listed at current cash value. Your estate planning attorney needs to know what you're worth dead, and that means knowing the face value of life insurance and the fair market value of everything else. All the pieces of the estate planning puzzle, such as the way assets are titled, any payable on death designations and the current beneficiaries of contract assets, must properly fit together.
Deeds. It's ironic that a farmer usually can't produce the documents that prove ownership of the most important and valuable asset on the balance sheet. I'm so tired of seeing outdated abstracts of title on yellowed bound stacks of paper that don't tell me an acre was sold off or the state took a chunk when expanding the highway. Often we need to retitle land as part of the succession plan, and the lawyer needs the last deed of record and any exceptions. It's important to work with a local title company, which will cost a few hundred dollars, to get accurate land records.