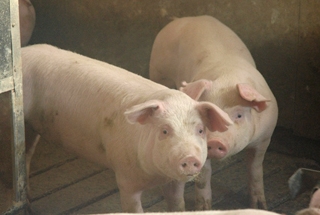 USDA is forecasting U.S. pork production to outpace beef for the first time in 75 years. China continues to decrease its pork imports substantially since last year. AgDay looks at whether demand could pick up and the hurdles standing in the way.
"If you look at exports to China this year, it's not very darn much. It just hasn't been a good year," said EMI Analytics Pork Economist Steve Meyer.
Our top importers for both production and value include Japan, Mexico, Canada and China. According to the U. S. Meat Export Federation, pork export volume to Hong Kong/China is down 21% from a year ago. "At least for the short-term, that is a real challenge. We still think China is a big growth market long-term, and we need to really try to mend those relationships and get that back up and running," said Meyer.
Watch the AgDay story here:
It could be a challenging problem to solve. China does not allow the use of ractopamine, a drug used as a feed additive in U.S. pork production. While the drug is approved by the FDA, China has some concerns. "They banned the use of ractopamine," explained Becca Nepple, vice president of international marketing at the National Pork Board.  "Therefore our producers either have to go ractopamine-free in their production systems or find another market for their product outside of China."
Some analysts expect the U.S. won't see a big export jump because of the drug.  "Until we start reducing the ractopamine that we're putting through hogs, China is not going to come to us as a buyer," said Craig VanDyke, an analyst with Top Third Ag.
The strength of the U.S. dollar doesn't help.
"The point to be made is Smithfield Foods--at least on the Eastern Seaboard--doesn't use ractopamine, and yet we are still having problems exporting to China," Meyer said. "You have to realize they behave by the same rules of trade. The stronger dollar relative to the EU and the Euro relative to the Canadian dollar has offered some better opportunities to buy pork in other parts of the world."
VanDyke agreed. "Sixty-five percent of Chinese pork imports come from the EU. If we continue to see weakness in the euro and if the Fed does raise rates and we see strength in the dollar, that's not going to help deferred hogs moving forward,"  he said.
Industry leaders say the recent West Coast port disputes also hurt the U.S. by giving other countries an opening to establish new outlets for their products.
"We lost China and some other countries and sales to those countries to the Europeans and Brazilians and Chileans," said Ken Maschhoff of the National Pork Producers Council. "Now, it's going to be tougher and tougher getting them back."
Meanwhile, while the U.S. may be approaching a new record in hog production, China is experiencing a massive liquidation. According to Nepple, "China's data shows about 10 million sows, so they have a real pork gap coming and an opportunity to import more product.
U.S. producers see that as an opportunity they'd like to capture.  "You've got 1.3 billion people in a lot of the middle class. They do not have enough pork to feed that population," Meyer said. "We still think that's a growth market."