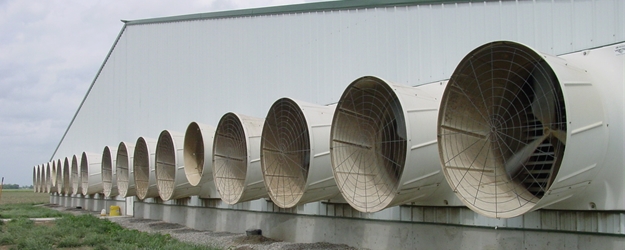 The debate between urban and rural interests in Iowa could be poised to deepen, experts say, if hog farms expand to keep up with strong demand for pork and manure.
The Des Moines Register reported Saturday that hog producers may expand herds to replace animals lost to a deadly disease and to take advantage of grower prices that are nearly 40 percent higher than a year ago.
At the same time, activist groups such as Iowa Citizens for Community Improvement will continue protesting hog farm expansions because of concerns about the environment and impact on neighbors.
"Factory farming is one of the most pressing social issues in Iowa," said David Goodner, an organizer at the citizens group that has protested and stopped 11 hog farm projects in the past 18 months.
In rural Dallas County, Rob Manning is building a barn to hold 2,500 hogs that will expand his family's operation to handle roughly 20,000 hogs.
Manning said the manure, which he can use to help fertilize his family's 7,000 acres of corn and soybeans, is a big part of why they are expanding the operation.
"We're building the barns here, because this is where we farm. This is where we need it," he told the newspaper.
Manning's neighbor Eric Wessels worries about what the new hog barn and its odor will mean for his family's quality of life.
Wessels said he's upset that his neighbor was allowed to start building his new hog barn without ever receiving notice about the project.
"They can put these operations up every half mile," said Wessels, an architect. "It's an industry and needs to be regulated like one."
Hog farmers like Manning defend their industry, and they say growth in the suburbs is making it harder for farmers to expand their businesses.
"Hog buildings aren't bad," Manning said. "We're meeting a need. Everyone loves bacon, and there's only one way to get it."
Des Moines Water Works CEO Bill Stowe blames livestock producers and farmers for problems with ammonia and nitrates in the Raccoon and Des Moines rivers, which are the source of drinking water for 500,000 people.
Treating water for nitrates cost consumers almost $1 million last year, the newspaper reported.
"We are a mecca of intensive livestock and row-crop farming, and there are consequences," Stowe said. "Throughout the state, there are a number of impaired surface waters — rivers and streams — that aren't suitable for human contact. They're not fishable. They're not swimmable."
But experts say it's hard to determine the exact source of nitrates and ammonia in water.
"We see failures of urban waste treatment plants, too, or rain events that overwhelm storm sewers," said Paul Lasley, chairman of Iowa State University's sociology department, who studies rural issues.
Nitrates can come from golf courses, city lawns and salt used on slippery roads and parking lots.
"Whether we're spraying for weeds in our fields or our gardens, we all share in and contribute to the problems," he said.
Iowa farm leaders say they are working to reduce the amount of nitrates and phosphorus that ends up in the state's waterways.