Thanksgiving can be one of those lines in the sand for the grain markets. History shows markets commonly made a trend change around the fall holiday.
January soybeans jumped nearly 13¢, for the week ending Dec. 6. Meanwhile, March corn dropped 5¢ and March wheat declined 18¢. (Check the latest market prices.)
"The trend change happened in soybeans," says Jerry Gulke, president of the Gulke Group. "I would have thought beans would carry corn."
Gulke says what the bean market needed was a good purse—and it looked like it happened. 
"When you have a lot of negative news, the market gets sick and needs to throw up and purge all that negativity," he says. "Then prices can rally."
The soybean market was also buoyed by some good news concerning China. As of this week, China officials have started to process applications from some domestic companies to exempt purchases of U.S. goods including soybeans and pork from retaliatory tariffs, according to Bloomberg.
Gulke is concerned the trade issues with China could still take a long time to solve, especially with the presidential election on the horizon. 
"If I were running for president, I'd want this tariff thing to come in about July 1, make an agreement, and then you've got China buying grain from us, and it all looks good to come. Nov. 3," he says. 
The corn market continues to struggle. Gulke says he, along with other farmers, continue to be surprised by how yields have come in this year. 
"I wonder if we have underestimated the productivity of the genetically modified seeds we've been planning, because we've put them to the test this year," he says. "I'm a little bit concerned that maybe our yields won't drop as much as we had thought."
On Dec. 10, USDA will release its monthly round of Crop Production and World Agricultural Supply and Demand Estimates Report (WASDE) reports. Gulke has his eye on a few key issues in the reports. 
"NASS told us they are going to look at the unharvested grain and count it as on-farm stocks," Gulke says. "We've been through this before in 2009."
Gulke says farmers would be fortunate to get a bullish report on Tuesday. 
Post-Thanksgiving Trends
By Jerry Gulke
Soybeans have the most obvious collapse in prices which appeared to have experience an exhaustion selling phase pre-Thanksgiving followed by a post-Thanksgiving reversal in trend with current trading objective to get back above the long-term uptrend.
Corn on the other hand, has entered into sideways trading range bound in the March futures by $4.00 and $3.66--$3.78.  Soybeans have followed a three-wave up and down in their pricing.  The questions now are if the most recent low in soybeans is wave one or not, and whether corn is merely pausing trading sideways before taking another leg lower.  NASS will have a lot of influence next week as well in the final 2018/19 report in early January.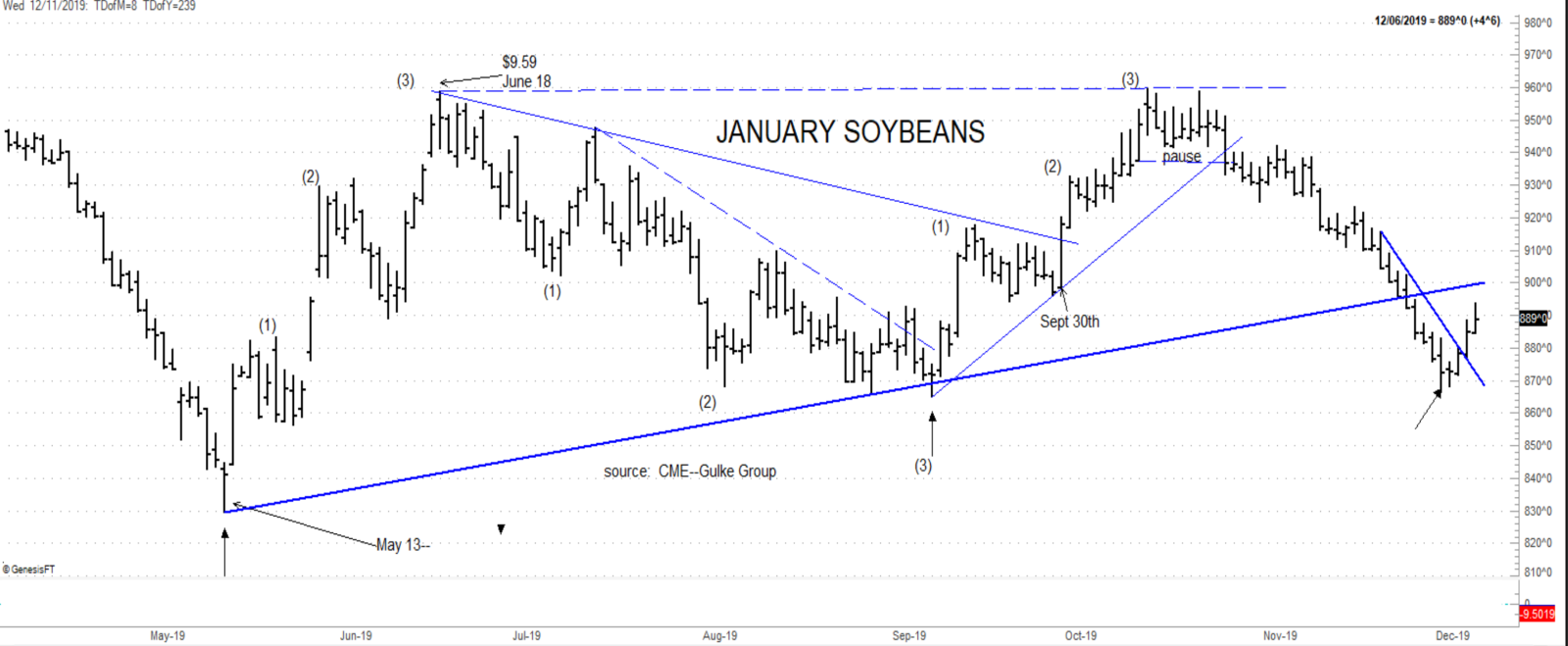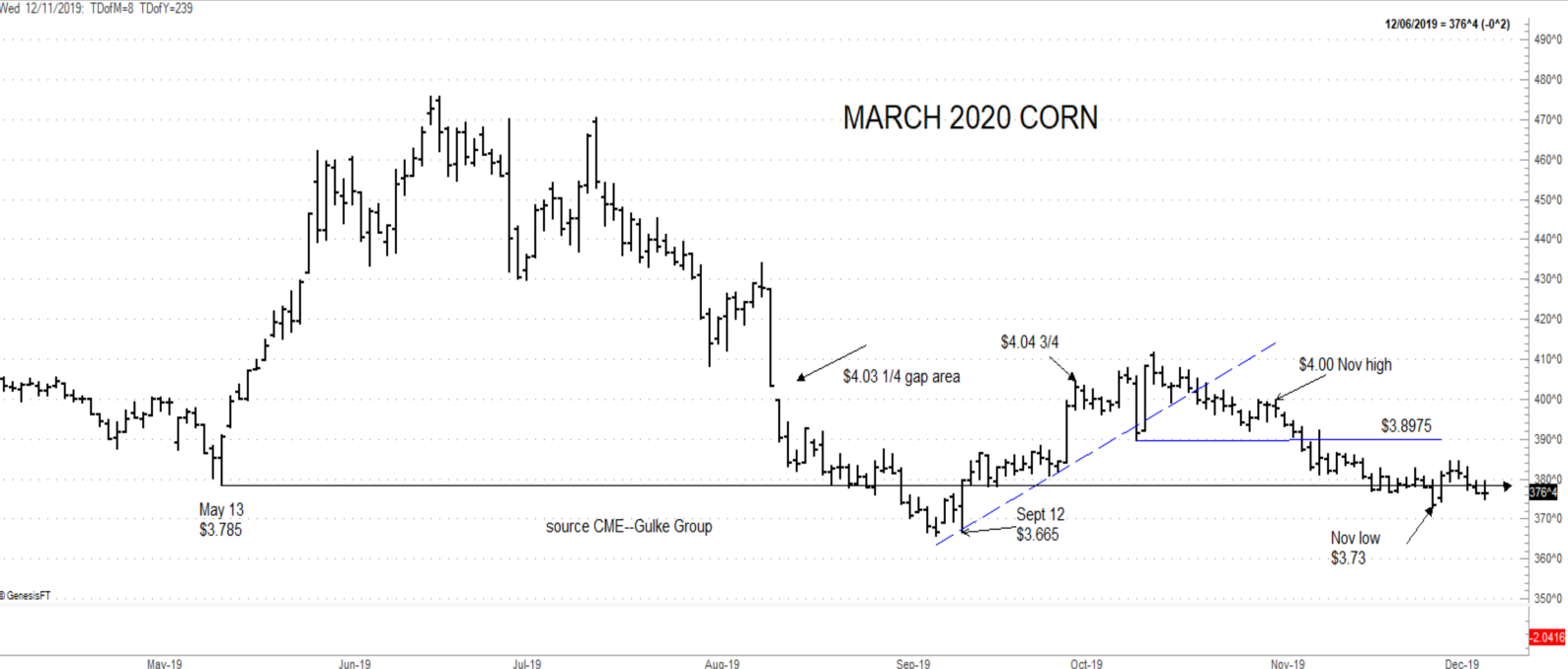 Read More
Jerry Gulke: Reown with Calls? Buy or Sell?
Jerry Gulke: Markets Mark Time With A Negative Bias
Jerry Gulke: Volatility = Profit Enhancement Opportunities
Find more written and audio commentary from Gulke at AgWeb.com/Gulke
Jerry Gulke farms in Illinois and North Dakota. He is president of Gulke Group. Disclaimer: There is substantial risk of loss in trading futures or options, and each investor and trader must consider whether this is a suitable investment. There is no guarantee the advice we give will result in profitable trades. Past performance is not indicative of future results.