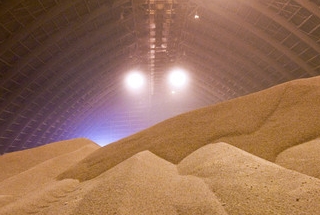 Potash Corp. of Saskatchewan Inc., the world's largest fertilizer producer by market value, posted third-quarter profit that lagged behind analysts' estimates as the price of its namesake crop nutrient fell.
Net income dropped to $317 million, or 38 cents a share, from $356 million, or 41 cents, a year earlier, the Saskatoon, Saskatchewan-based company said today in a statement. The average of 23 estimates compiled by Bloomberg was for profit of 42 cents a share.
Sales rose to $1.64 billion from $1.52 billion, beating the $1.53 billion average estimate. Potash Corp. narrowed its forecast range for full-year earnings to $1.75 to $1.85 a share, from $1.70 to $1.90 previously.
"Recent weakness in crop prices is expected to result in some reduction to global crop acreage," Potash Corp. said in the statement.
Corn prices are down on expectations for a plentiful North American harvest this year. The U.S. Department of Agriculture said in August that lower crop prices would drive down profits of U.S. farmers by about 14 percent in 2014. That's hurt earnings at other agricultural companies such as Monsanto Co. and Deere & Co.
"If farming was a company with a ticker and earnings estimates, it would be horrible because of the drop in crop revenues," Mark Gulley, a New York-based analyst at BGC Partners LP who recommends selling Potash Corp. shares, said before the results were released.
Reduced Production
Potash Corp. sold 2.01 million metric tons of potash in the quarter, up from 1.56 million tons a year earlier. The company sold the crop nutrient for $281 a ton on average, down from $307.
During the third quarter, larger volumes of potash sales to lower-priced markets outside of the U.S. and Canada weighed on its results, the company said.
Potash Corp., which also produces phosphate and nitrogen fertilizers, said its phosphate results were hurt by reduced production from "mechanical challenges" that added to costs.
Potash is a form of potassium used by farmers to strengthen plant roots and boost resistance to drought.