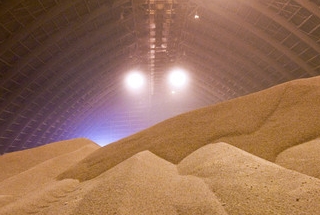 Potash Corp. of Saskatchewan Inc., the world's largest fertilizer producer by market value, is considering a production capacity increase on signs demand in the $20 billion market for the crop nutrient may rise.
The company, based in Saskatoon, Saskatchewan, may boost its annual operational capacity to as much as 11 million metric tons of potash next year, from an estimated 9.2 million tons this year, Chief Financial Officer Wayne Brownlee said today in an investor presentation in New York.
"There's probably a little bit of growth room in the offshore market in 2015," he said. "Given some of the supply constraints we've seen in some of our competitors, there may be room for us to have increased volume."
The company is moving to recover from turmoil in the potash industry since Russia's OAO Uralkali quit a sales accord with a Belarusian competitor in July of last year to operate at full capacity, pushing down prices. Last December Potash Corp. cut 18 percent of its workforce and reduced capacity following the price decline.
The producer has now begun the process of recalling some laid-off workers to its potash mines, Brownlee said. He estimates global shipments of potash, a form of potassium that strengthens plant roots, may increase in 2015. This year, sales will be between 58 million and 59 million tons.
Potash Corp. rose 0.5 percent to C$38.85 at 2:34 p.m. in Toronto, rebounding from a 0.6 percent decline earlier. The shares have gained 11 percent this year.