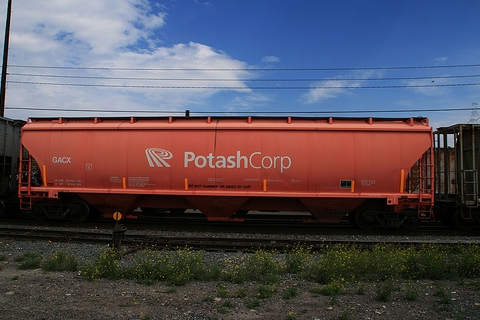 Potash Corp. of Saskatchewan Inc., the largest fertilizer producer by market value, reported fourth-quarter profit and revenue that beat analysts' estimates as sales volumes of its namesake crop nutrient rose to a record.
Net income climbed to 49 cents a share from 26 cents a year earlier, Saskatoon, Saskatchewan-based Potash Corp. said Thursday in a statement. That exceeded the 46-cent average of estimates compiled by Bloomberg. Sales were $1.9 billion, compared with the $1.68 billion average projection.
Potash Corp. sold 2.5 million metric tons of potash in the quarter. The average estimate of four analysts was for 2.26 million tons.
"Buyers went into the quarter with low inventories," Spencer Churchill, a Toronto-based analyst at Paradigm Capital, said by phone before the results were released. "Some may have been trying to buy additional tons ahead of potentially higher prices later this year."
North American potash prices have increased 17 percent in the past 12 months as buyers sought to replenish low inventories and after a supply disruption at OAO Uralkali's Solikamsk-2 mine.
Prices may continue to advance on speculation about the magnitude of the damage caused in November by the underground flood at the Russian mine, Churchill said. Uralkali is monitoring the mine, which accounts for almost a fifth of its potash production capacity.
Potash prices have been recovering from the plunge that followed Uralkali's decision in 2013 to operate at full capacity after quitting a sales accord with a Belarusian competitor.
Potash Corp., which also produces nitrogen- and phosphate-based fertilizers, sold potash for an average of $284 a ton in the quarter, compared with $282 a year earlier.
Farmers apply potash to their fields to help boost plant resistance to drought and to strengthen root systems.
Potash Corp. forecast first-quarter profit to range from 45 cents to 55 cents a share, compared with with the 51-cent average of 12 analysts' estimates compiled by Bloomberg. Full- year profit will be $1.90 to $2.20 a share. The average estimate from 29 analysts is for $2.11.
Potash Corp. said it expects global potash shipments to decline this year to 58 million metric tons to 60 million tons, down from more than 61 million tons last year.
The company forecast potash sales of 9.2 million metric tons to 9.7 million tons, up from 9.3 million tons last year, according to the statement.
Potash Corp. rose 1.4 percent to $36.70 ahead of regular trading in New York. The shares rose 14 percent in the year ended yesterday.