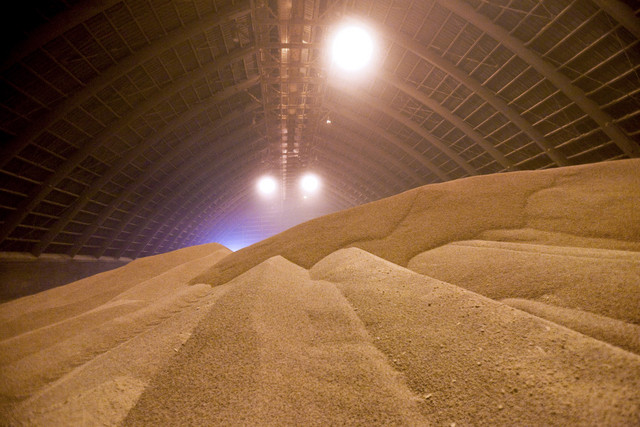 The potash industry, which provides the potassium used to grow bigger fruits and vegetables worldwide, is facing a global price war as Belarus seeks to strengthen its share of the $20 billion market.
The Eastern European country, which supplied 20 percent of global exports last year, is running mines at almost full capacity to gain a foothold in the U.S. and in China, at a time when the Asian nation is in talks with other providers of the plant nutrient, analysts and competitors say.
The moves come a year-and-a-half after the once-staid market was thrown into chaos when Russia's PAO Uralkali unexpectedly terminated its relationship with Belarus's state- owned producer Belaruskali. That venture used to control 40 percent of exports, helping to maintain stable prices.
"The real price war has already started," said Oleg Petropavlovskiy, an analyst at BCS Financial Group in Moscow. "Belarus is offering lower prices in some regions, while running close to full capacity. It's the key threat now for the global potash market and will not abate any time soon."
Potash, used by farmers as an important fertilizer for their plants, is mined deep underground, in areas where water from ancient seas dried up and disappeared, leaving behind potassium salts. Total demand for the nutrient reached a record high of about 62 million tons last year as farmers in Brazil, China and North America increased consumption.
The fertilizer is also vital to the state-dominated economy in Belarus, a former Soviet republic run for two decades by autocrat Aleksandr Lukashenko. Exports there rose 66 percent to 9.5 million tons in 2014, worth about $3 billion.
Belaruskali has total capacities of 12.6 million tons of potash a year, while the miner boosted output in January by 35 percent year on year, it said this week.
Independent Operation
That was the first full year in which Belaruskali operated independently, after the August 2013 divorce from Uralkali. Maximizing potash earnings has become even more important after the Belarusian ruble plunged 29 percent this year and the country aims for a budget surplus.
Belarusian Potash Co., the trading company that handles the country's exports, was offering the commodity at about $400 a ton last month to U.S. customers. That's a discount of about $10 from competitors' prices, according to a Jan. 21 report from London-based industry researcher Fertecon.
BPC, as the company is known, says it's not aiming to undercut competitors. Instead, it is seeking to stabilize and improve prices in all regions, said Irina Savchenko, a spokeswoman, in an e-mailed response to questions.
'Flexible Strategy'
"We are led by a flexible sales strategy, based on an adequate market situation, common sense and strict compliance with contract obligations and business ethics, respect toward clients and peers," she said.
This is the first time Belarus tried to sell potash in the U.S. since sanctions were imposed on the country after a 2006 election that the George W. Bush administration said was rigged. Direct sales became possible last year because the country's potash industry is no longer run by Belneftekhim, a state holding company that was subject to the sanctions.
Breaking into the U.S. market means taking on the North American producers that dominate it, such as Potash Corp. of Saskatchewan Inc. Randy Burton, Potash Corp.'s spokesman, declined to comment for the story.
Meanwhile, China, the largest potash consumer, has postponed contract negotiations with suppliers. Companies typically hold separate talks with China's state importers, and the first signed deal sets a price for the rest.
March Talks
Uralkali had expected to complete a deal by the end of 2014, but now expects talks to start in March.
The reason for the delay: China may have about 4.5 million tons stockpiled, in part because of shipments from Belarus, according to Uralkali.
"We saw Belarus shipping four cargoes in January to China," said Oleg Petrov, head of sales at Uralkali. "Some of those volumes went to the market, some stay in the port, but still this is delaying the opportunity for the new deal."
Petrov also said Belarus is selling at a discounted price in Brazil in an effort to boost its market share and may compete with suppliers from Israel and Canada.
BPC's Savchenko said the company isn't planning any shipments to China this month.
It's not fair to blame Belarus alone for escalating the situation, according to Elena Sakhnova, an analyst at VTB Capital in Moscow.
'Verge of Collapse'
"Uralkali also runs at full capacity, and it didn't stop shipment to north China by rail," Sakhnova said. "Canada's patience seems to be at the verge of collapse as it has been the only market participant until recently who was holding the output stable."
Potash Corp. sold 9.3 million tons of potash in 2014. The company said in a Jan. 29 presentation that it targets sales of 9.2 million tons to 9.7 million this year.
The market isn't likely to find a balance soon.
In 2014 global effective capacity was about 70 million tons, while demand was at a historical high of 62 million tons, according to Uralkali.
Even if Uralkali cuts output to 10 million tons from last year's 12.1 million tons after flooding at one of its mines, that will be offset by other producers, according to VTB Capital.
Belarus may increase exports to 10 million tons this year and China adds 500,000 tons of domestic output, Sakhnova said.
Currency Declines
Currency declines mean both Uralkali and Canadian producers have room to cut prices, BCS's Petropavlovskiy said. Uralkali's production costs have fallen to about $40 a ton from about $65 a ton after the Russian ruble lost almost half its value.
The Canadian dollar has also dropped, allowing producers there to cut costs to as low as $95 a ton, from $100 to $140 a ton, Petropavlovskiy estimated. Potash Corp. said last month that its production cost was $105 a ton in the fourth quarter.
He reduced his long-term, 2018 price forecast for potash to $340 a ton from $400 a ton, based on an average of markets around the world.
"The real competition has started," he said.