PotashCorp released highlights from its 2nd quarter results and for the first half of 2013. The report details record first-half cash resulting from operating activities totaling $1.9 billion. The company reports potash shipments remained robust, after a successful first quarter, into the second quarter with K sendouts tallying 4.8 million tonnes. Lower operating rates at the Lanigan site will prop up strong profitability through the rest of the year, and despite several weeks of planned shutdowns and operating well below production capacity, PotashCorp feels it will have plenty of potash to offer increased global K demand.
Monsoons have been on track in India this summer, and demand for nutrient is expected to be high, but India's declining currency coupled with a wildly imbalanced NPK subsidy program will encourage continued NPK imbalance in Indian soil.
Phosphate movement has also been impacted by India which is the world's largest importer of P. Favorable sulphur pricing has helped producers maintain margins, but the report also mentions natural gas curtailments in Trinidad which threaten to increase the price of imported ammonia. However, strong demand in South America and other Asian markets is expected to make it up in volume.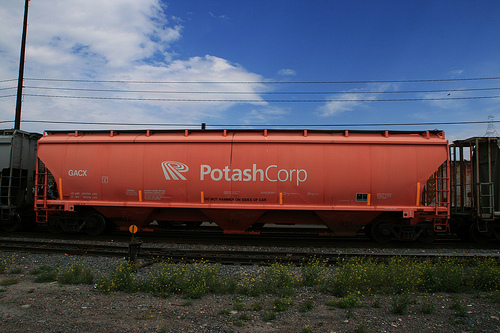 Nitrogen is marked by sharply rising imports into the U.S. of urea which has been on a pricing freefall for a year now. Urea shipments into the U.S. have been strong over the last nine months and while the price slide is not expected to maintain it's year-over pace, prices are expected to keep looking for the bottom near-term. Ammonia is a concern and natural gas curtailments in Trinidad will impact anhydrous pricing. Ammonia pricing has moved generally lower in the last few months, but fails to match the sharp falloff of urea.
Text highlights from the PotashCorp release follow:
---------------------------------------------------------
"Global fertilizer demand was strong during the quarter, but highly competitive markets around the world had an impact on our results," said PotashCorp President and Chief Executive Officer Bill Doyle. "Despite some weakening of prices in each of our nutrients, the continued engagement of buyers in our key markets was a positive sign. Farmers demonstrated their commitment to improving soil fertility and capitalizing on favorable agricultural economics, which benefits global food production and our company."
Although global crop markets experienced volatility in the first half of 2013, the agronomic and economic incentives that drive fertilizer demand remain attractive for farmers. Strong demand for potash, nitrogen and phosphate materialized as expected in the first six months of the year and we anticipate that agricultural conditions will continue to support healthy fertilizer applications in major growing regions for the balance of the year.
In nitrogen, the resumption of ammonia production at Geismar has us on track to surpass 2012 sales volumes, although we anticipate slightly lower ammonia availability during the third quarter due to a scheduled turnaround at our Trinidad facility. While the sharp contraction in nitrogen prices appears to be slowing, the full impact of the recent decline is likely to be reflected in our third-quarter realizations. We believe favorable cost variances will help offset lower prices and anticipate gross margin for 2013 could reach record levels.
Global phosphate markets continued to be impacted by the lack of substantive engagement from buyers in India, the world's largest phosphate importer. Although fertilizer dealers managed their supply requirements cautiously in the absence of clear market direction, demand in North America stayed relatively strong and shipments from US producers to Latin American countries were robust. Despite India's return to the solid fertilizer market midway through the quarter, prices for all phosphate fertilizer products trended lower.
In potash, we believe the demand story that is unfolding is a product of renewed growth in many developed and emerging markets. We expect that 2013 global shipments will be similar to the record set in 2011 (nearly 56 million tonnes) with shipments to each major market relatively in line with previous forecasts.
Outlook --
"Rising global demand for all three crop nutrients continues to reflect the underlying reality that farmers and fertilizer buyers around the world are working to improve soil fertility and food production," said Doyle. "As this need for crop nutrients, especially potash, continues to grow, we believe it translates into significant opportunities for our company. As we have seen throughout our history, the timing of increases in demand and prices is not perfectly predictable, but we are confident that a commitment to running our business responsibly and with patience will be rewarded. We will continue to do the right things for long-term success, managing our assets to maximize the benefits for all our stakeholders."
In North America, we anticipate strong engagement through the balance of the year as dealers work to position potash in expectation of an active fall application season. Prices for our summer-fill program reset to $420 per short ton (Midwest warehouse), or approximately $463 per metric tonne, and we are beginning to see buyers returning to the market to restock depleted inventories. While the late spring planting could result in a condensed fall application window, we anticipate that a push by farmers to address declining potassium levels in their soils will result in second-half shipments exceeding historical totals.
Demand from Latin America, especially Brazil, has been particularly strong through the first six months of 2013. We anticipate this market will continue importing potash at high levels in preparation for its key planting season later this year, although it may slow slightly from last year's record second-half levels. For the year, we forecast total demand in this market will surpass previous period totals.
Shipments of first-half potash volume commitments to China by major suppliers are now reported to be largely complete - with those from Canpotex completed in early July. Discussions on second-half contracts are continuing and we anticipate a new supply agreement will be reached, although shipments during the third quarter could be minimal.
After a slow start to 2013, buyers in other Asian countries (outside of China and India) increased purchases in the second quarter and are working to ensure potash supply will meet anticipated demand. With supportive agronomic and economic incentives in place, we expect total shipments in this region will outpace 2012 levels.
In India, the potash situation remains complex. While an early and healthy monsoon led to an increase in fertilizer demand in June, India's current fertilizer subsidy program continues to create a large pricing gap between nitrogen and potash fertilizers, and recent currency weakness has intensified the disparity. We do not expect any significant change to our previous forecast of total shipments to this market of approximately 4 million tonnes, although Canpotex's third-quarter movements could slow from their strong pace in recent months.
---
Photo credit: great deku tree / Foter / CC BY-NC-SA