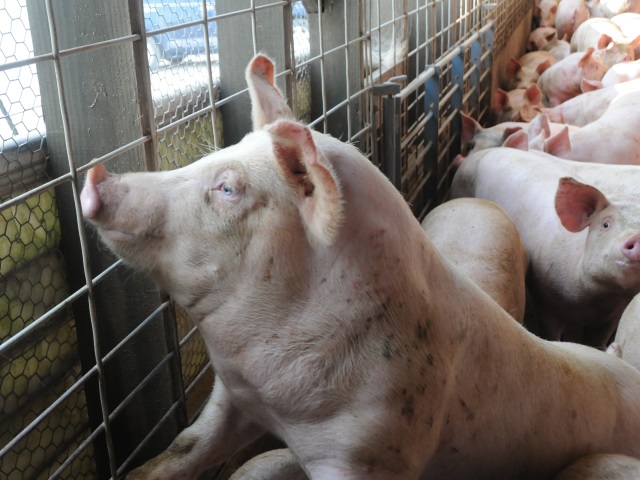 The pork industry is pursuing one common goal in the 2018 farm bill. It wants money set aside to create, store and supply a foot-and-mouth disease vaccine. An outbreak wouldn't just affect production or trade, but could become a food security issue. 
Meantime, the pork industry continues working to grow the world's appetite for U.S. pork. 
"To continue this 2, 3, 4 percent annual increase in production for pork, it's not going to the U.S. market," said John Weber, past president of the National Pork Producers Council (NPPC). "Future growth has got to come from the export side."
With potential trade deals up in the air, the U.S. pork industry cannot afford an interruption in trade. That's why the industry is pushing for a foot-and-mouth disease vaccine. 
Foot-and-mouth disease impacts cloven-hooved animals such as hogs, cattle, sheep and deer. The industry is urging for a vaccine because an outbreak could shut down trade, unlike some other animal illnesses. 
"We are willfully underprepared in the event of a food-and-mouth disease outbreak in this country," said Dustin Baker, deputy director for economics and domestic production for the NPPC. "We export roughly 26% of all production of pork in the United States. In the event of an FMD outbreak, those export markets would shut down immediately and the ripple effects will be felt throughout the world economy."  
That's why livestock organizations are asking for mandatory funding of $150 million dollars a year in the next farm bill, which would provide at least 10 to 20 million doses for the 23 of the most common FMD strains. If this sounds like a lofty number, the industry says an outbreak could cost much more. 
"Two different agencies have done the arithmetic on this," said Ken Maschhoff, president of NPPC. "They mentioned it would be a $200 billion cost. In other words, agriculture would be devastated."   
U.S. researchers have developed a handful of antigens to combat the virus, but no vaccine has been approved for the United States at this time. 
"There are 23 strains of the FMD virus that are of importance and the [vaccine] doesn't cross-protect," said Liz Wagstrom, chief veterinarian for NPPC.
Manufacturing is one set-back. USDA's Animal and Plant Health Inspection Service (APHIS) currently manages a vaccine bank that holds a very small amount of the vaccine offshore on Plum Island, N.Y. Even if there's money set aside in the farm bill, making the vaccine will take time. 
"Most of the manufacturing capacity for the foot-and-mouth disease vaccine is currently being used to help other countries that are currently vaccinating," said Wagstrom. "It's going to take some years to build it up."

However, some countries already have vaccines in place, and Merck Animal Health says it can develop a vaccine. 
Wagstrom says foot-and-mouth disease was last seen in the U.S. back in 1929. Back then, the United States had small farms that were not moving animals long distances. Today, there are an estimated 1 million pigs a day "on wheels" somewhere in the country. 
Thacker also says there's still no commercial vaccine for African Swine Fever, which could be a major threat to the industry.