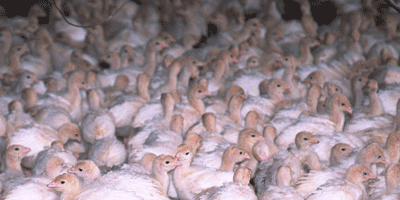 High demand and tight supplies are painting a bullish picture for the poultry industry.
Nutrition, taste and cost are pushing more Americans to put poultry on their plates. According to a survey commissioned by the National Chicken Council, the 1,000 respondents ate an average of 6.1 chicken meals or snacks within a two-week period. That's a 17% increase from 2012 findings.
"With the tight supplies in the cattle and hog herds, and accompanying record beef and pork prices, it's not surprising to see a double-digit increase in chicken consumption this year," says Tom Super, National Chicken Council vice president of communications. "What is surprising to me is that health and nutrition and taste both topped cost as the reason consumers are turning more to the original white meat."
In its July 2014 World Agricultural Supple and Demand Estimates, USDA forecast broiler production to be higher in 2015. This is a result of lower expected feed costs, which will support a more rapid increase in production.
Bob Utterback, Farm Journal Economist and president of Utterback Marketing, says the current poultry situation of tight supplies and high prices is similar to the corn market a few years ago.
He thinks the poultry sector will be the first of the meat industries to expand, followed by pork. "When the expansion happens, it will come fast and furious," Utterback says. "The market never lets you easily get short at the top of a market."
Other survey highlights include:
Millennial respondents (ages 18-34) remain the most likely to eat chicken meals or snacks frequently.
The primary reasons for eating more chicken from a grocery store are health/nutrition (34%), taste (32%) and cost (17%).
Women are somewhat more concerned than men about both health/nutrition and cost.
One in five respondents were likely to buy more chicken at restaurants and other food service establishments.
Chicken consumption does not differ significantly by gender.
Midwesterners ate the lowest number of meals or snacks that contained chicken in the two week period prior to the survey. It is the only region where the rate of consumption did not increase since 2012.
Men, younger adults and those with at least three people in the household are more likely than counterparts in increase their consumption of chicken.

Read more Top Producer Power Hour news.
 
---