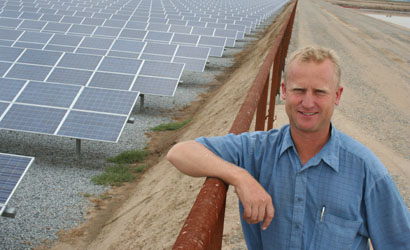 Solar power generates electricity for two Western dairies. 
If there's one thing Bill and Vicky Zimmerman have plenty of on their Arizona dairy, it's sunshine. The couple is putting that abundance to work for their dairy with a major leap into the world of solar power.

The Zimmermans are constructing a 238.28-kW DC photovoltaic system on their dairy near Queen Creek, where they milk 1,000 Holsteins. The ground-mounted energy generation system will eventually provide all the electric power for the dairy.

Located 30 miles southeast of Phoenix, Zimmerman Dairy gets more than 300 days of sunshine a year, among the highest totals in the U.S. The Zimmerman project is the first solar photovoltaic system on an Arizona dairy.

"We were approached about how solar power could work for us," Bill says. "We are always looking for ways to save money and help improve our often thin profit margins. That being said, we also liked the idea of making better use of the resources available to us." 
The solar project will progress in two phases. When the first phase is completed in January 2011, the Zimmermans expect to reduce their power purchases from their local utility, Salt River Project, by 40%. The second phase, scheduled for completion by late 2011, will supply the rest of the dairy's electric load needs.

"When we got into this, we knew we were going to be an experiment and were happy to be part of creating a benchmark that could be helpful to others," Vicky says. "Our primary concern was the economics. We had the land, we had the need. Could it be economically feasible? We need
ed to be sure it helped us save money, that the installation and upkeep could be paid for."
Funding for the $1.4 million solar project
has come from a USDA guaranteed loan and a $336,901 grant from USDA's Rural Energy for America Program (REAP). Farm Credit Services Southwest is providing the construction financing and term loan to support the project. The project has also received support through a solar incentive program from Salt River Project.
With the grants, loans and their energy savings, the Zimmermans say, they'll be able to pay back the cost of the project in six to seven years.
After they complete the second phase, "we will have our energy almost for free," Bill says.
When it came to deciding how to generate renewable energy, the Zimmermans chose solar power instead of a methane digester. "Solar is simpler and easier to operate and maintain," Bill says. "We think this is a better way for us to get our electricity. And because it is cleaner and renewable, it's also better for the environment."
Like the Zimmermans, California dairy producer Kees de Jong chose solar power over a digester when he looked for a source of renewable energy two years ago.

"I don't want to work on motors, and solar doesn't require that much maintenance," says de Jong, whose Elkhorn Dairy milks 3,100 cows near Visalia in the heart of California's Central Valley.
De Jong's $8.5 million solar project covers five acres and encompasses 5,260 ground-mounted photovoltaic panels. The 1-megawatt system supplies 80% of the dairy's needs. De Jong used a slim, L-shaped piece of marginal property near his lagoons to locate the solar panels.

While he's glad to incorporate a green power solution on his dairy, de Jong is perhaps more pleased with the incentive he receives from utility company PG&E. He receives 22¢ per kW for the power produced by the project. That, in turn, pays for his monthly solar construction loan to the Federal Land Bank for five years.

"The solar project is working well, and I'd do it again," de Jong says. "I just don't know if it would be feasible now."

It isn't just the plunge in dairy profitability that's occurred since 2008, but also the dwindling
amount of energy incentives that leaves de Jong in doubt. Per-kilowatt rebates have dropped to 15¢, and solar project construction costs have risen.

These days, he says, "there's not much money in the dairy business to pursue these kinds of efforts. But for us, it's worked out nicely."