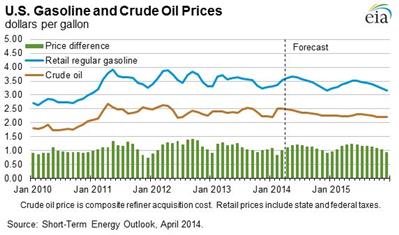 While the decline won't be large, prices for gasoline and diesel are expected to be lower this summer than in 2013, says Sean Hill, industry economist, U.S. Energy Information Administration.

"Last summer, we had a Midwest average gasoline price of about $3.60 per gallon," Hill tells AgriTalk radio. "This summer, we forecast that price to average out to $3.55 per gallon. It's a little bit lower this summer, and again maybe that's going to come down from a peak in the next week or two, or maybe over the next month, when prices typically reach their peak and slowly start to fall or at least stay relatively level."

Meanwhile, diesel buyers across the U.S. will also enjoy a bit of a break at the pump from the $3.92 diesel retail price average experienced in 2013.

"In our latest forecast, we're expecting that to fall to about $3.85 per gallon," Hill explains. "Most of that drop typically happens over the next few months."


Click the play button below to hear the complete interview with Hill, including discussions about why fuel prices increase during the summer months and how fracking impacts prices, starting at about the 12-minute mark: 
---
Click here for more news and videos from Top Producer's Power Hour.