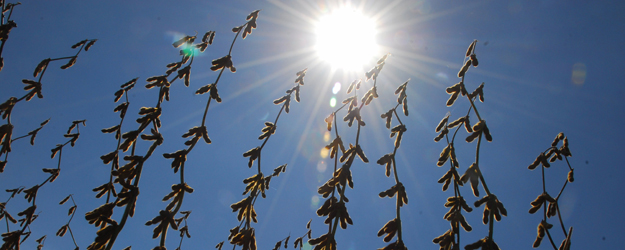 Old-crop soybeans have surged above $15, while the new-crop soybeans situation may be more bearish than farmers have seen for years.
The soybean price train has yet to lose its steam. Soybean prices topped $15 on Tuesday and continue to show strength.
The National Oilseed Processor Association (NOPA) crush number was a surprise for traders, says Paul Georgy, president of Allendale Inc. He says the average estimate was 146.1 million bushels, yet the actual March usage was 153.84 million bushels.
"This is 12% above a year ago," he says. "USDA's balance sheet estimate is for soybean crush to be down 0.2%. Needless to say the May supply and demand (WASDE) table will be much anticipated."

With tight stocks and strong exports, the strong crush number suggests even more tightness going forward, says Kevin McNew, president of Grain Hedge and Geograin. "While some imports have occurred of late to help alleviate tightness, it seems the U.S. is well shy of reaching the 65 million bushels import projection to keep stockpiles from disappearing altogether by the end of the marketing year," McNew says.
From a supply-and-demand standpoint, Angie Maguire, vice president of grain for Citizens LLC in Charlotte, Mich., says soybean demand is not being rationed yet. And, this solid demand may attract more acres. "There's a lot of room where we could see a solid expansion in soybean production going forward," she says.
Maguire appeared on Market Rally Radio with Chip Flory on Tuesday, April 15. Listen to the broadcast:

Old-Crop versus New-Crop
There is a vast difference between old-crop and new-crop soybean fundamentals, says Ted Seifried, vice president of the Zaner Ag Hedge Group. "With a record pace of exports and strong domestic usage, old-crop soybeans have a bullish story," he says.
Yet, the situation for new-crop is the opposite. "With a projected record world carryover, projected record U.S. acreage and a forecast for a moderate El Nino growing season the new-crop soybean situation may be more bearish then what we have seen in years," Seifried says.
"Higher soybean prices and lower corn prices along with weak corn basis in the North due to logistical issues has encouraged a big shift to soybean acres this year," he says. "Given a normal growing season this could translate into one of the largest stocks numbers we have seen in recent years."
As planting kicks off, Seifried says, it's time to think about what USDA might estimate for next year's balance sheet.
"The market's focus may begin to shift from the bullish old-crop fundamentals to the more bearish new-crop fundamentals," he says. "This will not happen overnight, but April or May is typically when this starts to happen. Now might a good time to take a look at new-crop soybean prices and lock in some prices while the focus is still solidly on the bullish old crop fundamentals."
Read and watch more news and videos from Top Producer's Power Hour.
 
---