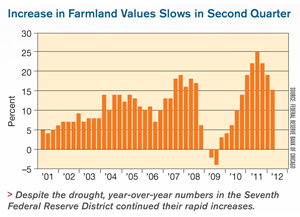 Drought slows growth in farmland
 
The sizzle in farmland values turned to a slow burn in the second quarter, and there's one reason why: the drought. The value of "good" farmland rose 1% from April to July, based on a survey of 205 ag bankers by the Federal Reserve Bank of Chicago. With 22% of the bankers anticipating higher values for the third quarter, the drought does not seem to have stifled all the momentum, however.

Year-over-year numbers show continued increases. Iowa farmland values bested all others in the region, rising 24% compared to the average of 15%. Illinois values rose 15% in July 2012 versus a year ago, Wisconsin 13% and Indiana 12%.

The bankers predict the drought will cause a leveling off in farmland values but that land will not face much downward pressure from its effects. The consensus is for farmland markets to move sideways in the third quarter.

Funds availability once again improved from a year ago, with 65% of bankers saying they had more funds available and only 1% saying they had less. One banker commented that "farmers have become depositors, not borrowers." In this regard, 1986 was the last time the index of non–real estate loan demand was lower than its current reading.

Even so, bankers were slightly more restrictive on collateral requirements in second quarter 2012 compared with a year ago. Agricultural loans with "major" or "severe" repayment problems comprised less than 2% of district loan volume.

Agricultural interest rates set new lows for the fifth quarter in a row. As of July 1, district averages for interest rates on new farm operating and real estate loans were 5.27% and 4.94%, respectively.