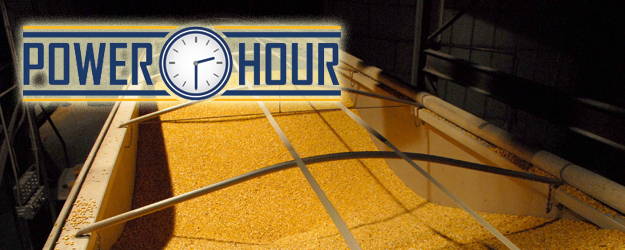 Locking in prices for some of next year's crop could make sense—but don't get carried away
 
With December 2013 corn futures in the $6.30 range this week, some analysts say locking in contracts for a portion of next year's expected harvest could make a great deal of sense. The key reason why: With relatively normal weather and an expectation of even more corn acres planted here and abroad in 2013, prices for next fall could move decidedly lower. After all, expected corn prices for the December 2012 contract was $4-something as recent as early summer, prior to the drought taking holding of the Heartland.


"I would market a little bit of the 2013 crop, perhaps 10% with cash prices of $6 corn or $6.50 futures," says Jim Hilker, ag economist at Michigan State University. He says he wouldn't get carried away with marketing 2013 just yet, however.

Closer to home, Hilker advises a strategy of selling the 2012 crop throughout the marketing year, with a high level of volatility likely. Producers have less of this year's expected crop than normal, says one grain company official. Hilker does not see corn prices falling out bed, however. The economist believes the $8.20 average price in USDA's Aug. 10 crop report is pretty close to the mark. Even though short crops typically have long tails, he does not look for prices fall more than $1/bu. from current levels or to no lower than $7/bu., with the potential high of $9. Because of that, farmers don't need to get overly aggressive just yet, Hilker says.

Frayne Olson, ag economist at North Dakota State University, looks for corn prices most likely to move sideways in a choppy fashion for a while, then somewhat lower, as some of the premium now paid in the marketplace for yield uncertainty evaporates. "The range for the 2012 marketing year for cash corn will likely be $6.80 to $7.80," Olson, says. What makes Olson more conservative than USDA? "I am really concerned about the U.S. and world economy. The whole world has slowed. It wouldn't take much to put us in a dull mood."

In Hilker's view, corn yields could move up or down 5 bu. per acre in succeeding USDA reports, but the odds more likely favor further yield decreases than increases. He cautions, however, that on corn, "we could be hitting the high right now." Because of that, Hilker says selling 15% to 20% of the crop relatively soon might make some sense, assuming you haven't done any previous marketing.

Soybeans could be the real sleeper. "Until we know more about the South American crop, I don't see soybean prices crashing," Hilker states. Moreover, Chinese demand thus far "is hanging tough." In Olson's view, however, China "will buy more hand to mouth."

He continues, "We are still in the early stages of figuring out soybeans yields, while at the tail end of that for corn." Olson thinks current soybean yield forecasts might be over estimating yields. "We don't know how many seeds per pod there will be, he says. In part because of that, he estimates a $16 to $17 soybean price range for the 2012/13 marketing year, up $1/bu. on the low end from USDA's August 10 forecast. "Right now, I'd sit tight," Olson says. "The downside risk in soybeans is very low. Soybeans won't fall out of bed. We don't yet have price levels high enough to curb demand."
Read and watch more Power Hour news, blogs and videos.