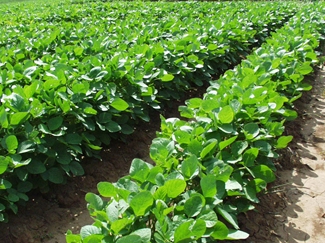 With the latest round of USDA reports showing more corn and soybean production happening worldwide, U.S. farmers should be aware that significant downside risk remains in the market, says Bob Utterback, Utterback Marketing Services.

"The commodity that I'm most troubled by is the bean market," Utterback tells the U.S. Farm Report Market Roundtable. "We've all gotten used to $15, $13. We've been bears. We sold $12 to $13, and it goes to $15. So we've been stung the last couple of years selling early. Everybody's saying China is going to rescue us. What if they have a good crop? All of a sudden, I've got some people I trust in the trade who are saying that carryover is going to go 350 (million bushels), and if we go to 46 bushels (per acre) and find 2 million acres, you could go almost 480 million to 490 million bushel bean carryover. I don't think anybody's mentally ready for the number that clears at the bottom of the fall."

At the same time, the reality is that soybean yields are no guarantee, cautions Andy Shissler, Roach Ag Marketing.

"I don't have that much confidence that we can get a 46 yield, which is why we're still at $12," Shissler says. "The trade looks at the two yields and they see 165 on corn and they're like, yeah, we can definitely do that. If your ratings are this high in June, you're probability is like 90%-plus of beating trend. So beans, there's really no correlation. If we take a bushel off and it's 44, which is a really big crop, then it's not the death sentence, but you get up toward 46 and that means your corn carryout is probably huge, too, with a 170 yield or something crazy there. They're both bad at that point."
If a massive soybean carryover were to occur, Utterback adds, supplies likely would stack up further.
"The next trap is, I don't think anybody's going to sell it," he says. "We'll get down here, guys will put it in the bins because income is pretty good still out in the country. You've got good cash flow. So we're going to stick it in the bin and store it, waiting for a rescue plan to come from Washington or the marketplace. And what happens when farmers have inventory, historically, is not bullish."

The next batch of USDA reports on June 30 will provide more information as the trade tries to determine where both crops are headed. If the reports yield surprises, Shissler notes, it will probably be in the form of bearish stocks.

"I think the western drought impacted cattle," he says. "I think PEDv put a little bit of a hole in the corn feed as well."

Click the play button below to hear the complete U.S. Farm Report Market Roundtable discussion, including more about China and world trade:



---
Click here for more news and videos from Top Producer's Power Hour.