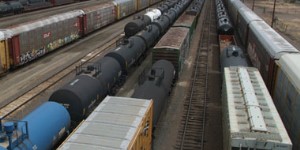 As farmers prepare to plant the 2014 corn and soybean crops, some are worried that high volumes of crude oil shipments could keep the old crop trapped in the bin. Those fears are even more pronounced because of propane challenges experienced this winter.

"Remember the problems that we had moving propane around the country during the wintertime," notes Davis Michaelson, Pro Farmer Inputs Monitor, in an interview with AgriTalk radio. "A lot of that fell because of lagging pipeline infrastructure, and the same is true of crude pipeline infrastructure. Shipments of crude by rail have increased significantly. In 2008, the Association of American Railroads reports about 9,500 car loads of U.S. crude oil was shipped via rail. In 2013, that number ballooned to 407,642 car loads of crude oil. That's quite a significant increase just over a short period of time."

That reality has farmers in the Northern Plains worried about how much old-crop grain they'll be able to move before harvest.

"We heard from a North Dakota farm group leader who claims that they've got about 85% of the crop still in storage there and can't seem to get enough rail cars there to take away that crop," Michaelson says. "It's starting to raise some concerns."

Click the play button below to hear the complete AgriTalk interview with Michaelson, including updates on fertilizer shipments, starting at about the 31-minute mark:
---

Click here for more news and videos from Top Producer's Power Hour.