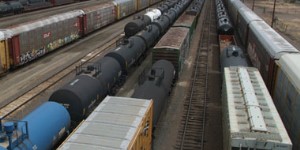 This spring, severe rail car shortages in the northern reaches of the Corn Belt widened basis an additional 50 to 75 cents in some cases—a double whammy for farmers when combined with lower crop prices. Although the problem has diminished somewhat, the backup remains well above historical norms.



In the period from late winter to early spring, it took one to two months for elevators to secure rail cars as demand far outstripped supply, causing the lease price for rail cars in the secondary market to skyrocket. The latest data from one major shipper, Burlington Northern Santa Fe, show the wait has been reduced to 26 days. That's an improvement, but the figure remains well above levels from a year ago, when there was virtually no delay at all, says Stu Letcher, executive vice president, North Dakota Grain Dealers Association.

Basis for corn, soybeans and spring wheat widened from about 40 cents to 80 cents when comparing this past winter and spring to the benchmark year of 2009-10. That cost the state's farmers an estimated $66.6 million in January and April alone, says Frayne Olson, ag economist from North Dakota State University who has studied the issue.

"The potential exists for additional losses unless the situation improves," Olson adds.
---
Click here for more news and videos from Top Producer's Power Hour.
---

Olson used the 2009 crop year as part of his calculations because the size of the crops in that year resembled those of 2013. He multiplied basis differentials and his projections for the volume of grain shipped. The narrow basis of 2012 isn't a good measure, Olson explains, because that year's crop was greatly reduced by the drought and basis levels were unusually narrow.

The hit on basis resulted from a combination of delayed deliveries for preordered rail and the large premiums paid for rail cars in the secondary market, "which doubled what some elevators had to pay," he says.

No quick fix is in sight.

"A lot of people want to blame the oil industry for the problem, but it's more than oil," Olson says.
Even without the development of the Bakken oil fields in western North Dakota, there would have been a rail car shortage this year, Letcher adds.

The issue has been most apparent to producers in the northern Plains because of their reliance on rail for shipping grain to Asia via West Coast ports.

"But it's not a North Dakota issue, it's a national issue," Letcher says. "North Dakota is landlocked, but South Dakota and Minnesota are facing a similar issue." Even producers in northwest Iowa are affected because they also must transport their commodities over great distances, Olson notes.
From a global perspective, the transportation challenges are not as severe as those faced in countries such as Brazil. But American producers still pay a price because higher costs hurt U.S. competitiveness in global markets.

"I'm optimistic things will get better, but it depends on 2014 crop," Letcher says. The late planting, while tough on farmers, might actually improve the rail car situation by giving the industry more time to get current on rail car supplies. But he notes that a high percentage of grain will need to be moved from on-farm storage to elevators, and that hasn't happened yet system-wide.

The problem "has several moving parts," Olson explains, including:
A record grain harvest in 2013 that caught the industry a bit off guard, particularly following short crops of 2012. "Prior to the 2013 harvest, the pipeline was really empty," Olson says. The small 2012 crop created a high demand for transportation as the 2013 harvest began.
A record cold winter in 2013-14. This slowed average train speeds and reduced the number of rail cars that trains could pull from their typical 110-car capacity. "When it's that cold, nothing wants to work well," he says. The Great Lakes didn't ease shipping woes because of record ice cover, and the barge season got off to a late start.
Oil-industry demands placed on shippers, stipulations that affect the availability of crews, engines and track time.
The Chicago factor. Rail backups this winter in Chicago meant it could take from one to two weeks for trains to get through the hub, affecting producers as far away as North Dakota.
Recent economic growth. Shippers cut back on shipping capacity after the 2008 recession, but the economy has been picking up steam, leaving industries to compete for limited capacity.

In the end, the problem will solve itself, Olson says. Rail companies will invest in infrastructure and rail cars, including bypasses, he says. But that will mean billions of dollars, and rail carriers will have to be convinced of long-term demand before they will make the investment. Investments in new tracks and rail cars will take time. Similarly, adding workers will be necessary, and it can take six months to a year for a train engineer to become certified.

Olson also is concerned about slow farm-level deliveries of the 2013 crop, a factor that could place added pressure on the system in early July as producers clear out the old crop.

A lingering question is whether new laws and regulations are needed to protect farmers. In Canada, which faces an even worse rail-shortage problem, legislation has been passed that mandates delivery of rail cars in a timely fashion. But in the U.S., mandated solutions could add costs to the transportation system, ultimately affecting farmers, Olson says. Already, rail carriers have responded to market demands by making $5 billion in investments.

"That's pretty substantial," he says. "The cost of rail cars is sending market signals. But there are no easy answers to the problem."