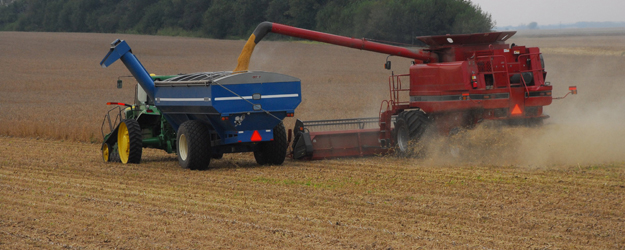 Analysts say a better-than-expected grain harvest is behind last week's price drops
Last week was an unusual low week in grain prices, and two analysts agree on what caused them: yield numbers.
Thomas Grisafi of Indiana Grain Company said a better-than-expected harvest is putting pressure on prices.
"People are still arguing over how much we grew, but we grew some grain," he said. "I think people are a little bit surprised with yields, and those yields are being met by people buying them."
He added that China taking a break for the week opened up buying opportunities for others in the market, such as livestock producers who may need the grain for feed.
"You're seeing a transfer of ownership from the people who are speculating on corn and soybeans going up, and they don't even know what corn and beans are, to the real people who need them," he said.
Mark Gold of Top Third Ag Marketing agrees. He said the rains many areas have seen in the past few weeks have really helped to boost soybean yields.
"People were saying those late August rains weren't going to help," he said. "I was in the camp that rains in August were going to help that bean crop one way or the other, and that's what we saw out there."
Looking Ahead to Thursday's Reports
Gold said that with last Friday's U.S. government report knocking 300 million bushels off of the corn production estimate, and Informa adding that number back into its forecast, the upcoming USDA report on Thursday should be interesting.
"What we've seen over the last several reports, the government has a tendancy to put in 300 or 400 million bushels of corn, and then take it out the next report," Gold said. "So could we see them put it back in on a production number? I think it's possible."
"We might need to hear the truth about how many harvested acres there were," Grisafi added. "That's probably where the real secret is."
Listen in as Gold and Grisafi discuss the current market situation on U.S. Farm Report: