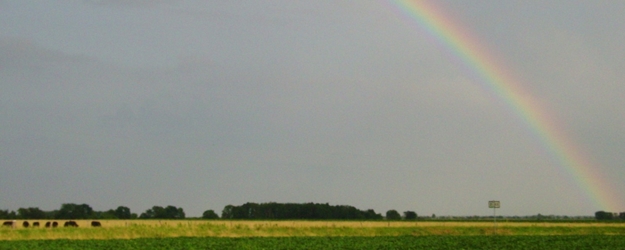 Unless you have a crystal ball, predicting spring weather with any certainty is extremely challenging. While the National Oceanic and Atmospheric Administration (NOAA) has called for above-normal temperatures in the coming days, a system in the western U.S. could bring rain that delays planting.

Nonetheless, experts say producers can lock in good value on corn and soybeans by marketing the crop strategically.



"We've got corn back over $5, beans are making new contract highs on front month," notes Mike Hogan, Stewart-Peterson. "If you happen to have some of those left over, new crop's moving about 30% with that. This is a good time for farmers to really start pushing that pencil to the paper when, just a few months ago, gosh, how am I going to make a buck? I think that ability is there now. It's really a key time for farmers to look at that."

While it doesn't make sense to spend a lot of time on short-term weather markets for producers who have a long-term outlook, there is still value to capturing value now.

"Last year, we managed to plant over 43% of the crop in the last part of May," explains Angie Maguire, Citizens LLC. "No, it wasn't perfect, but if we do get a window we will go. When it comes down to it, have some sales on in these levels. If you can on new crop, I think it makes sense. Take some of that risk off the table. Then you have open orders in place. The volatility that comes from weather markets gives you an opportunity where one day you may see it come in, wake up in the morning, corn market's up 15 cents. By the time you come back in for lunch, it's down 15. If you have those orders in place and corn futures hit $5.25 on the December board, it doesn't matter if you're sleeping or if you're in the middle of a field somewhere, you just sold yourself some corn at a good value."

With experts projecting significant soybean acreage, producers can see profitable returns with that crop as well.

"When prices were at the lower end of it, we did a little bit of pre-hedging. Buy some calls ahead of time. That way, right now when new crop beans especially have popped up there with some of their bearish scenarios for new crop coming out, a lot of farmers have $12.40 calls bought and they're able to make $12.40 cash sales at this point in time. That's a very, very comfortable position to be in right now."

Click the play button below to watch the complete Market Roundtable discussion on U.S. Farm Report beginning at about the 7:30-minute mark:


Click here for more news and videos from Top Producer's Power Hour.