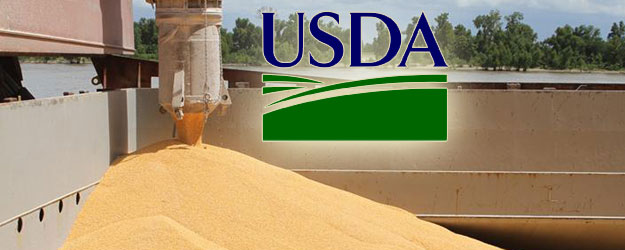 Grain and oilseed prices that have already fallen sharply in recent months are heading lower still over the upcoming decade, according to USDA's long-term projections released Feb. 13.
For corn, the department's econometric model points to a $4.50/bu. average farm price for the current marketing year, but below $4 for 2014 to 2025. USDA is calling for $3.65 for 2014/15, the decade low of $3.30 for 2015/16 and range from $3.35 to $3.95 from 2016 to 2021. In 2022 and 2023, USDA sees prices inching back above $4, but barely: $4.10 and $4.20.
Moving to soybeans, USDA is calling for average farm prices of $12.15/bu. for 2013/14, but then a period of sharp declines: $9.75/bu. for 2014/15; $8.85 for 2015/16 and $8.90 during 2016/17. From then to 2022/23, prices are forecast at $9.05/bu. to $9.95. Only at the end of the forecast period, 2023/24, do prices climb back into double-digit territory at $10.15/bu.
USDA also sees sharp price declines for wheat. After farm prices of $7/bu. this marketing year, prices drop to $4.90 in 2014/15; $4.35 in 2015/16; and the decade low of $4.30 the following year. For 2017/18 to 2023/24, USDA forecasts wheat prices between $4.45 and $5.35.
USDA sees corn yields increasing gradually from 165.6 bu./acre in 2014/15 to 183.6 by 2023/24. Less of a yield bump is anticipated for soybeans and wheat. Soybean yields are forecast at 45.2 bu./a this year and range between 45.6 bu./a and 49.2 from then to 2023/24. Wheat is more yield-bound, with yields of 45.8 bu./a this year and gradually increasing to 49.3 bu./a by the end of the forecast period. "The growth rate for world-average crop yields has been slowing for nearly two decades, and is projected to slow further in the next 10 years," USDA says.
Not surprisingly, these prices will cause acreage shifts. While USDA economists see little change in soybean acreage over the period at about 78 million, both corn and wheat acres are forecast to decline. Corn will drop from 95.3 million planted acres in 2013 to 93.5 million this year, 91 million in 2015 and continue dropping in a range between 88 million and 88 million and 88.5 million from 2017 to the end of the forecast period. Wheat acres will be slightly higher this year than 2013/14 at 57 million, then decline gradually to 52 million from 2017/18 to 2023/24.
If one word sums up the reason for the sober price outlook for grains and oilseeds it's this: competition. Even though U.S. exports increase, the export share of global trade decreases for soybeans and wheat and increases only modestly for corn. Related and equally important, world production of agricultural products is projected to increase more rapidly than world population as the global birth rate declines, sharply in developing countries.
China's population growth rate slows from 1% per year in 1991/2000 to less than 0.4% in 2013/23, while India is projected to decline from 1.8% to 1.2%. However, as incomes rise, per capita consumption increases.
On corn demand, China's corn imports are projected to rise steadily and reach 22 million tons by 2023/24. The increase in China's imports accounts for nearly half of the projected rise in world corn trade. While U.S. exports increase to 57 million tons, the U.S. share of world corn exports only rises to 40%, well below the 71% share from 1970-2000. Reasons why include strong trade competition from Argentina, Brazil and the Former Soviet Union (FSU) as well as the use of corn for ethanol.
FSU corn exports, mostly from Ukraine, are forecast to rise by 38% to nearly 26 million tons. Brazil's corn exports have doubled in recent years, but its corn exports are constrained by high transport costs. During the latter part of the projection period, Brazil's corn exports are projected to increase in response to improved export infrastructure and increasing world prices.
U.S. wheat exports are projected in the 28 million to 30 million ton range during the decade, but market share declines. Russia, Ukraine and Kazakhstan wheat exports are forecast to increase by 50%, however. On soybeans, Brazil's share of exports increases to more than 36%, while the U.S., a strong No. 2 soybean exporter, sees its share of global exports of soybeans and soybean products decline from 29% to 25%.
Globally, the total area planted to grains, oilseeds and cotton is projected to expand an average of 0.5% per year. Area expands more rapidly than that in countries with a reserve of available land and policies that allow farmers to respond to prices, USDA says.
Such countries include Russia, Ukraine, Brazil, Argentina, some other countries in South America, and some countries in sub-Saharan Africa. The largest projected increases in the area planted to field crops are in the FSU and Sub-Saharan Africa.
The silver lining to the department's bearish price outlook is per capita consumption increases by developing nations. As has been true in recent years, China will continue to boost imports of grains oilseeds and cotton, by 61% over the forecast period. But the global demand story is more than China alone. The combined region of Africa and the Middle East is projected to have some of the strongest growth in food demand and agricultural trade over the coming decade.
The region's share in world imports is projected to be 17% for coarse grains and 50% for wheat. Another large growth market: Mexico, both livestock as well as corn. For corn, Mexico is second only to China in projected import growth over the next 10 years.