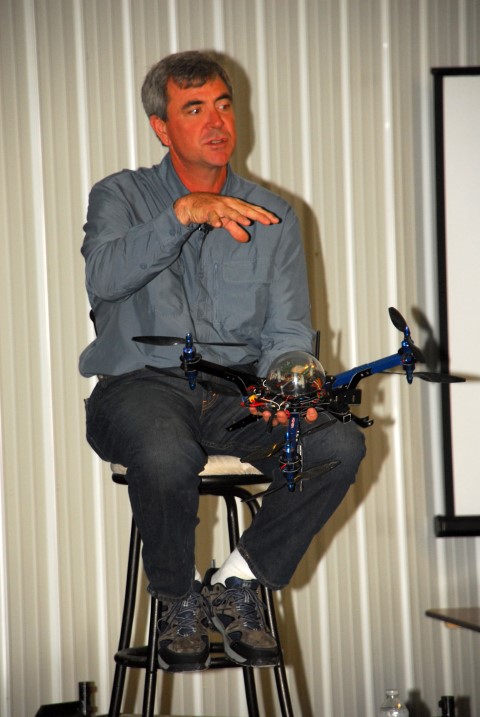 Although 400 feet is the current altitude limit for flying small drones and other model aircraft, the sky is the limit when it comes to ways they can potentially be used on the farm.
That's why more and more farmers are looking into ways drones could be deployed in the agriculture industry, but lack of information and experience are holding them back. A farmer panel featuring Randy Aberle (Ill.), Brian Scott (Ind.) and Donavon Taves (La.) provided other attendees of Farm Journal's recent Drone Fly-In event with valuable tips from their own drone experiences.
1. Know your mission. Knowing what you want to accomplish can save you not only time, but money as well. Ask yourself if you want one for recreational or workforce use – that can make all the difference. Taves recommends for anyone who wants just pictures of his or her farm to get a $300 drone on Amazon first. If you find yourself struggling with a basic model, you may want to ask yourself, "Do I want to own my own or do I want to hire someone," he says.
2. Get an education. Scott says he flew a drone for ten minutes before purchasing one. However, that wasn't his first or only interaction with drones before owning his first. Scott recommends taking any offered classes on drones, for example from a local business such as a hobby shop. Or, find somebody who has a lot of experience and see if they will let you "try before you buy."
3. Shape up. Drones come in all shapes and sizes, but most fall into two main categories – copter and fixed wing.
As a copter owner, Donavon Taves says this style allows for good stability, which will allow the drone to hover over a particular area and take multiple photos. The downside is a limited battery life - 12 minutes, and then it needs a recharge.
Aberle has a fixed wing model, which has faster speed, longer battery life and can handle stronger wind. Aberle says a fixed wing is a good option for large fields because it is designed to cover a lot of acres in a short amount of time.
Cost also varies widely. Setups can run from a couple hundred to tens of thousands of dollars. Taves says don't overdo your first drone, just get something you're comfortable with learning to fly.
4. Practice, practice, practice. The saying is true – practice really does make perfect. The only way to get better and learn more about drones is to practice, practice, practice. Don't be afraid to crash (it's part of the learning experience), but Aberle says there are still ways to limit the chance of damage. For example, many models have various safety measures that can be programmed in, such as the popular "return to home" feature that auto-pilots the drone back if it flies out of range or gets too low on battery.
5. Make safety a priority. Like any other technology, drones can be operated responsibly – or otherwise. Some best practices around safe operation include:
• Maintain a line of sight with the drone at all times.
• Don't fly near people, buildings or other aircraft.
• Learn the wind restrictions and other weather limitations of your drone.
It also pays to be caught up on current FAA guidelines for drone use. Panel members also recommend joining the Academy of Model Aeronautics – a non-profit group that has been instrumental in promoting model aviation over the years. AMA membership also includes some liability insurance benefits, Taves adds.
Want more? AgWeb readers are sharing fresh farm technology insights every day. Click here to join the conversation, or to start your own.