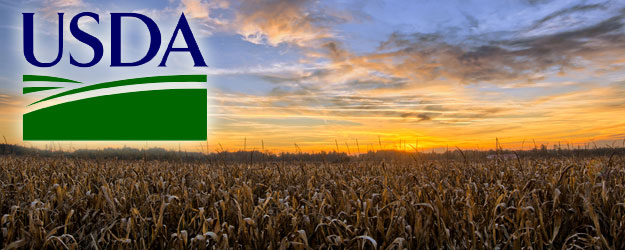 AgWeb.com will have full coverage of USDA's Jan. 10 Annual Crop Production, Crop Production, World Agricultural Supply and Demand Estimates and Grain Stock reports, following the 11 a.m. releases.
Will Today's Reports Lift or Fizzle Prices?
Four major USDA reports will be released today. Market experts weigh in on potential surprises and market reaction.

AgWeb Radio: Opening Commentary 1-10-14
Tommy Grisafi of Trade The Farm says there was a large revision in the employment numbers. There has been liquidation in the bean market. Market will be volatile at report time.
Bean Exports and Feed Use of Corn to Take Limelight
Friday's onslaught of USDA crop reports could have a dizzying effect on markets, but analysts will be paying close attention to some specific numbers.
Don't Let Low Prices Deter Your Corn Sales
The grain markets have a bleak outlook. AgResource Company's Dan Basse says his message to farmers is to sell early and sell often.
Make It or Break It Time for Grains
The long-awaited Jan. 10 reports are only a few days away. Jerry Gulke says these report have a history of putting the nail in the coffin for prices.
Wheat Outlook Neutral Despite Record Crop
Wheat producers and analysts will be watching Friday's USDA reports to get a clearer picture of domestic and world wheat supplies.
AgWeb Radio: Closing Commentary 1-8-14
Bob Utterback of Utterback Marketing said the market closed as a bear market. Traders are nervous and are liquidating their long positions.
Analysts Await January USDA Crop Production Report
Farmers should be prepared for a great deal of volatility following USDA's January Crop Production report. Jim Bower of Bower Trading breaks down the history of the report for corn, soybeans and wheat.

Good Goal: Lose A Little Money Next Year
Temperatures aren't alone in giving producers the cold shoulder in 2014, experts tell the U.S. Farm Report Market Roundtable.
Market Outlook Appears Bearish
Farmers who are holding on to grain hope that prices will climb higher. While one market trader says the outlook is bearish, he notes that things always end up different than what you think starting out.

From the News Wires
Corn Trades Near Three-Year Low as World Supplies Seen Expanding
Corn for delivery in March declined 0.5% to $4.1475 a bu. by 7:39 a.m. on the Chicago Board of Trade, headed for a third straight drop.
Corn Sinks after Ethanol Supplies Come in High
The actively traded March contract for corn fell 9 cents, or 2.1%, to $4.17 a bu.
Soybeans Drop a Second Day as USDA Report May Show Ample Supply
Global inventories may total 71.46 million metric tons when the 2013-14 season ends Oct. 1, up 1.2% from December's estimate, according to a Bloomberg survey.
Blog Commentary
Current Marketing Thoughts: Quick Thoughts Ahead of the USDA report...

The Allendale Wake-Up Call: Ready or Not, Reports Are Out at 11:00

Grain Hedge: Export Sales Disappoint -- What Will Tomorrow's Report Bring?

The Ted Spread: Jan USDA Report Preview
The Allendale Wake-Up Call: Are You Ready for Friday?
Grain Hedge: Corn, Wheat Break Technical Support; How Will Grains Trade Ahead of Friday's Reports?
The Allendale Wake-Up Call: Should I Sell or Should I Buy Before Reports?
Current Marketing Thoughts: Headlines Before the USDA Report....
The Allendale Wake-Up Call: Allendale Sees Corn Production Rise

Grain Hedge: Grains Bounce Higher to End the Week - Continuation Possible?

Market Watch: Grains In The Deep Freeze, Cattle Red Hot
 
Listen to the latest market commentary on AgWeb Radio:
Audio Analysis
---