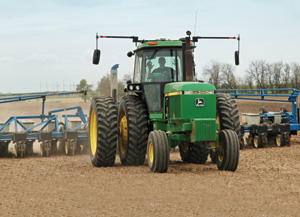 Evaluate guidance systems to select the one that best fits your farm
Setting goals and taking small steps are almost always good strategies when considering new technology for your farm. For instance, a precision guidance system with centimeter-level accuracy will likely be the standard in the future, yet few applications today require it. In most cases, you can get the results you need from a lower-accuracy GPS guidance system.

Randy Price, Kansas State University Extension ag engineer, advises farmers to evaluate how they plan to use a precision guidance system instead of getting hung up on accuracy levels.

"The caliber of the system you need depends on the level of accuracy your specific applications require," he says.

Correction services are designed to help farmers monitor and minimize equipment drift that occurs during tillage, planting and harvesting.

"The biggest value is the increase in field efficiency, which results in the reduction of labor and other costs," Price says.

By reducing overlap and input usage, farmers save 10% to 12% on average each year on input costs, says Amy Winstead, precision ag manager for Alabama Farmers Cooperative Inc.

Farmers also benefit from many noneconomic factors that correction services provide, such as reduced operator strain and fatigue, Price adds.

The precision guidance systems on the market today fall into three accuracy categories: submeter, decimeter and centimeter. Submeter systems include WAAS (Wide Area Augmentation System) and John Deere's StarFire 1. StarFire 2 and Trimble's OmniSTAR provide decimeter accuracy, and RTK (real-time kinematic) provides centimeter accuracy.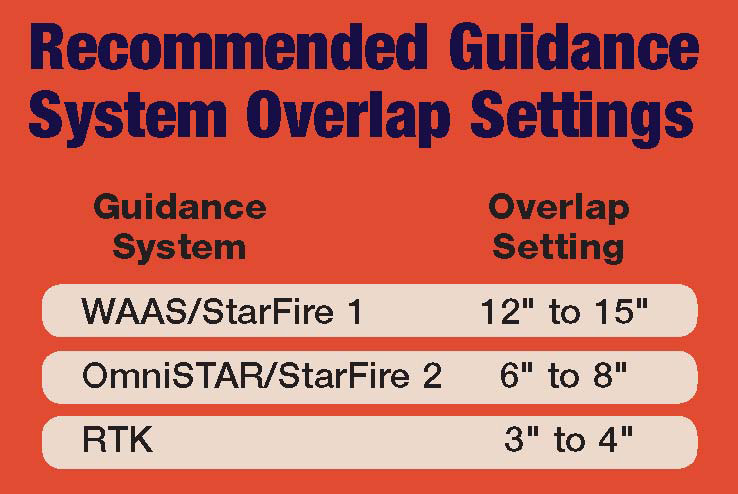 Submeter accuracy. WAAS is a free, government-managed correction service, such as
StarFire 1, that provides farmers with 6" to 12" pass-to-pass accuracy. OmniSTAR requires an annual subscription fee and offers 6" to 8" accuracy. RTK systems are the most costly, but they provide up to 6" pass-to-pass accuracy.

Pass-to-pass accuracy, also known as relative accuracy, refers to how far off course you are from one pass to the next in the field. Accuracy is typically measured in 10- to 15-minute intervals, roughly the time it takes for a farmer to make a pass in a field.

Field operations performed at faster groundspeeds or shorter time between passes can use less efficient guidance systems, such as WAAS, without apparent errors, Winstead notes. "This result
occurs because drift accumulation over a short period is small," she says.

"This means the passes in the field next to each other will be fairly accurate, but the accuracy between multiple passes won't be as high because of how much time has lapsed," explains Brad Beutke, technical support specialist with Crop-Tech Consulting in Heyworth, Ill.

Pass-to-pass accuracy service fits broad-based applications such as tillage, spraying, spreading fertilizer and perhaps drilling wheat, Beutke says.

Not surprisingly, submeter accuracy systems are the most economical, ranging from $1,000 to $10,000.

Farmers who are willing to take a hands-on approach to WAAS can coax additional benefits from the system, Beutke says. For example, when planting, farmers can set an A-B line and markers in the field, giving them two reference points.

"If their auto-steer starts to drift, they can reset it based on the markers," he says. "Every time you turn on an end, if you don't line up with the mark, you can hit one button and reset it. The downside is you have to check it every time you turn."

Beutke adds that most farmers establish a "fudge factor" in their fields, such as setting a wider overlap.

"If you're running a 40' cultivator, set it up on the monitor as 37', and you'll have about a 1.5' leeway to handle drift," he explains. "That gives you about 9" on each side to work with, which is still more accurate than manual driving."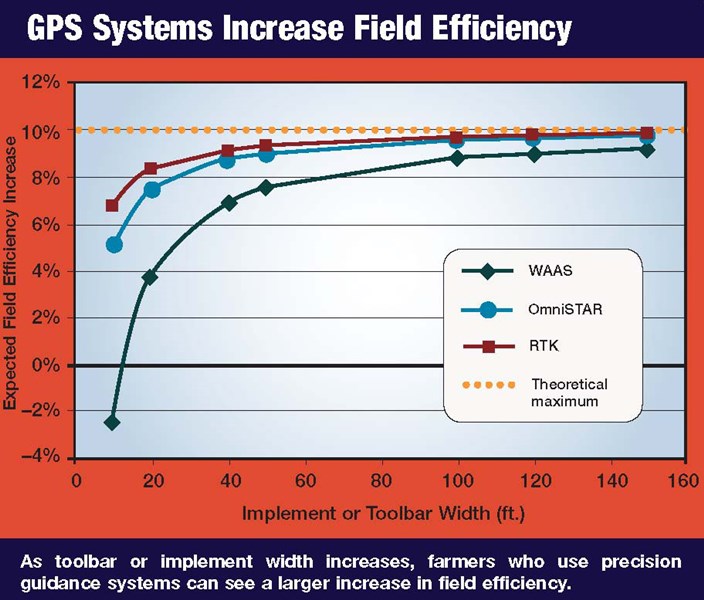 Decimeter accuracy. Farmers who want increased performance with less management can go with a decimeter-level accuracy service, which offers both pass-to-pass accuracy and some level of year-to-year accuracy.

Year-to-year accuracy, often referred to as repeatable accuracy, means the GPS receiver has the ability to return to the previous row or A-B line with a high level of precision.

"For 90% of farmers, if they're not strip-tilling, this is the maximum level of service they would have to have," Beutke says.

Decimeter accuracy is achieved with the use of a local base station or dual-frequency receivers with private satellite differential correction services, such as OmniSTAR High Performance and StarFire 2.

The price for equipment and setup for these services, both of which require a subscription and unlock fees, ranges from $5,000 to $25,000.

Beutke tells his farmer customers who opt to use submeter- or decimeter-based accuracy services to buy a unit that can be upgraded to centimeter accuracy, which is typically referred to as RTK service.

"At the moment," he says, "RTK isn't needed by most farmers, but it is the direction the industry is going in," since it provides the highest accuracy.
RTK accuracy. Year-to-year accuracy for RTK-based systems has been reported at approximately 1" (static antenna), but typical pass-to-pass accuracy is 3" to 4". RTK accuracy relies not only on GPS satellites, but also on a corrected signal sent from a nearby base station, which can be publicly or privately owned. Currently, correction data can be communicated by two-way radios, cell phones, and, in some areas, via the Internet.

The price tag for RTK ranges from $15,000 to $50,000; prices are decreasing, though.

"It's a lot different today than five years ago," says Andy Hill, general manager for MyWay RTK, based in Effingham, Ill. The company offers a precision guidance solution that allows farmers throughout much of the Midwest to receive RTK correction data via the Internet.

"With the costs coming down on this technology, more farmers are using it for strip tillage, tiling, and marking field boundaries or attributes in their fields, such as where they've applied a certain product or made changes to the seed population," Hill says.

The company recently launched MyWay Xchange, a service designed to help independent resellers better assist their farmer customers, Hill adds. The service connects resellers and farmers in real time, providing live information and dialogue to further improve efficiency.

Winstead of the Alabama Farmers Cooperative says that operations such as planting, which take place for longer periods of time or at slower speeds, potentially lead to unacceptable drift buildup or performance.

"RTK correction is recommended for many field operations to improve spatial accuracy over time, thereby minimizing drift," she says.

Another new offering in the RTK guidance category is the Trimble CenterPoint RTX correction service. The service provides repeatable 1.5" corrections via GPS or GNSS (Global Navigation Satellite System, allowing more satellites for better accuracy) directly to a Trimble display, which can eliminate the need for additional hardware or data plans. The service is currently available throughout much of North America.
---