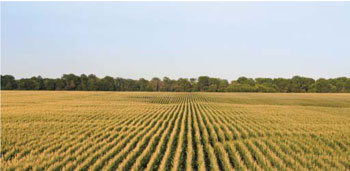 Size up your corn crop before the combines roll
Track and field coaches regularly tell runners they must start strong and finish strong to win the race. The same can be said for growing corn. As you work toward a strong finish this fall, conduct pre-harvest field checks to help corn harvest go more smoothly. These recommendations will add bushels to the bin and set the groundwork for a successful 2015 season.

Think about timing. If you're a seasoned corn grower, you probably have a date in mind for when you want to start harvest. Because weather conditions, corn hybrids and the impact of fertility programs can differ year-to-year, you need to stop and think about the overall harvest process instead of just getting out there and starting it, advises Missy Bauer, Farm Journal associate field agronomist. Start building an ABC checklist to prioritize fields—those you believe will need to be harvested first and which ones can be harvested last. 

Evaluate ear-to-shank attachment. Ears that are loosely attached are reason for concern and indicate you might experience substantial ear drop prior to or at harvest. Bauer says to look for any dropped ears on the ground. If you find one ear of corn per 10 sq. ft. of ground, that loss is equivalent to 1 bu.

Corn ear numbers are a good indicator of yield potential, Bauer adds, because yield is based on the number of ears per acre and the size of the ears (number of rows around, kernels long and kernel depth). 

"About 1,000 ears per acre is equal to 5 bu. to 7 bu. per acre," she notes.

Look for standability problems. At early dent, farmers need to be out in the field using the push test to gauge standability, advises Brad Beutke with Crop-Tech Consulting.  

The process is simple to implement. Measure off approximately 1/1,000th of an acre (in 30" rows that is equal to 17'.5"). Stand with your feet at the base of the corn plant you want to check, and take hold of the plant at shoulder height level. Push the plant away from your body to arm's length. 

"If you check each plant in that measured-off area and have more than two or three that do not return to vertical, that's an issue," Beutke says.  "Those fields should be at the top of your harvest list to prevent having to combine downed corn."

To take the standability evaluation to the next level, dig up some corn plants, split the stalks and determine how much cannibalization has occurred, Bauer says. Look for areas of the stalk that have a cottony appearance, and push on them with your thumb or fingernail. If the area feels like Styrofoam, cannibalization is occurring. This is a normal process as the plant matures; however, you don't want cannibalization to occur very far down the plant too early. A good rule of thumb is the cannibalization at harvest should take place at least one to one-and-a-half nodes above the crown. 

Plan for next season. While your crop is still in the field, Beutke says evaluate it for changes you might want to make in 2015. Collect stalk samples from each hybrid to send to a local lab for stalk-nitrate testing. 

"Some hybrids perform better when they get the bulk of their nitrogen early in the season while others require more nitrogen later, so you can tell whether one hybrid ran out of nitrogen late in the season while the other one didn't," Beutke explains.
---